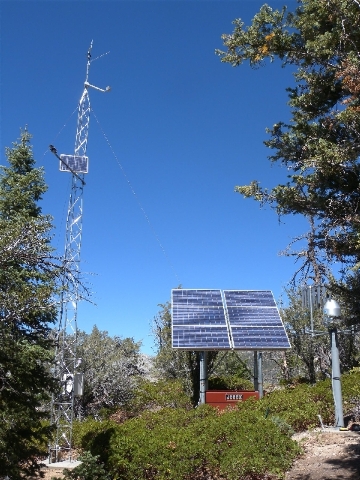 Bright sun melts scattered patches of late-spring snow in a bristlecone forest high along the western slope of the Snake Mountains.
The tranquil scene is 300 miles northeast of Las Vegas, but anyone with a computer can pay it a visit, thanks to ongoing climate research by the Nevada System of Higher Education.
Researchers are giving free and universal access to all the information they are collecting from a network of scientific monitoring stations in a pair of Nevada mountain ranges. The data stream includes everything from current weather conditions to plant and soil moisture readings.
But the live video feed is the feature most likely to appeal to the general public.
With a few clicks of the mouse, anyone can get an instant view from 11 of the 13 remote towers erected by researchers at various elevations in the Sheep Mountains, at the northern edge of the Las Vegas Valley, and the Snake Mountains, home to Great Basin National Park in White Pine County.
The towers were placed in specific plant communities to collect baseline data and perform long-term monitoring that could help scientists track how climate change affects the entire Nevada landscape, from sage and creosote bushes on the valley floor to ancient bristlecone pines 11,000 feet above sea level.
"This is UNLV's first entry into climate change research, I would say," said Dale Devitt, a soil and water professor in the University of Nevada, Las Vegas' Department of Biological Sciences.
He is part of a team that includes about 25 researchers from UNLV, the University of Nevada, Reno and the Desert Research Institute.
His work involves using the data collected by the towers to better understand how water moves through various plant communities in the two ranges.
Such information could prove especially valuable in the Snake Mountains, which could one day find themselves bracketed by wells and pipelines built by the Southern Nevada Water Authority to supply groundwater to Las Vegas.
Devitt said the research is not designed to bolster the case for the pipeline or provide evidence against the controversial project.
"Clearly Las Vegas needs water," he said. "Our job is to make sure whoever is going to make that decision is making it based on good science.
"It's all about doing good science."
The first of the towers went up in the summer of 2010.
"Some of the sites we had to fly the equipment in with helicopters," Devitt said.
At others, researchers lugged the gear in on foot, sometimes hiking several miles over rough terrain with 70 pounds on their backs.
During one such trip, Devitt fell and broke his nose in three places.
"People say when you hit your nose, you see stars. I saw the whole universe," he said.
The nearest medical help was a 45-minute hike and a two-hour car ride away. The experience taught him to lighten his load and take at least two people with him when he goes into the field.
Devitt said making all of the data available to researchers around the world was an important goal for both the university system partners and the federal agencies and private landholders who granted access for the towers to be built.
"They're all very interested in bringing science to the people," he said.
And a great deal of science has been done already. The monitoring stations have been collecting data minute by minute for several years now, transmitting the information wirelessly to a central computer in Reno, where anyone can access and download it for free.
If researchers want to collect their own specialized data, all they have to do is plug in their monitoring equipment and data loggers. The towers are equipped with extra ports and surplus power for that purpose.
The monitoring network was paid for with a $15 million grant from the National Science Foundation and $5 million in state matching funds.
Devitt said the money runs out in August, so UNLV, UNR and DRI have agreed to pick up the tab over the next two years to "allow for a softer landing." After that, researchers will have to find new ways to sustain their work and pay for the upkeep on the towers and equipment.
To be of any real value, the monitoring stations need to keep collecting data for a long time, he said.
"As you know, climate is not something you monitor on a daily basis but on a decadal basis," Devitt said.
Contact reporter Henry Brean at hbrean@reviewjournal.com or 702-383-0350.
To find out more about the climate monitoring network and see recent pictures and live video from towers in the Sheep and Snake mountains, visit sensor.nevada.edu.