Nevada's best-kept secrets endure at Area 51
August 17, 2014 - 9:23 am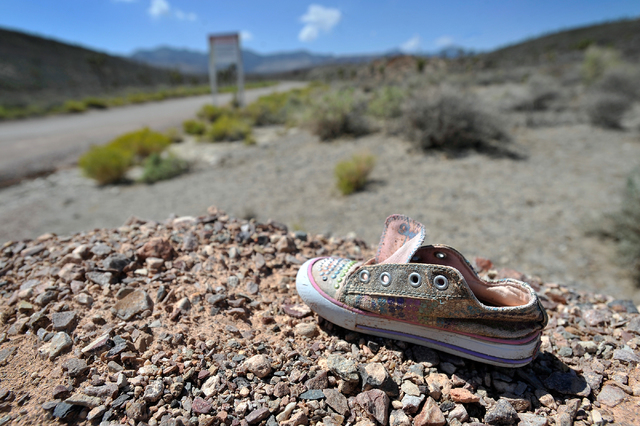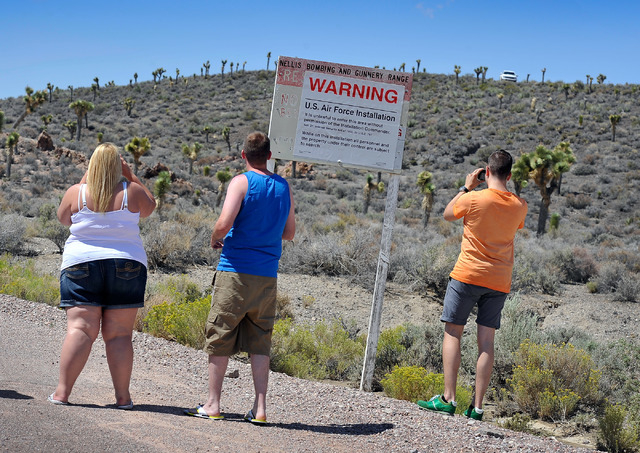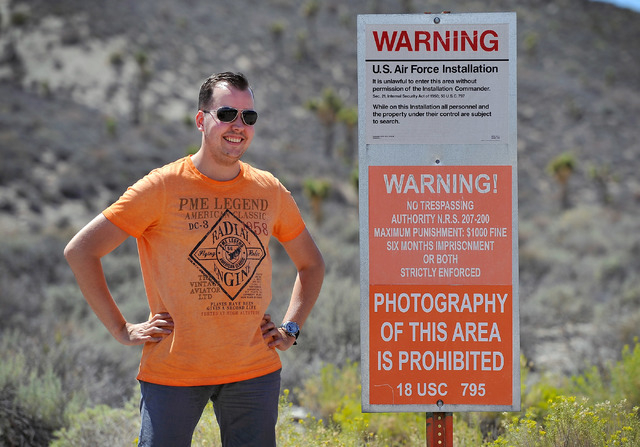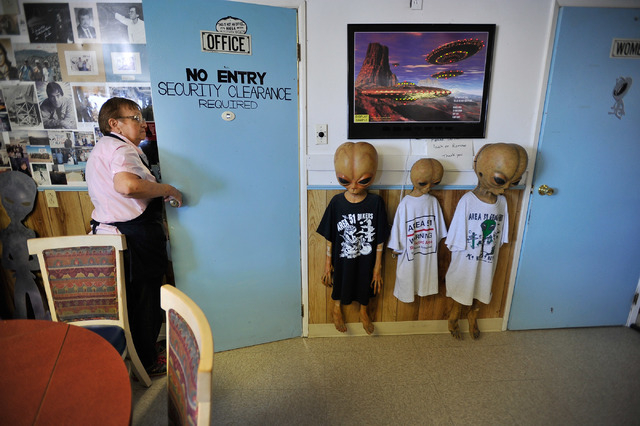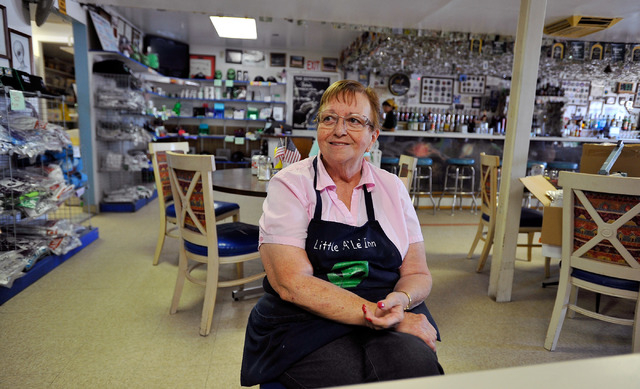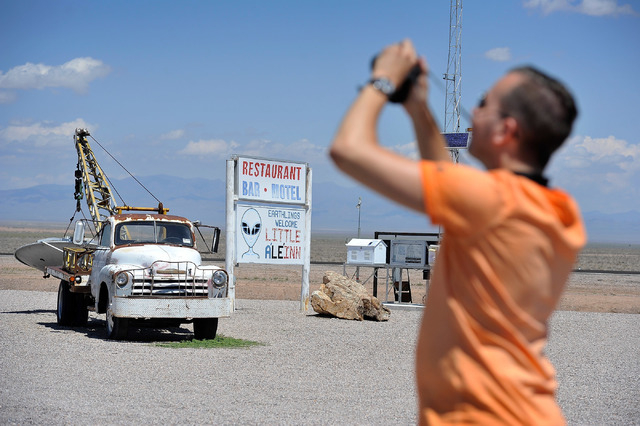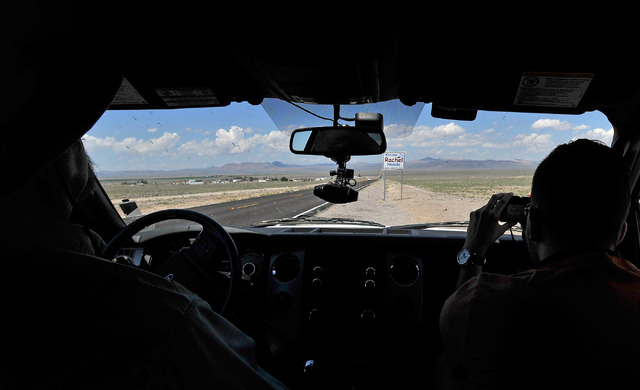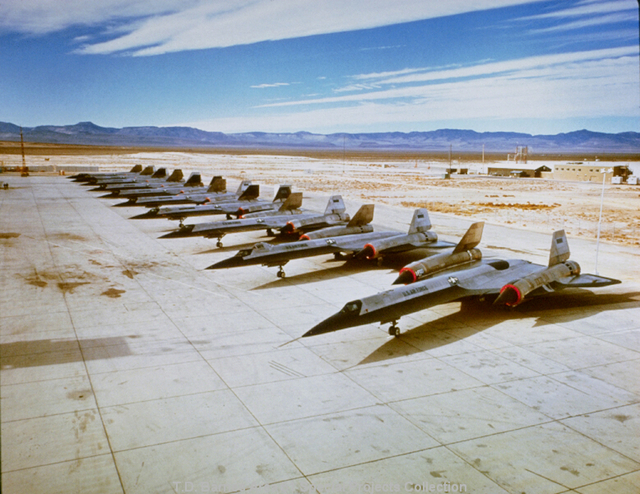 Editor's Note: Nevada 150 is a yearlong series highlighting the people, places and things that make up the history of the state.
RACHEL
A Ford Expedition descends into the desert. The only sign of civilization is the nameless dirt road stretching a few miles back to state Route 375. Then the vehicle stops short of something unusual: pavement.
"This is the closest you guys are going to get," says Dean Baumgartner, turning off the car and ushering a man from the Netherlands and a couple from England to get out.
They look at the paved road ahead and the hills flanking them. They study the white Ford Raptor truck perched atop a hill to the right, facing them from a hundred yards away. Silhouettes of two men can be made out, watching everything they do, there in case they step across the line.
"They knew we were coming and drove out to meet us," said Baumgartner, pointing to the opposite hill at their left, where camera and audio-sensing equipment stand on tripods. "They're keeping an eye on everything you do and say."
The tour guide has brought hundreds of people here from all over the world, just for a glimpse. A few of them have threatened to test the Air Force's no trespassing signs, most memorably a group of women who asked what the men in the truck might do.
"I said they can shoot you. Right guys?" replied Baumgartner, knowing he would be heard.
The truck's headlights flashed, making it clear that this isn't just any government property. It's the one that helped put Nevada on the map, even as the federal government struggled for decades to keep it off any map. Welcome to Area 51.
UNOFFICIAL, OFFICIAL STORY
A year ago this past week, the federal government at long last acknowledged the secret facility inside the Nevada Test Site, freeing those like 77-year-old Las Vegas resident Thornton "TD" Barnes to finally tell his wife what he did for the Central Intelligence Agency from 1968 to 1975.
"Back then, aliens weren't a thing," Barnes said in an interview last week, recalling his work in high-speed radar tracking. It brought him to the top secret Area 51 to help in the CIA's test program for U-2 spy planes and other Mach 3 aircraft, as revealed in the CIA reports declassified in August 2013. "If people only knew. We were out there just flying planes."
When it comes to Area 51, there's the unofficial, official story of a top-secret proving ground for new military technology and clandestine missions still in operation today. And then there's the version preferred by the conspiracy crowd, the one involving shadowy projects and alien technology. Both draw tourists from all over, eager to see what they can't see — inside.
Baumgartner's tour, offered through Adventure Photo Tours, starts at McCarran International Airport, of all places.
An airline operates there but doesn't sell tickets. Instead, it flies unregistered, unmarked Boeing 737s, nicknamed Janet jets, that can be identified by the red stripe running down their white fuselages. The flights transport personnel from Las Vegas to the Nevada Test Site and Area 51.
Barnes flew in the red-striped planes during his seven-year stint at Area 51, catching a ride to work every Monday and coming back Friday evening. He chuckles at all the wonderers, searching for exciting explanations, such as why the service came to be called Janet airline. That was the name of the CIA base commander's wife back in the day, he said.
"It's just the guy's wife," says Barnes with a laugh, remembering all the times he's been asked about aliens. "I tell them we didn't have any aliens out there. Just the best flying club in the world."
But Barnes knows there's no convincing some people, no matter how much he describes what did occur, like the MiG-21 fighter jet they received from a Soviet defector and later used in training to save countless lives.
As Baumgartner tells 26-year-old Floris Otten, visiting the United States for a karate tournament in Long Beach, Calif.: "When the government claims there's nothing going on, make the lie believable. If nothing's there, why would they guard it?"
ALIEN HUNTERS
Otten came to Las Vegas for what lies outside it. He first heard about the secret military installation from a video game, Perfect Dark, he played as a teen. He has learned what he could about the secret base ever since.
Baumgartner feeds him more tales during the drive on Interstate 15 north out of Las Vegas, splitting off onto U.S. Highway 93 a few minutes later and into the depths of the Nevada outback. For the 100 miles to Alamo, hardly a building or other paved road can be seen in the expansive valleys leading in all directions.
"No one to see what they're doing," says Baumgartner. "I'm going to tell you the theories. You can decide yourself."
He talks of the rumored Area 51 tunnels — large enough for planes — connecting to California and of crystal skulls, like the ones made famous by the fourth film in the Indiana Jones franchise, and more.
"I like all the stories, but I remain skeptical," says Otten.
Shane and Becky Cooper, the other passengers, feel similarly but have been intrigued since they saw a Janet jet taking off their last time in Las Vegas. Like many people in England, they hadn't heard of Area 51, they said.
"My personal opinion, it's a military base," says 33-year-old Shane Cooper as Baumgartner turns the sport-utility vehicle onto Alamo Canyon Road, just short of Alamo the town, heading for Delamar Dry Lake. The Air Force reported using the flat and hard lake bed as an emergency landing site for the X-15. The rocket-powered aircraft set speed and altitude records in the 1960s.
Baumgartner acknowledges that most UFO sightings in the 1970s were probably the radical-looking Mach 3 planes tested at Area 51, like the SR-71 Blackbird.
"Almost every day, we were flying something," says Barnes, at Area 51 for 2,850 training missions and 29 real-world surveillance missions, 26 over Vietnam and three over Korea. He remembers some odd planes, like the Have Blue, Lockheed's prototype for the F-117 Nighthawk. "Weirdest thing I ever saw. You would think it an alien aircraft."
But what is the Air Force up to now? asks Baumgartner, taking the group past Alamo to State Route 375, renamed the Extraterrestrial Highway in 1996, as marked by a sticker-covered sign.
"I want to believe," says Otten, reading one of the stickers.
Baumgartner has shuttled all kinds of people looking for reason to believe, from an Australian bachelorette party to Europeans, Asians and Americans.
"The whole way there, they're listening. They soak it up," the tour-guide says. "Sometimes, they don't speak English, which is interesting."
While some are fanatics, knowing more conspiracy theories than Baumgartner, others are "just curious or maybe a little off, just like me," he says.
PARANORMAL PIT STOP
Less than 40 miles down the Extraterrestrial Highway, Baumgartner makes a pit stop at the mandatory lunch spot for alien enthusiasts, Little A'Le'Inn in the small town of Rachel.
The restaurant and motel are featured in the movie "Paul" and sit across the street from a dry lake bed used in the blockbuster film, "Independence Day."
An old tow truck is parked out front with a flying saucer dangling from the back. Near it stands a weather station also monitoring radiation. It belongs to a network of 28 other stations in "communities and ranches surrounding and downwind of the National Test Site," according to a U.S. Department of Energy and Desert Research Institute program that monitors "man-made radioactivity."
Nearby Area 51 lies within the Test Site, where 1,021 nuclear detonations occurred between 1951 and 1992, 100 of them above ground.
Inside the Rachel restaurant, about 5,000 pieces of paper money hang above the bar representing currencies from around the world.
Pat Travis, 71, has owned the restaurant for 26 years and embraces the Area 51 tourists, selling alien cookie jars, mugs, T-shirts, stuffed animals, shot glasses and much more. No one has found aliens, as far as she knows, but they find something else out here in the Mojave Desert, she says.
"People talk to each other here. When's the last time you talked to someone at the table next to you?" says Travis, recalling two New York City neighbors who hadn't a clue they lived across the street from each other. "They met here."
After all these years, she can't speak to the mysteries shrouding Area 51.
"There are so many unanswered questions out there because no one knows what happens in Area 51," she says.
END OF THE ROAD
After lunch, Baumgartner heads his group back toward Las Vegas, stopping at a dirt road for the "black mailbox," which is now white, planted in concrete and made of quarter-inch steel because of thieves and vandals. The mailbox is an alleged hot spot for UFO sightings.
Down the dirt road, Baumgartner goes for miles, taking his group to what they came to see — the spot where the warning signs stand and the pavement begins.
When they arrive, Otten watches the white truck on the hill, hesitant to approach the boundary as Baumgartner warned.
"I'm following you," he tells his tour guide.
"You want someone to be a sucker for you, huh?" Baumgartner replies, walking up to the Air Force Installation sign a few inches from the pavement, but never over it. "See? No problem."
The Coopers ask if it's just dummies in the truck. Baumgartner's tour company discovered that wasn't the case May 28. Another tour guide, distracted by a person in the back seat, accidentally drove past the warning signs and was chased down by the white truck. Men in military garb got out, and Lincoln County police arrived to arrest them.
That should provide more fuel for the conspiracy theorists, says Barnes. But it doesn't bother him.
"That's part of the legacy of it. They really think that happened out there," said the Cold War veteran who has done dozens of radio and TV interviews, including with the Discovery Channel and National Geographic, since being cleared to talk.
Callers always ask the same questions, wanting to know what they fed the aliens and how they looked. "They just flat out believe without a doubt that we had aliens out there. That's their only concern."
Contact Trevon Milliard at tmilliard@reviewjournal.com or 702-383-0279. Follow @TrevonMilliard on Twitter.

Celebrating the Silver State