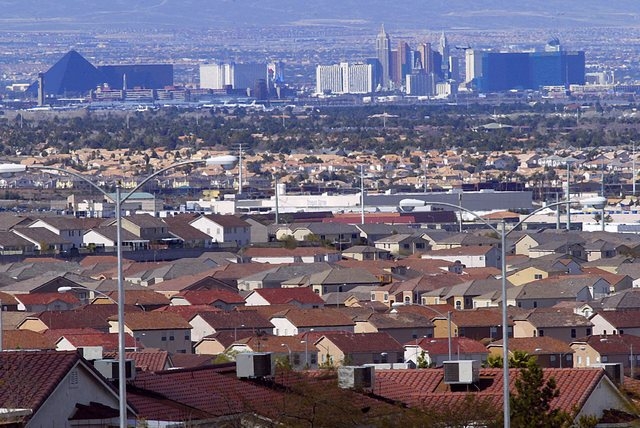 Editor's Note: Nevada 150 is a yearlong series highlighting the people, places and things that make up the history of the state.
No free buffet for you if you can't name the state's most populous city and county.
The 2010 census showed Las Vegas, at 584,000 people, and Clark County at 1.95 million, as the far-and-away leaders in Nevada, a state with 2.7 million. But that's hardly a surprise. By 1960, Las Vegas had passed Reno as the largest city and never looked back.
But here's where you earn your chops: What was the biggest city when Nevada became a state? Answer: Virginia City, which grew from 2,345 in 1860 to 7,046 a decade later, with no place else even close. By contrast, the 1870 census listed the Las Vegas Valley, then a part of Lincoln County, as having a population of eight.
Virginia City, despite the name, was not so much a metropolis as a mining camp for those who had come to make their fortune digging the Comstock Lode silver mine. At one point, the population topped 15,000.
But the residents didn't sink roots. As the silver veins became increasingly scarce, finally running out in 1898, the population sank just as rapidly as it rose. By 1930, the head count had fallen below 1,000 and stayed there ever since as the economy shifted, with the Old West-style downtown evolving into a historic theme park.
The builders of Las Vegas found more permanence in mining visitors' wallets instead of minerals from the earth. Not much more than a village before World War II at just 8,422 people in 1940, it lived in the shadows of Reno at 21,317 people, who profited from the proximity to San Francisco and less brutal summers.
But after the war, Las Vegas began one of the most remarkable boom town runs ever, from 24,624 in 1950, to 64,405 in 1960, to 125,787 in 1970, to 164,674 in 1980, to 258,295 in 1990 to 478,434 in 2000. Clark County exploded as well, with the city's share of the region's populace shrinking over the years.

Celebrating the Silver State