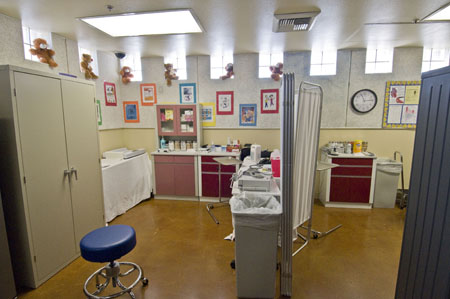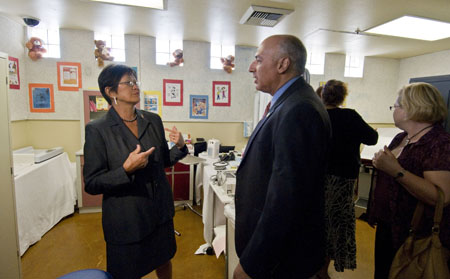 Until recently, The Shade Tree shelter had to call ambulances to transport residents to the hospital an average of six times each day.
The homeless, mostly uninsured women and children who live at the downtown shelter had little choice but to postpone health care until they were sick enough to be shipped to emergency rooms.
But now that the residents have access to preventive care at a new clinic inside the shelter, those emergency calls have decreased nearly 70 percent.
"What a miracle," Marlene Richter, executive director of The Shade Tree, said of the new clinic at its dedication Wednesday. "This is a dream."
The Stallman Touro Health Clinic provides free medical services, including prenatal and pediatric care, to the hundreds of women and children who stay at the shelter, many of whom haven't visited a doctor in years.
"To make sure babies are born healthy, to make sure women are healthy enough to re-enter the community, really hinges on this clinic," Richter said.
The facility, which opened in June and operates three days a week, was funded by a $50,000 grant from the family of the late Andy Stallman, a successful New York financial analyst who was concerned with the plight of the homeless.
Faculty from the Touro University Nevada School of Physician Assistant Studies and volunteer doctors from the community staff the clinic.
The small third-floor facility is stocked with medical supplies, an exam table and teddy bears.
One of the residents who has come to appreciate it is 54-year-old Marilyn Ryan, who has been staying at the shelter since March.
The substitute teacher is diabetic, has no insurance and hadn't seen a doctor in three years when a string of bad luck and "maybe one too many nickels in the slot machine" led to homelessness.
The clinic provides her with peace of mind as she's struggling to rebuild her life.
"I can feel comfortable with the fact that everything's pretty much under control" healthwise, Ryan said.
Without the clinic, Ryan said, she might be like a homeless woman she met who had to walk to the emergency room to get treatment for a sore throat.
"How ridiculous is that?"
Having such a facility on site is especially important for the many domestic violence victims staying at the shelter, Richter said.
Such women might not feel safe leaving the shelter to seek medical care.
The clinic also helps police feel better about steering domestic violence victims to The Shade Tree, said Las Vegas City Councilman Stavros Anthony, who is a retired police captain.
"Now, when they bring someone here, they know they're going to get health care," Anthony said.
Contact reporter Lynnette Curtis at lcurtis@reviewjournal.com or 702-383-0285.