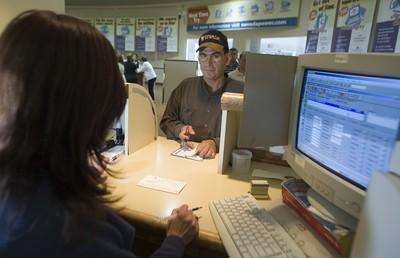 Electric rates for Nevada residential customers have doubled over the past 16 years, and there's little relief in sight.
Nevada Power Co. is asking state regulators for rate increases that would propel residential bills to record highs in Southern Nevada starting June 1 — just in time for heavy power use during the summer air conditioning season.
Southern Nevada "certainly has the potential to have the highest rates we've ever had for the residential customer," said state consumer advocate Eric Witkoski.
"We're still waiting on a couple of decisions from the (Public Utilities Commission)," Witkoski said.
The year-round average bill for a residential customer using 1,250 kilowatt hours will climb by $18.22 to $154.71 if the commission approves the rate changes as Nevada Power requests. That's a 13 percent increase.
The same percentage of increase results in dramatically higher bills when air conditioners are in use during the summer.
If the commission approves Nevada Power's rate increase applications as filed, a typical single-family resident will pay $242.74 for 2,000 kilowatt hours a month during the summer air conditioning months, up from $214.78 previously, according to the utilities commission.
That's an increase of 13 percent or $27.94. The commission reported the average cost per kilowatt hour of 12 cents.
"Nevada runs on air conditioning," said Michael Yackira, president and chief operating officer of Nevada Power Co. parent Sierra Pacific Resources. "The summer time bills are definitely higher than a lot of other places in the United States because we live in a desert. It gets 115 degrees here."
Nevada electric rates are also rising faster than in other states. Nevada's electric rates soared 94 percent from 1990 to 2006 even though the state continued to regulate the power industry.
While an Associated Press analysis of federal data shows consumers in 16 states and the District of Columbia — which deregulated power since the late 1990s — paid an average of 30 percent more for power in 2006 than their counterparts in regulated states, Nevada power costs were up sharply because of the California energy crisis and the rising cost of natural gas, industry experts said.
Nevada's electrical rates nearly doubled from 5.7 cents per kilowatt/hour in 1990 to 11.07 cents per kilowatt/hour in 2006, according to figures released by the U.S. Department of Energy.
Public Utilities Commission Chairman Don Soderberg attributed the high rates to two things. He mentioned reliance on temporarily cheap wholesale power during the 1990s, rather than company-owned power plants, and the skyrocketing price of natural gas in recent years.
"That Nevada Power rates have doubled can be attributed to two factors: The failure to build power plants in the Nineties and the overwhelming reliance on natural gas as a fuel," Soderberg said.
During the 1990s, Nevada utilities and officials decided to buy power on the wholesale market while utilities in Arizona, Utah and Southern California built more power plants, Soderberg said. Some of the out-of-state utilities were charging twice the rates that Nevada Power customers paid, Soderberg said, but they enjoyed some insulation from a later surge in wholesale power prices.
Then, California deregulated its retail power markets and wholesale prices soared amid allegations of market manipulation by companies such as Enron Corp.
After seeing the rolling blackouts and price-gouging caused by deregulation in California, Nevada lawmakers in 2001 abandoned the idea of deregulating the electric power industry in the Silver State.
Yet, utility executives "didn't do any long-term planning," Witkoski said. "We turned the ship and we're trying to patch everything up and deal with a lot of those issues. We're still paying off what happened in California."
Yet, utilities that built power plants during the 1990s were less exposed to the jump in Western power prices, Soderberg said.
Nevada felt a second round of rate increases when natural gas prices starting climbing. The price of natural gas rose from $1.70 per thousand cubic feet in 1990 to $7.16 per million cubic feet, said Nevada Power spokeswoman Andrea Smith, citing figures from the Energy Information Administration. After Hurricane Katrina, the price reached as high as $15 per thousand cubic feet, Soderberg recalled.
That stung because Nevada Power gets three quarters of its power from gas-fired generation plants it owns or from gas-fired plants owned by wholesale power suppliers, Soderberg said.
The regulator said most of the Nevada Power rate increases have been for fuel and wholesale power expenses while so-called general rate increases for maintenance, operations and profits have basically kept pace with inflation over the last 16 years.
In recent years, officials have sought to diversity Nevada Power's fuel mix for power generation. The utility is developing renewable power facilities, such as solar, and geothermal energy, as well as a $3.8 billion coal-fired plant near Ely.
Nevada Power also has built and bought new gas-fired power plants that are 20 percent to 40 percent more efficient than older gas-fired power plants, Yackira said.
"The types of expenditures we are making will, in the long run, improve the prices for customers," Yackira said.
The utility executive declined to predict when rates would come down, saying that depends on natural gas prices. Gas will remain a key fuel for Nevada Power as the utility struggles to keep pace with explosive population growth, he said.
"We see leveling off (of power rates) in the next few years if natural gas prices stay where they are supposed to," Soderberg said.
Rates are likely to keep increasing to pay for new generating capacity that will be needed due to Nevada's growing population, Witkoski said.
"It's not a pretty story for the ratepayer because rates just keep going up," he said.
The Associated Press contributed to this report.