Without Bill Walters, Opportunity Village takes a hit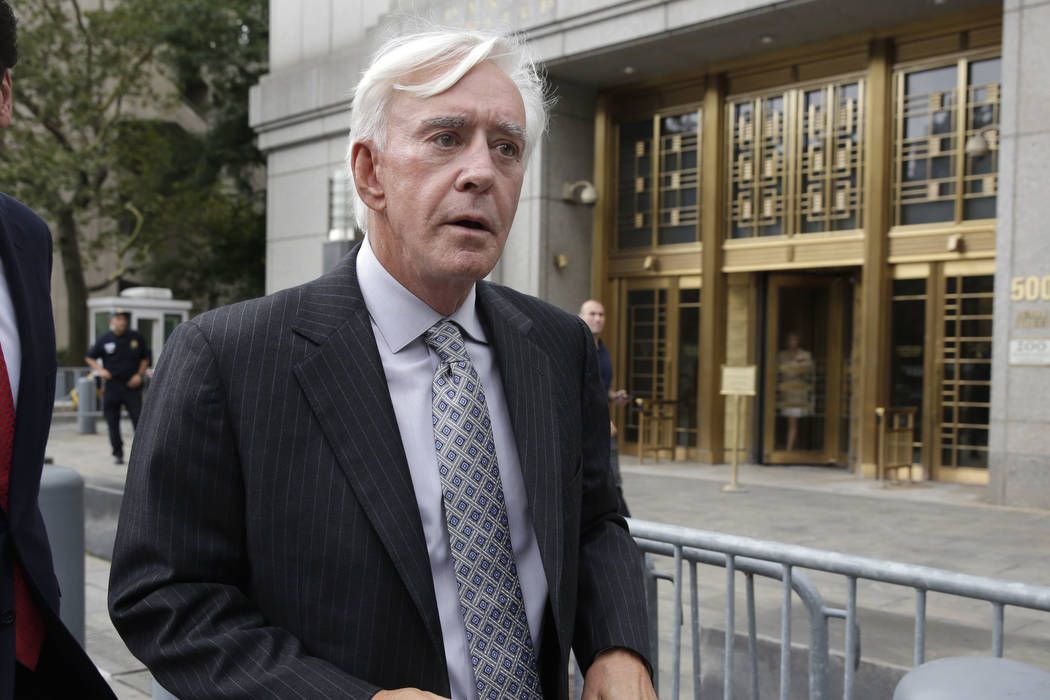 Las Vegas gambler and businessman Bill Walters faces a high cost for his illegal insider trading: five years in prison, starting Oct. 10, a $10 million fine and undetermined restitution.
But his criminal sentence could result in additional financial punishment in Southern Nevada. Opportunity Village, his favorite charity, might take a big hit without his presence.
Walters said he will continue to help Opportunity Village — a nonprofit serving adults with intellectual and related disabilities — any way he can. He believes his appeals will succeed and he won't go to prison. "The game isn't over yet," Walters said Wednesday.
"If the sentence is carried out and I have to be incarcerated, we will do what we can," he said. He said he could write letters soliciting contributions to Opportunity Village, but his access to phones would be limited.
Walters, 71, was far from wallowing in self-pity during our interview. "One thing that OV really does for me, is you look at clients over there and look at their situations," he said. None of his problems compares with theirs.
Compared with the challenges his disabled 49-year-old son, Scott, has faced, "I've got things pretty good," Walters said.
He donated vast sums of his money to help intellectually disabled adults. And when he asked others to give, they did. He brought passion to Opportunity Village fundraising because he understood the importance of giving jobs to the intellectually disabled. His son is disabled because of brain cancer.
Opportunity Village CEO Ed Guthrie estimated that for every dollar Walters donated, his fundraising efforts with his friends raised "at least five times as much." If Walters is unable to help, losses might be inevitable.
Linda Smith, who was Opportunity Village's senior executive vice president for 35 years, estimated Walters donated between $8 million and $10 million in Nevada, not counting philanthropy in his home state of Kentucky or the low-key help he provided to those who asked.
"He'd make fundraising calls to his friends on a weekly basis, and they'd call up and say they were friends of Bill's," Smith said. "He'd bring in celebrities and Hollywood producers. His friends became major donors."
Guthrie said he didn't have to ask for donations from Walters' friends because Walters himself did the asking.
"Billy would open the door for that first donation and after that it was our responsibility," Guthrie said.
Walters' conviction on 10 counts of securities fraud and conspiracy was based on an insider-trading scheme with Tom Davis, then chairman of Dean Foods Co.
During the New York trial, federal prosecutors said some of his generous donations probably came from the estimated $43 million in ill-gotten gains from his six-year stint making money off insider tips.
In trial testimony, his controller said in 2013 Walters had revenues of $500 million from businesses that included his Las Vegas golf clubs, auto dealerships and car-rental agencies.
That didn't include the money he made from gambling on football and basketball, and, according to Walters, he never had a losing year.
Walters could afford to be generous.
Smith, whose son, Chris, is disabled, wrote on her blog, www.lindaslife.com, that she met Walters and his wife, Susan, 25 years ago when she asked for a meeting to discuss a contribution.
"In less than five minutes, with eyes brimming, a million dollars was pledged. Many many millions followed that first gift."
When she needed a carousel for the charity's hugely popular Magical Forest attraction, he bought one. A shredding business was formed when Walters bought the necessary equipment. The Walters Family Campus is one of four centers that help 2,000 disabled adults work at jobs.
His charm was renowned, but he didn't charm U.S. District Judge P. Kevin Castel, who called the insider trading scheme "amateurishly simple" at the July 27 sentencing. Castel described Walters as "a cheat and a criminal and not a very clever one."
According to The Associated Press, Castel noted "large and splashy displays of philanthropy" by Walters — some probably funded by his crimes. But the judge also credited him for under-the-radar gifts that "say something about the man's character."
The unintended consequence of Walters' sentence is the potential financial loss to Opportunity Village — and a likely slowdown for its $136 million expansion and renovation plans in Southern Nevada.
The disabled might have to do with less because Bill Walters won't be able to work the fundraising phones from a federal prison.
Jane Ann Morrison's column runs Thursdays in the Nevada section. Contact her at jane@reviewjournal.com or 702-383-0275. Follow @janeannmorrison on Twitter.