School health workers leaped into fray of Las Vegas shooting
October 10, 2017 - 10:38 am
Updated October 11, 2017 - 1:00 am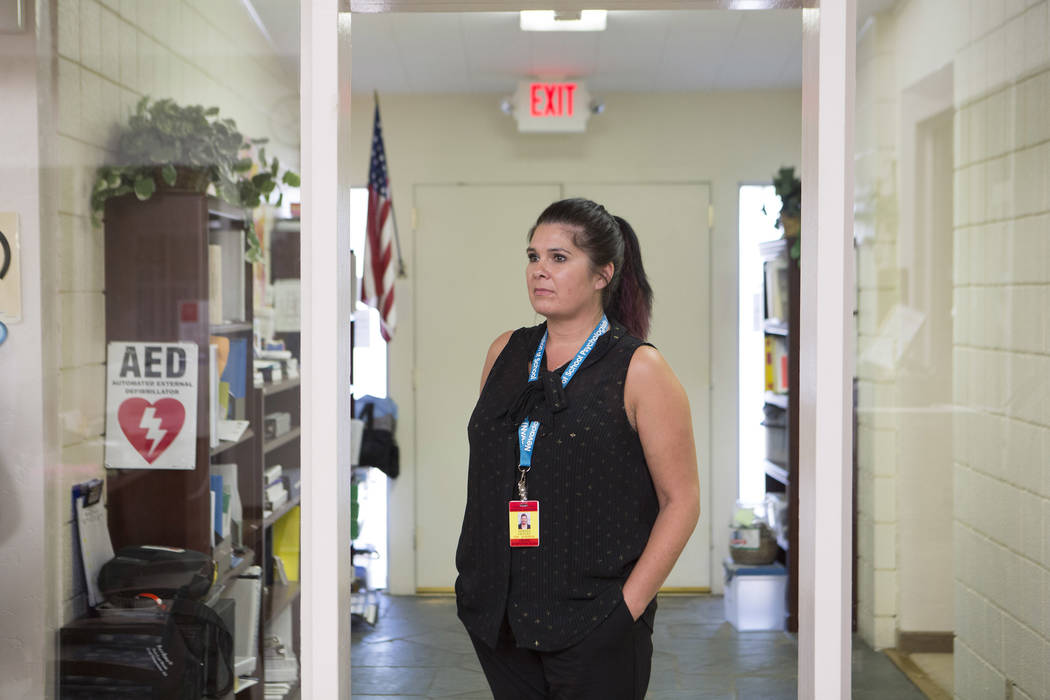 Teresa Chavez deals with trauma in schools every day.
But the school psychologist with the Clark County School District still struggled to hold back tears as she recalled the scenes at the Las Vegas Convention Center and the Metropolitan Police Department headquarters on Monday — where families were gathering in the aftermath of the mass shooting on the Strip.
What she saw was heartbreak.
"I witnessed a young mother … she had just been told by a couple of detectives that her daughter did not make it, and just to see that reaction was heartbreaking," said Chavez, who works in the district's crisis response department.
She is one of up to 200 school psychologists, nurses, counselors and social workers from the district who responded to a request for assistance from local authorities in the early morning hours after the shooting.
In those first hours, Chavez offered emotional support as she watched detectives tell families about the death of their loved ones.
"We do this for a living. We do this every day, and I've spoken with many families who have lost close family members, but there's nothing that could prepare you for this," she said. "It was very raw. It was very emotional."
In times of disaster, the district is required by state law to assist other public agencies under a mutual public aid system.
Joe Roberts, coordinator of the district's Department of Student Threat Evaluation and Crisis Response, is proud of the response that began at 3 a.m. on Monday morning among district administrators.
Staff went wherever they were needed — to Circus Circus to manage a hotline, to Mandalay Bay for crisis work and to the Family Assistance Center at the Las Vegas Convention Center. School police also responded to the call for help.
The response has continued around the clock throughout the week. At Circus Circus, school psychologist Wendy Sebek answered calls on the crisis hotline. Some were more positive — people who wanted to help — and others were not.
"We had a lot of calls from people all over the United States, even Canada, (who) had traveled home or they drove home or they flew back home, and now they're still in crisis," Sebek said of those who left Las Vegas as soon as possible after the shooting. "They wanted to know who could they go to for help."
One of the biggest obstacles for the survivors, she said, is guilt.
"We had several that kept looking back and their loved one wasn't behind them," Chavez said. "And they think to themselves, 'Coulda, woulda, shoulda.' If I would've turned around, if I would've held on to his hand."
Chavez tried to eliminate that guilt, noting that the body goes into a fight-or-flight response that can't be controlled.
Many people helped by school district staff this past week have likely traveled home to deal with their new reality.
That, Chavez said, must be confronted in steps, day by day and even hour by hour.
"You can grieve from a week to a month to a year, but these families will never be the same, ever," she said. "And the last thing they want to hear is it's going to be OK. Because it's not — their life has changed."
Contact Amelia Pak-Harvey at apak-harvey@reviewjournal.com or 702-383-4630. Follow @AmeliaPakHarvey on Twitter. On Education appears every other Saturday.
"That was very tough — to be sitting next to someone that was given the news that their boyfriend or their husband or their daughter was dead, and to see their reaction." — Teresa Chavez, CCSD school psychologist who responded in the aftermath of the shooting