Crossing guards run risks for safety's sake
October 8, 2016 - 10:55 am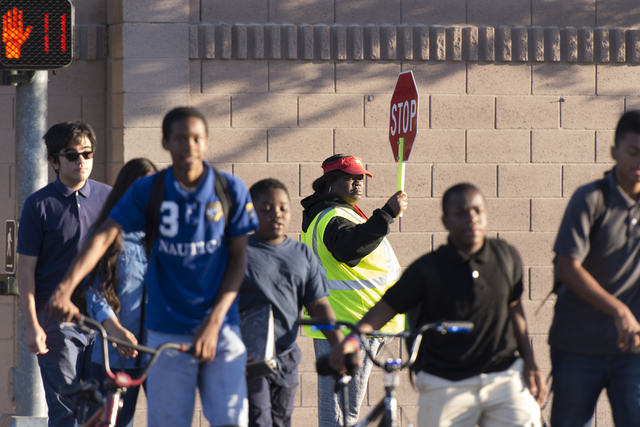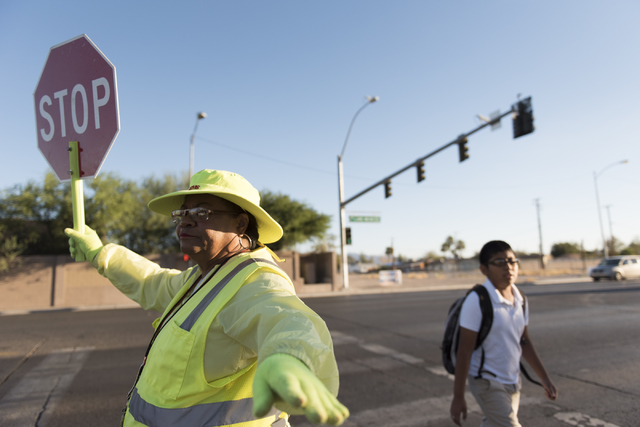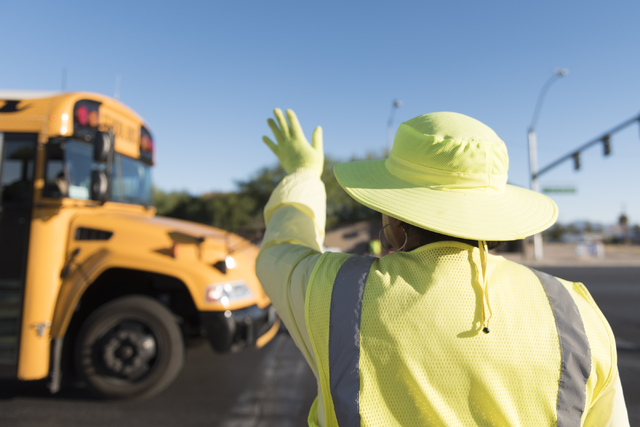 School crossing guard Patricia Bass has decided she'll swing her stop sign like a baseball bat if need be. And she's not above using her foot, like a punter in football.
The 67-year-old grandmother helps children cross Lake Mead Boulevard near West Preparatory Academy mornings and afternoons.
Given that a crossing guard was assaulted by an angry driver in 2014, she says that for the last two years not a day's gone by as she protects kids that she hasn't thought about how to fend off an irate driver.
Did you ever think America would come to this?
It was two years ago when Adam Kondrat got out of his car and punched and kicked 64-year-old crossing guard Dano McKay for forcing him to stop. Kondrat had been driving 50 miles per hour in a school zone near Gehring Elementary School.
McKay survived only because a former police officer saw what happened and intervened. McKay also had to fight off Sabrina Torres, Kondrat's girlfriend.
During the 2015 sentencing of Kondrat, 21, and Torres, 22, in Clark County District Court, McKay told the judge he'd been hospitalized several times and has lingering neck and arm injuries.
After pleading guilty to felony battery, Kondrat was sentenced to up to 10 years in prison, Torres to three years.
Too bad the powers that be can't lock their cell doors and throw away the key.
On a recent morning you couldn't miss Bass — she was a keno runner on the Strip for 25 years — walking to work from her senior citizens apartment near her post at the intersection of Lake Mead Boulevard and Tonopah Avenue. She wore a lime green hat with a matching vest that read "CROSSING GUARD " on the back. She also carried a two-sided red "STOP"sign.
"I've done this for eight years in all kinds of weather because I love kids, and there's only so much TV you can watch after you retire," she said before walking in front of traffic on one side of Lake Mead with her sign. Crossing guard Rhonda Enabulele followed suit on the other side of the wide boulevard.
Bass has also worked just down the block, where Pink Rose Street intersects with Lake Mead. Unlike where she's working on this day, there is no stoplight at the crossing, just a beacon designating when 15 mph or 25 mph speeds are in effect.
"We call those unprotected crossings," said Paul Kmetz, regional manager of All City Management Services, which employs more than 550 crossing guards in Las Vegas, Henderson and North Las Vegas. "It's not uncommon for people to break the law and try and drive through the crossing even though a crossing guard is out there."
Proud of her two sons — one's a Las Vegas SWAT cop and the other a sales rep for a hotel — Bass said she's almost been hit several times by impatient drivers.
"Most drivers are great. I wave to them and they wave back. We get to know each other since I'm out there every day. But there's angry drivers, too. They'll cuss me and give me the finger because they're in a hurry."
She makes $9.25 an hour.
What Bass likes most about her part-time job is talking with kids. Many call her "Grandma" as they walk across the street. Even though she lives largely on a modest Social Security payment, she's given hungry children money for food and bought binders for kids who didn't have money for school supplies.
As Bass stood on the corner, she smiled as she remembered how children often ask her advice.
"When they tell me they got it hard at home, I let them know I grew up on the west side when there was dirt roads, no running water, and no air conditioning. It'd get so hot we'd sleep on cots outside our house on J Street. It makes them realize they can deal with not having a little something. I like to keep them safe and keep them from being sad."
Paul Harasim's column runs Sunday, Tuesday and Friday in the Nevada section and Monday in the Health section. Contact him at pharasim@reviewjournal.com or 702-387-5273. Follow @paulharasim on Twitter.