UMC doctor is Nevada's sole female cardiothoracic surgeon
Updated June 7, 2017 - 12:10 pm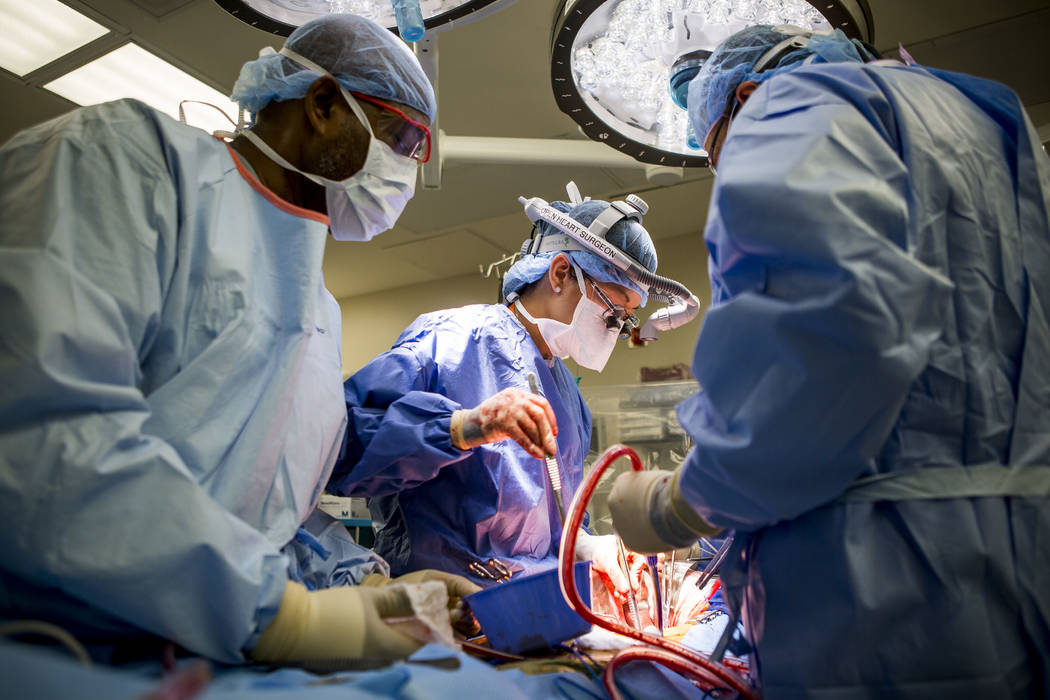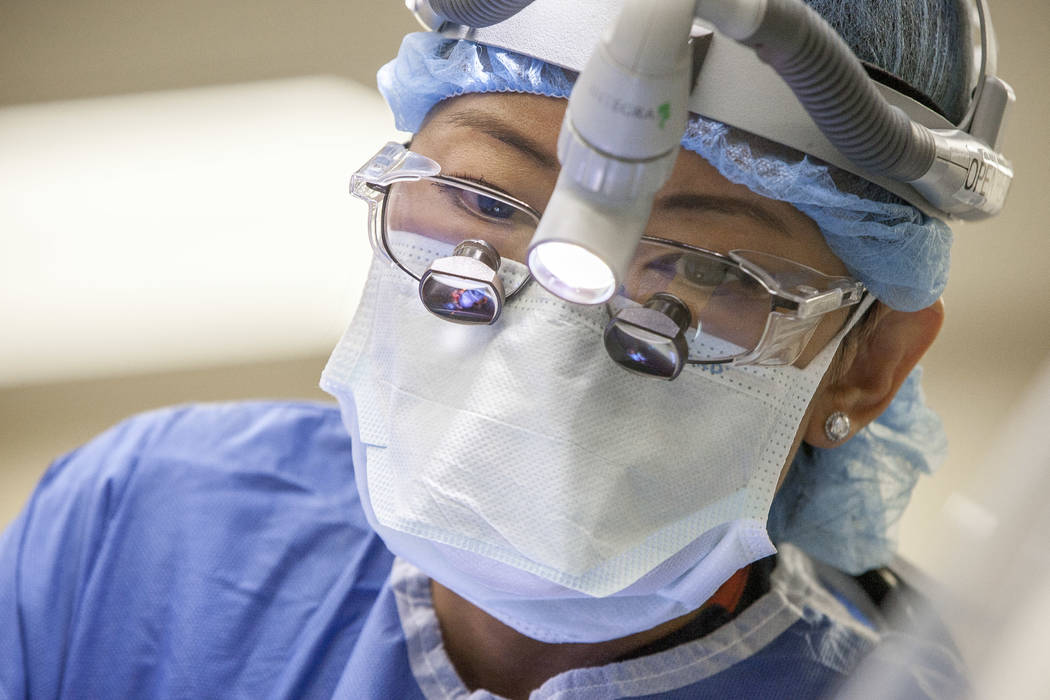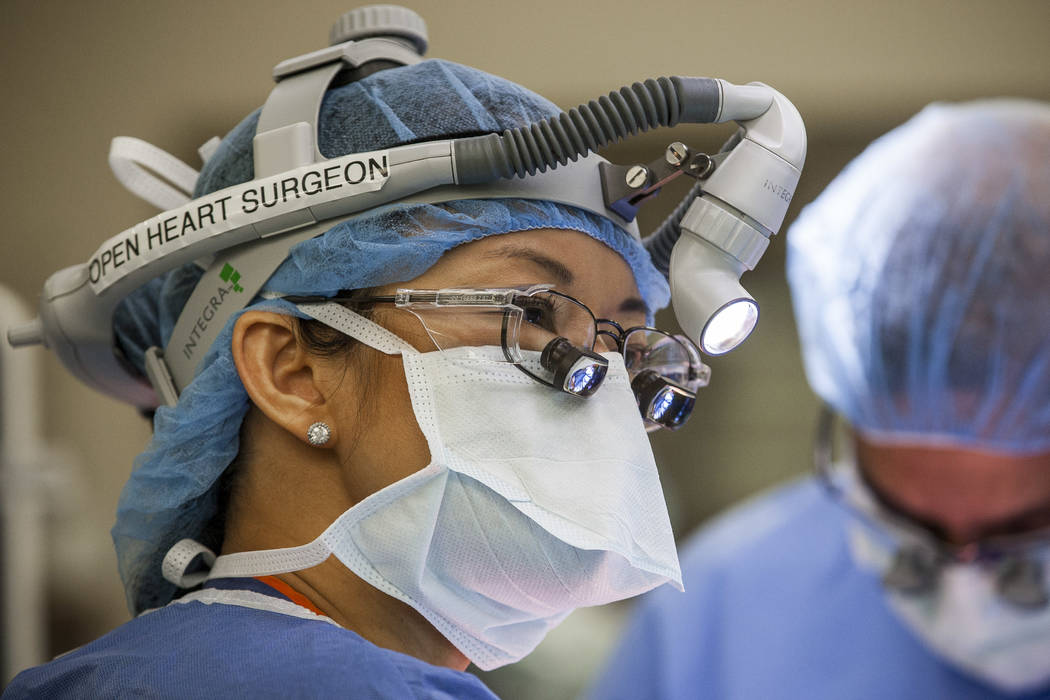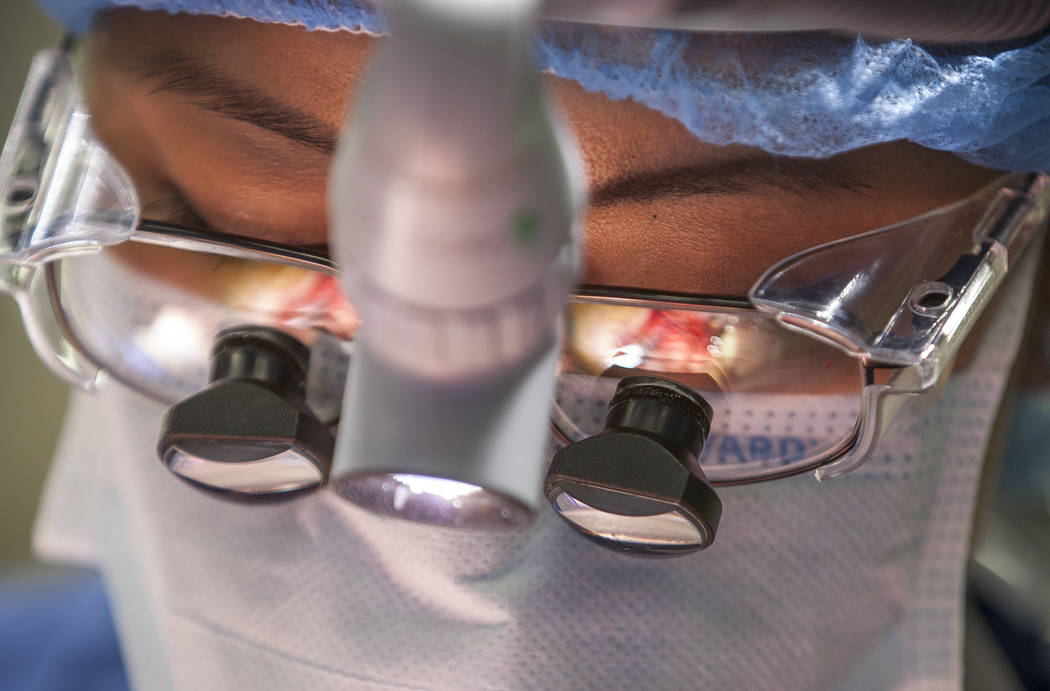 Allen Hughes' chest pain was intense — a tearing, ripping, shearing sensation that left him gasping for breath as he lay in the University Medical Center emergency room.
"He was changing in front of me, getting much worse," remembers Dr. Dale Carrison, the emergency room doctor who first saw Hughes almost a year ago. "I called Dr. (Quynh) Feikes upstairs right away."
What Feikes, the only female cardiothoracic surgeon in Nevada, saw on a CT scan is that Hughes, now 57, had suffered an aortic dissection, a condition in which the inner layer of the aorta, the large blood vessel branching off the heart, tears. Blood rushes through the tear, forcing the inner and middle layers of the aorta to dissect or separate.
For more than six hours, Feikes was inside the chest of Hughes, painstakingly cutting out as much of the dissected aorta as possible, blocking the entry of blood into the aortic wall and reconstructing the aorta with a synthetic tube called a graft.
"I don't remember much, but I do remember her saying I had to get in for surgery right away," recalls Hughes, who was in Las Vegas for a convention when he fell ill. "I didn't know it at the time but she also told my wife she didn't know if I'd live through it. Now I think of her as my angel."
Forty percent of people who suffer an aortic dissection die immediately, never reaching the hospital in time, medical studies show. Of the remaining 60 percent, 1 percent die every hour. Up to 20 percent die during surgery or soon after.
John Ritter, best known for his portrayal of Jack Tripper in TV's "Three's Company," died of the condition in 2003.
That Hughes is now back in Utah holding self-defense seminars doesn't surprise the 47-year-old Feikes.
"It's what I was trained to do," says the mother of a 9-year-old girl and 5-year-old boy.
Few females in profession
The more you learn about Feikes — Carrison says "she isn't a good surgeon, she's a great one with great outcomes" — the more you want to know.
Enhancing an individual's quality of life and sometimes saving lives through surgery, Feikes says, give her a purpose that she cherishes.
She was mentored by Dr. Vaughn Starnes, the renowned head of cardiothoracic surgery at the Keck School of Medicine of USC. Cardiothoracic surgeons specialize in surgical procedures of the heart, lungs, esophagus and other organs in the chest.
Feikes says she became enamored with the heart-lung machine, which takes over for the heart by replacing the heart's pumping action and by adding oxygen to the blood. It allows the heart to be still for open heart surgery.
It was Starnes — he made Feikes the first female fellow in USC's cardiac surgery program and helped her fall in love with the specialty — who recently performed the heart surgery that saved the life of comedian Jimmy Kimmel's baby.
Now with the Cardiovascular Surgery of Southern Nevada physician group that performs surgeries at hospitals throughout the Las Vegas Valley, Feikes is amused that she's often the only female cardiac surgeon in medical arenas. She laughs as she recalls a training incident with Starnes, when 80-hour-plus weeks were commonplace.
"One time he saw me leaving the hospital after I had stayed there all week doing my training and he wanted to know where I was going. I told him I needed some clean underwear. He said it was too bad I wasn't just one of the boys because they just turn it inside out and keep on going. … I was also often mistaken for a nurse — people handed me their urinals."
No way she's 'too small'
Had her family waited much longer to leave Vietnam, it's very possible Feikes, whose maiden name is Quynh Nguyen, would still be in Southeast Asia. She and her parents and two younger brothers got out the day before South Vietnam fell to communists in 1975.
Her father, also a physician, got seats on a cargo plane after a patient's husband gave his seats up. "I was only 5 then, and I remember looking through a fence and wondering what was going to happen. We were fortunate."
She grew up in New Orleans. A talented pianist, she received a music scholarship to Loyola University in her hometown but ended up going to Louisiana State University, where she studied sciences on full scholarship. The straight-A student then went to Albert Einstein Medical School in New York.
"My dad wanted me to go to med school, but he didn't want me to be a cardiovascular surgeon," she says. "He thought I was too small, that surgeons were always big guys in control."
Watch the 5-foot-2 surgeon in the operating room, however, and it's clear who's in charge. She does more than 250 surgeries a year at UMC. Yes, she stands on a lift for better sight lines — she also likes to listen to Joan Jett's "I Love Rock 'n Roll" in the operating theater to relax — but her patients only care about results.
"She's my lifesaver," says Michael Knueppel, 60. "I had trust in her almost immediately. It's the way she talks to you, calm and confident. She fixed the hole in my heart recently and I feel great."
On marriage, kids
Feikes wasn't thinking about having a family until she met Dr. Randy Feikes in Las Vegas, and they fell in love. Also a cardiac surgeon, Randy Feikes is the son of the late Dr. Harold Feikes, the first cardiac surgeon in Las Vegas.
"When I first met him, he kept walking me all over the Strip," she says. "He was really tiring me out, but he told me later that he enjoyed talking to me so much he just kept walking."
With both doctors frequently on call — they were home together only one out of every three weekends — Quynh Feikes admits married life with children can be taxing. The couple do not have live-in nannies, but do have nanny help.
"If being a surgeon is what a woman wants, it's certainly doable," she says. "Having children makes it tougher. My husband recently retired so that makes it easier. But you have to learn to multi-task like crazy."
A previous version of this story incorrectly identified Dr. Quynh Feikes as Nevada's first female cardiothoracic surgeon.
Paul Harasim's column runs Sunday and Tuesday in Nevada & The West and Monday in Health. Contact him at pharasim@reviewjournal.com or 702-387-5273. Follow @paulharasim on Twitter.