Despite having blood on his hands, Desai still a temple trustee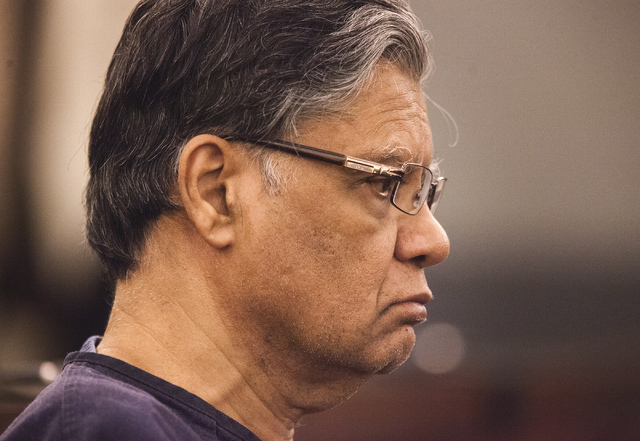 There's no need to mince words: Dipak Desai is a disgrace not only to the medical profession, but to the human race.
But at the beautiful Hindu Temple of Las Vegas in Summerlin — where Desai was a major benefactor before he was sent to prison for murdering a patient and ripping off taxpayers — he's called something else: a member of the board of trustees.
In 2007, Desai caused one of the greatest public health crises in the history of the United States, forcing more than 60,000 people in Southern Nevada to be tested for HIV and hepatitis C. He reused syringes, putting patients at his endoscopy practice at risk of disease, to make extra pennies of profit.
The Times of India, obviously not proud of the man who left that nation for the United States in the 1970s, called him "Dr. Greed."
One of his former patients, Patty Aspinwall, who in 2013 testified against him in state court, where he was convicted of murder and 26 other charges, called him the "embodiment of evil."
When he was convicted in federal court in 2015 for his role in the multimilllion-dollar health care fraud scheme tied to the deadly outbreak, Assistant U.S. Attorney Crane Pomerantz called him a "despicable human being."
No one seems able to stomach the fact that he deliberately put thousands of lives at risk, with hundreds of men and women now seriously ill.
But Desai is still riding high in his religious community, helping govern how members of his faith fulfill their mission of promoting moral strength in Las Vegas.
"We're debating about whether he should still be on the board," said Radha Chanderraj, an attorney and chairman of the board. "I get your point about whether he should be."
There should be no debate.
The current board is putting cash before character. It's sad that a house of worship hasn't had the guts to do the right thing since Desai's 2013 murder conviction.
Swadeep Nigam, a member of the temple who was recently reappointed to the Nevada Equal Rights Commission by Gov. Brian Sandoval, is embarrassed by Desai's continuing influence.
"This is all about money, nothing else," he said, pointing out that Desai's initial donation of $250,000 was the largest contribution toward the construction of the temple in 2001. "What can our children be thinking when they see we honor such a man with a position of respect? What can the people of Las Vegas be thinking?"
While the temple operates as a 501(c)(3), an IRS spokesman said there is no law that prohibits a felon from serving on the board of trustees of a nonprofit. The Nevada secretary of state's office, which also has some oversight over nonprofits, doesn't restrict felons from serving on charitable boards, either. Both agencies said the bylaws of a nonprofit can stipulate who can hold a position.
Chanderraj admits that Desai's influence at the temple makes it difficult for the board to take any action against him. It is unclear whether Desai or his family members still contribute to the temple. That doesn't show up in the nonprofit's financial documents. Chanderraj doesn't say, and Nigam doesn't know.
Desai filed for personal bankruptcy in 2010 after losing his medical license, piling up millions of dollars in legal fees in his criminal defense and facing an untold number of lawsuits over his malpractice. As part of his sentences, Desai was ordered to pay millions more in restitution to insurance companies and the federal government.
Nigam, the editor of Vegasdesi.com, a news portal for South Asians living in Las Vegas, told me when I was preparing a profile on Desai in 2008 that many parishioners frequently were upset that the physician used his financial support of the temple to try to exert influence.
Nigam said Desai isn't the only trustee who needs to be removed from the temple's board. He points to another trustee, Anil Gupta, a businessman who in 2002 was sentenced to 30 months in prison and ordered to pay $295,000 in restitution for a scheme involving worthless railroads.
Having both Desai and Gupta on the board, Nigam suggests, makes it appear that people in the temple lack a moral compass. That appearance, he said, is only magnified by having their names on a founders plaque outside the Summerlin structure.
The temple's website, www.hindutemplelv.org, lists him as a trustee and provides a link to photo of Desai in a suit — not the kind he's wearing in prison.
Nigam says it is well past time for his temple to stand up to Desai.
"We don't need his dirty blood money," he said.
Paul Harasim's column runs Sunday, Tuesday and Friday in the Nevada section and Thursday in the Life section. Contact him at pharasim@reviewjournal.com or 702-387-5273. Follow @paulharasim on Twitter.