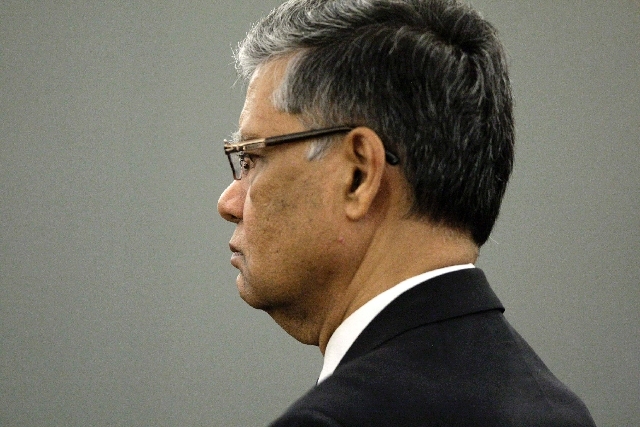 If you believe the great writer Oscar Wilde — "The only thing worse than being talked about is not being talked about." — the past week was a great one for those trying to make medical tourism a substantial part of the economic engine of Southern Nevada.
From sea to shining sea, Americans, courtesy of The Associated Press, learned that Nevada's most well-known physician, Dr. Dipak Desai, was convicted of second-degree murder and 26 other criminal counts in connection with a 2007 hepatitis outbreak at his clinics. It set a new U.S. record for people having to get tested for diseases (64,000), following reuse of syringes.
Friends of mine in Georgia, Michigan, Ohio and Texas were so impressed by the story that they even called to talk about Nevada's medical care.
Our British friends got their latest Desai fix from the Daily Mail, which has a daily circulation of almost 2 million. Desai is so well-known in India that the Times of India affectionately calls him Dr. Greed.
Yes, people everywhere talk about medical care in Southern Nevada. And you really can't blame them. We have the most fascinating medical industry on planet Earth.
How can you not be impressed by Dr. Jay Coates, who led a University Medical Center team that successfully removed a pipe that was driven through Andrew Linn's mouth and came out the back of his head? "Today Show" producers were so impressed in 2011 they had both Coates and Linn on as guests.
Although Desai is the worst example of U.S. medicine today, it is also true that Las Vegas has Dr. Jeffrey Cummings, one of the world's top Alzheimer's disease researchers, running the Cleveland Clinic Lou Ruvo Center for Brain Health.
When researchers attend conferences here, Cummings is treated with such respect that you expect a scientist from Paris or London to get down on one knee and kiss his ring.
This is a town that can have a urologist, Dr. Michael Kaplan, temporarily suspended from practice in 2011 for reusing single needle guides in prostate biopsies — the Nevada State Medical Board said he only stopped using them when the guides became "too bloody" — at the same time Dr. Nicholas Vogelzang's sterling reputation across the globe as a researcher and clinician attracted lifesaving medicines to Comprehensive Cancer Centers of Nevada.
Where but in Southern Nevada could you have a pediatrician, Ralph Conti, bilk thousands from chronically ill adult patients, many of whom had incurable diseases such as multiple sclerosis, by performing stem cell procedures he knew could not work? In 2012, federal prosecutors won a conviction against Conti (who has since died) for fraud.
Meanwhile, just across town, Dr. Mark Barry performed the nation's best corrective surgery on pediatric scoliosis patients. When many surgeons consider a spinal correction of 50 percent to 70 percent a success, his average correction is 93 percent.
If Las Vegas has become well-known for having an insurer, Health Plan of Nevada, that hired Desai to become part of its medical plan despite knowing of his quality control problems — a civil court jury ordered HPN to pay more than $500 million to three hepatitis C victims — it should also be known as the place where Dr. Florence Jameson began Volunteers in Medicine of Southern Nevada. The organization provides medical care to more than 2,000 uninsured through hundreds of unpaid medical practitioners.
As more Americans become familiar with Desai's favorite nurse anesthetist, Ronald Lakeman, who was tried with the doctor and found guilty of 16 counts related to the outbreak, but not guilty of murder, you can only hope they also become familiar with the story of Las Vegan Martha Drohobyczer. She is using the passage of a new law giving nurse practitioners more primary care power to bring medical care to underserved rural Nevada, where doctors don't care to go.
I could continue this for hours. But you get the idea.
If you want extremes in medical care, Las Vegas is second to none. At the same time that Dr. Alexandra Walsh and her husband, Dr. Ryan Walsh, are thanking Summerlin Hospital for helping save the life of their premature baby, it was announced last week that Sunrise Hospital is one of 55 hospitals across the nation that must pay millions to the federal government for Medicare fraud.
When it comes to medical tourism, does the Oscar Wilde dictum hold?
Will people ignore the bad publicity brought about by those without a moral compass in the Las Vegas medical community and travel here to afford themselves of the healing talent that's in Southern Nevada?
What are the odds?
Contact reporter Paul Harasim at pharasim@
reviewjournal.com or 702-387-2908.