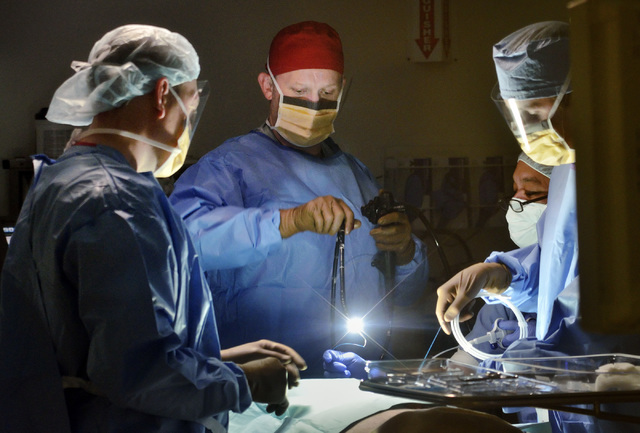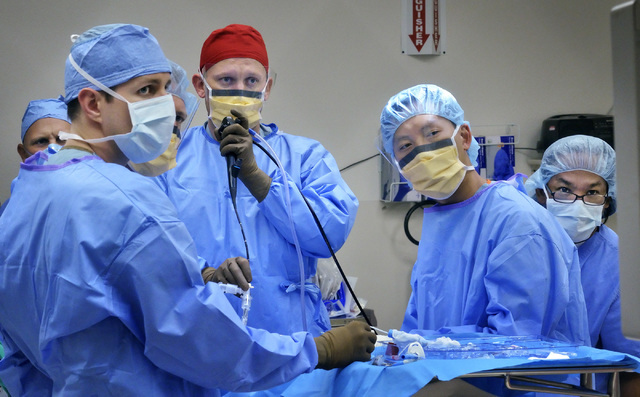 Ask Roy and Diane Fraser if they expected that their son Douglas — now a UMC trauma surgeon and police SWAT team doctor — would end up regularly saving lives and they'll tell you through a story they relish sharing that he started practicing saving the lives of bears at the age of 9.
It seems he was a rambunctious Southern California boy whose heroes were Batman and Superman. Like many big brothers, he often wanted to impress upon his little sister that he was brave, courageous and bold.
One day he came up with a complex plan to show his sister just how daring he was. The first part of the plan involved convincing 5-year-old Laura he should throw all of her beloved Care Bears from the second floor balcony to the ground.
Why? Well, so he could practice bringing them to safety in case someone else came along and threw her Care Bears to the ground. After much hand-wringing, Laura, bless her heart, bought her brother's reasoning.
After the bears hit the ground, Laura began to cry. Douglas swung into action. First, he rigged a rope from the balcony's railing. Then he ran downstairs, put the bears in a laundry basket and attached the rope hanging from the railing.
He returned to the balcony and pulled the rope and the basket of bears to safety, to the squealing delight of his sister.
"Laura was quite impressed," Dr. Douglas Fraser says as he sits in an office at University Medical Center, grinning as he's asked about the story that's become part of Fraser family lore. "I practiced my technique on her Care Bears more than once. I guess I knew early on that much of success is in the planning."
In less than three years in Las Vegas, the 38-year-old surgeon's penchant for planning, coupled with the ability to improvise when, say, an artery ruptures, has already made him a dynamic force in emergency medicine in Las Vegas.
"I have found over the years that I work best under pressure — I need the adrenalin rush to perform at my highest level," he says one night before entering a UMC operating room to perform a tracheotomy on a car accident patient who's unable to breathe on his own. In a few minutes an opening is surgically created through the neck into the windpipe to allow direct access to a breathing tube.
At this year's recent UMC luncheon for trauma survivors — each year former patients who can only be defined as walking miracles socialize with the medical staff that saved their lives — Fraser was honored for his work with 14-year-old Janeen Hinden and her mother's fiance, Stephen Picardi.
Shot in a home invasion in February where the assailants got away, both suffered critical wounds, with the teen nearly bleeding out from damage to her femoral artery, the main artery of the upper leg and abdomen. Such wounds are often fatal because an individual can entirely bleed out within five minutes. But Fraser managed to tie it off.
Initial reports were that the gunshot trauma to Picardi's legs were so severe that he'd lose use of them. Hours of surgery by Fraser saved his leg.
Janeen Hinden, the mother of the teen and fiancee of Picardi, is clear about what happened.
"I know Stephen and Janeen are alive today because of Dr. Fraser. He's not only talented, he's gifted."
Fraser receives similar kudos from 31-year-old Andrew Brown, an Alabama businessman who was burned over a third of his body last July in a private plane accident that also seriously injured three others at Henderson Executive Airport.
"It never seemed too big for him," Brown says in a telephone interview from his Alabama building supply company. "He's never too high or too low as he works on you. I was conscious the whole time as I was brought in. And it's crazy how accurate he's been on my recovery. I wanted to make sure I managed my scarring and he said in a month it'll be like this, two months like this. He's been right on the money."
Dr. John Fildes, director of UMC's trauma department, said Fraser was brought to Las Vegas on a surgical trauma fellowship after excelling during a Rutgers University surgical residency on the East Coast. He was hired after the two-year fellowship training was concluded because he had the ability to handle the most difficult cases with "great calm and clarity … his technical skills are really refined."
Fraser joined a trauma surgery team with a remarkable record. Statistics from the National Trauma Data Bank reveal that of those who arrive alive at Nevada's only Level 1 trauma center — where many have less than a 1 percent chance to live — 96 percent survive and are discharged.
Dr. Dale Carrison, UMC's chief of staff and a key figure in the development of the Tactical Emergency Medical Support unit that provides medical support to special weapons and tactics teams operated by the Metropolitan Police Department, says a key factor in keeping Fraser in Las Vegas after his fellowship was the opportunity for him to work with SWAT.
"The challenge of practicing medicine in an austere environment, providing the best medicine in the worst place, really appeals to him," Carrison says. "He's the kind of young blood we need to keep the program operating at a high level."
On a recent evening, Fraser and several other doctors and police officers who comprise the all-volunteer tactical medical team gathered to grade the training efforts of another officer, Chris Loucks, who was attempting to become part of the unit formed because of the high-risk environments SWAT teams operate in.
Studies show that SWAT team members sustain injuries at the rate of 33 per 1,000 officer missions, with wounds often requiring immediate attention. Dr. John Anson once kept three officers who had been shot during a mission from bleeding out.
Although a tactical medical team is along to help officers, if none needs help on a mission but a suspect or victim of a crime does, the team provides medical help to them.
Carrison once won Metro's highest "lifesaving" award when he kept a drug suspect from dying from an artery that burst from a gunshot.
Dressed in combat gear, the 6-foot 3-inch, 230-pound Fraser looks imposing. So far his talents haven't been needed in the field by SWAT officers.
"You have to stay in shape for this," Fraser says smiling, not breathing hard after the unit's mile run wearing bulletproof vests.
Whenever SWAT teams are deployed in Las Vegas, so is a tactical rescue vehicle containing a physician and medic. The medics are all search and rescue police officers who have been trained by physicians.
Fraser watches intently as Loucks and the physician working with him, Dr. Kevin Menes, deal with scenarios that include officers downed by gunshots and an officer wounded from a detonation charge that explodes early.
Darkness envelops the facility as Loucks places tourniquets on officers who act the role of the wounded.
"He's getting the procedures down well," Fraser says. "Speed will come later."
Fraser's entry into medicine was far from a sure thing.
Early in high school, where he was a star lineman with thoughts of an NFL career, he thought of fulfilling a dream he had as a child of becoming a firefighter and paramedic if athletics didn't pan out.
"As I boy, I used to hose down our house pretending it was on fire," Fraser says. "My mother didn't appreciate that because I flooded her planters and killed her plants."
The better he did academically in school, the more Fraser started to think about becoming a doctor. He decided he could help more people that way. After entering Notre Dame and walking onto the football team, Fraser decided medicine, more than football, was important to him. He quit the team, worked on his grades and became a commissioned member of the fire department.
"I loved that work," he says. "You really got to help a lot of people in different ways."
Although he was nearly an all-A student, he didn't get into medical school right away. A score on a standardized test wasn't high enough. He got a master's degree at Boston University in science and tried again. Once again he didn't get in.
"It was quite depressing," he says as he stands outside an operating room. "I decided the FBI could be a good career. I passed all the tests and just as I was about to go for Quantico for training, I got a call from a medical school."
So his third try for medical school was the charm. He sailed through classes and training at St. George's University School of Medicine in Grenada as well as his surgical training at Rutgers.
"At first I felt bad about going to a foreign med school but here I was sitting next to all these guys from Harvard and Yale. And when I went to Rutgers in the States for my surgical training there was no one better. I found I wanted to do it all day and all night. I still feel the same way today. It's what I have a passion for, helping people when they need it most."
Contact Paul Harasim at pharasim@reviewjournal.com or 702-387-5273. Follow @paulharasim on Twitter.