For Las Vegas drivers, there's no such thing as a minor accident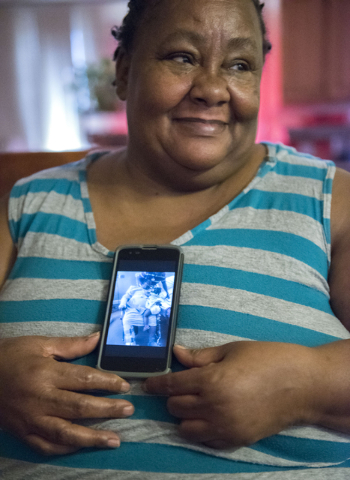 Janice Bullocks' car accident last August didn't make the TV evening news or the morning newspaper.
Not serious enough.
No one died after the cars collided at Valley View Drive and Tree Line Drive in East Las Vegas.
And yet Janice Bullocks' life was forever changed after police said another driver failed to yield the right of way.
The 59-year-old woman who actually enjoyed making schools spick and span for the Clark County School District — she was a custodian for more than 25 years — can't do it anymore.
Nor can she play with her grandkids at the park.
Or take trips with daughter Nina to see family and friends outside Nevada.
If she stands up for more than 10 minutes, she has to sit.
If she sits down for more than 10 minutes, she has to stand.
"I know what happened to me isn't as serious as what's happened to a lot of other people in car wrecks," Bullocks, a divorced grandmother, says as she sits in the living room of her east Las Vegas home. "But it sure feels serious."
You can't help but believe many of the more than 29,000 injured last year in car accidents in Nevada alone feel the same way.
"My life has been turned upside down," Bullocks said. "This is hard. I just wish people would pay more attention while they're driving."
Surely many of the more than 2 million people that the National Highway Traffic Administration reports are injured each year in car wrecks would agree.
People hurt because other drivers are too busy on cellphones, texting, going too fast, or drinking and drugging and driving.
Neither speed nor booze was a factor in Bullocks' accident. Inattention was.
Those who are injured in accidents may escape becoming one of the more than 30,000 people killed each year on the nation's roads, but many men, women and children now know far more about pain and suffering than they'd like.
An ambulance took Bullocks to Sunrise Hospital. She stayed there for five days with broken ribs, and head, leg, arm and back injuries.
Doctors found she had short-term memory loss.
A pin was placed in both her right ankle and right wrist.
She spent another 30 days in a rehab hospital, where they gave her speech therapy for her brain injury and tried to help her walk and take care of herself in the restroom.
When she got out of rehab, a hospital bed was placed in the living room of daughter Nina's home. She got around by wheelchair or walker.
Seven months after she got out of the hospital she was able to ditch the wheelchair and walker. But the pain becomes too great if she stands up for 10 minutes. Unfortunately, her back won't let her sit much longer.
She's put on 70 pounds since the accident. "I'm so depressed and I'm eating like I'm still working," she said. "I don't like to rely on other people. I raised four kids of my own and eight grandkids."
What adds to Bullocks' depression are financial worries. Though her insurance has taken care of virtually all but $9,000 of her $100,000 in medical bills, she couldn't afford the copays for physical therapy.
Her short-term disability insurance, which gave her around two-thirds of her more than $3,500-a-month salary, ended more than a month ago.
Now she's waiting for her long-term disability to kick in. Her doctors said she can no longer work.
Unlike many drivers who get large monetary settlements after an accident, Bullocks won't.
"The other driver had the minimum coverage and Janice had just a bit more," said Bullocks' attorney, Kelly Huang. He estimates that he'll be able to get a $30,000 settlement from the insurance companies. Her kids chipped in a couple thousand dollars so she could get a cheap used car.
"I'm afraid on the road now, " she said. "I'm thankful my accident wasn't real serious. I don't know what I'd do then."
Paul Harasim's column runs Sunday, Tuesday and Friday in the Nevada section and Thursday in the Life section. Contact him at pharasim@reviewjournal.com or 702-387-5273. Follow @paulharasim on Twitter.