Las Vegas mayor pushing to widen I-15 between Primm, Barstow
October 22, 2017 - 11:08 pm
Updated October 23, 2017 - 10:19 am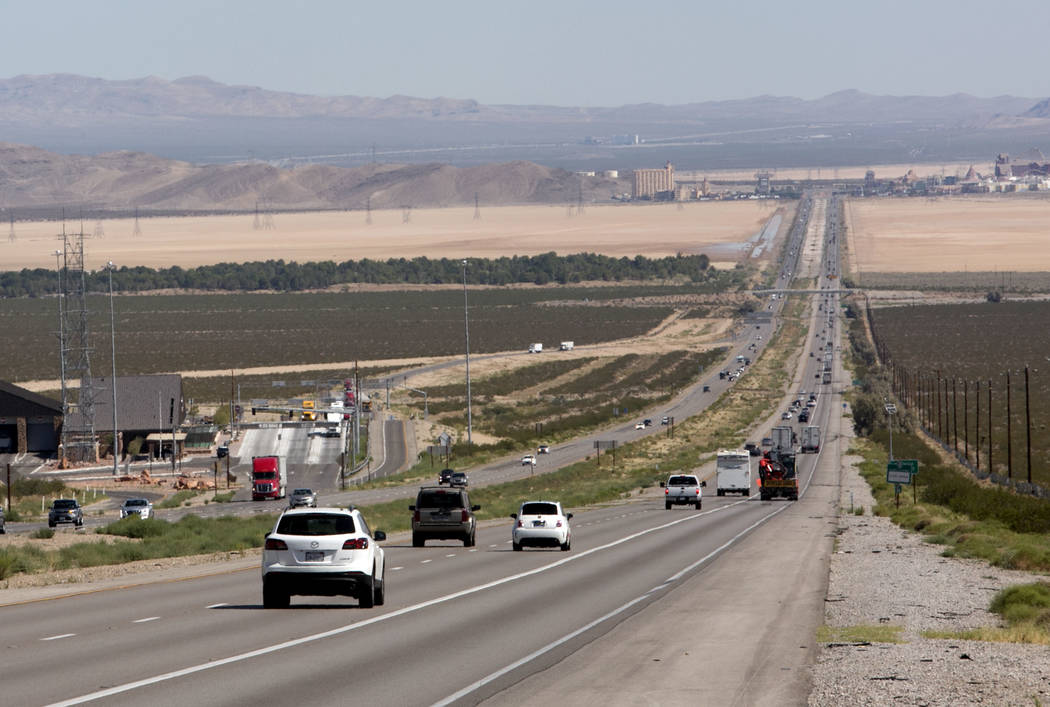 Las Vegas Mayor Carolyn Goodman is still carrying a torch for plans to widen Interstate 15 between Barstow and Primm.
And she's hoping the project crosses the finish line by the time Los Angeles hosts the Summer Olympics in 2028.
"I think that's another way just to keep at it, that California needs to move and widen that," Goodman said during a Regional Transportation Commission of Southern Nevada board meeting earlier this month.
Whether that happens remains to be seen, but California is finally warming up to the idea, Nevada Department of Transportation Director Rudy Malfabon said.
As the Road Warrior learned in July, Goodman met a month earlier with Los Angeles Mayor Eric Garcetti to frame the proposed I-15 widening project as a way to bolster interstate trade between the Silver and Golden states.
Goodman is adding the Olympics to her list of reasons for completing the project sooner rather than later, possibly hoping Garcetti agrees that it's a gold-medal-worthy idea.
"This would be a good time because he's going to want to move people in from all around our state into the Olympics," Goodman said during the RTC's board meeting.
"Plus, we have 155,000 hotel rooms and a great airport that he might want to take advantage of," Goodman said. "And we of course become the beneficiaries because of tourism and everything else we're doing in addition to helping the United States move its produce and freight."
The average travel time between San Bernardino and Las Vegas is 3.5 hours, while the southbound trip can last up to seven hours on Sunday afternoons because of bottlenecks near Primm and Barstow, according to an updated master plan released earlier this year by the California Department of Transportation, known as Caltrans.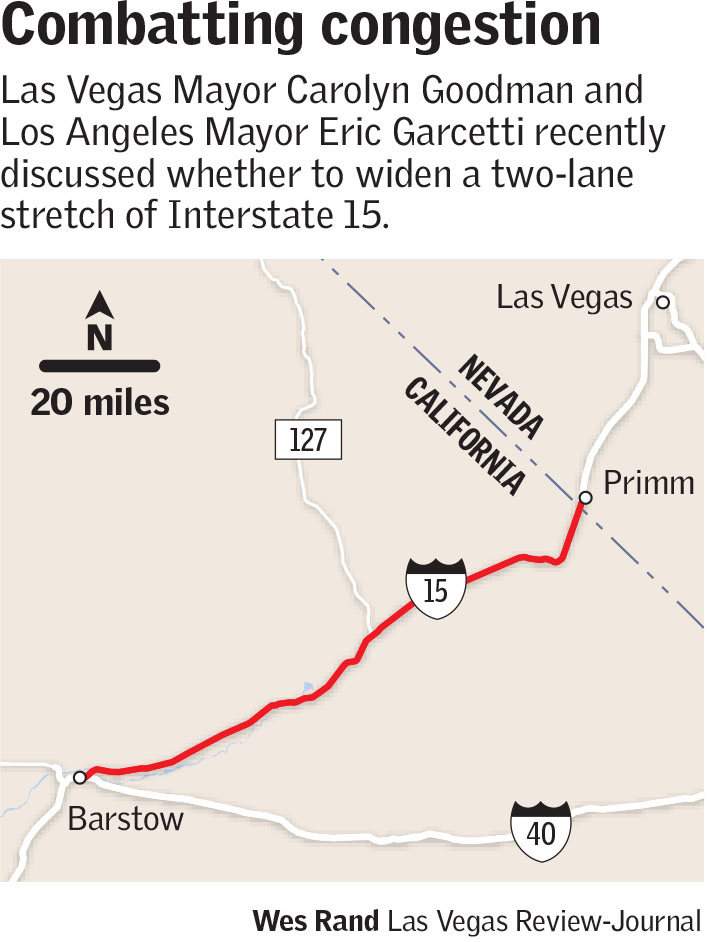 And yet, widening the two-lane stretch of I-15 between Barstow and Primm was never on the agency's list of planned projects into the near future.
During the RTC board meeting, Malfabon announced that his counterpart at Caltrans is "a lot more open this time" to discussing the idea, but it's still unclear where the project will land on Caltrans' list of priorities. More immediately, the agency is focusing on interchange improvements in Barstow and Devore.
"Usually he says he doesn't have any money and it's not in their plan," Malfabon said of the Caltrans director. "He said those things again, but we continued the conversation about how we can get it into their plan."
In the meantime, Malfabon said, the transportation departments in Nevada and California will seek out funding sources for the shared project. Stay tuned.
Going dark
Irene from Summerlin noted that blackout-tinted windows pose a hazard to other drivers and to law enforcement and wanted to know whether any laws determine how dark they can go.
The Nevada Highway Patrol watches for windshields and front windows that appear too dark, trooper Jason Buratczuk said. But back windows can go as dark as a driver wants.
Windshields can't have any tint below the "AS1" line designated on your vehicle, Buratczuk said. Tinting strips going below that line result in a fine, no matter how light or dark they are.
Driver and front passenger windows can have tinting that blocks up to 65 percent of the sun. But Buratczuk said that state law allows for a plus-or-minus margin of 8 percent, meaning the tint could block out up to 73 percent of sunlight.
Troopers use tint meters to determine how dark the windows are. Those that don't meet the standard result in a citation for the driver.
"Front windows and windshields that are tinted below the allowable limit are dangerous, especially at night, because it's basically like you're driving at night while wearing sunglasses," Buratczuk said.
Blurred lines
Verna from Las Vegas noticed the lane stripes are severely faded on Hualapai Way between Charleston Boulevard and Alta Drive.
"It has been like this for many years, and it makes driving very dangerous, especially at night," Verna wrote in an email to the Road Warrior.
You will have to wait a couple of more years before you see any improvements, Verna.
There are plans to remove and replace this section of pavement as part of the Las Vegas Arterial Reconstruction Plan scheduled for 2019, city spokeswoman Margaret Kurtz said.
"Consequently, it is not a good use of taxpayer funds to invest in restriping, only to tear up the pavement shortly after," Kurtz said.
Questions and comments should be sent to roadwarrior@reviewjournal.com. Please include your phone number. Follow @RJroadwarrior on Twitter.
Road work ahead
Downtown
— Southbound Interstate 15 will be closed between Washington Avenue and U.S. Highway 95, along with several surrounding freeway ramps, from 10 p.m. Wednesday to 5 a.m. Thursday. Crews are installing traffic management signs.
— Washington Avenue is restricted between Rainbow and Decatur boulevards from 7 a.m. to 4 p.m. weekdays through first week of December. Crews are laying new pavement and adding medians.
— Main Street is restricted between Fremont Street and Ogden Avenue through Dec. 20. Crews are demolishing a building.
— Ninth Street is closed between Carson and Main streets through Dec. 31. Crews are installing water and sewer lines.
— U.S. Highway 95 is restricted between Rancho Road and just east of Interstate 15 through January 2018. Crews are building a new flyover ramp for high-occupancy vehicles as part of Project Neon.
— The Martin Luther King Boulevard onramp to northbound Interstate 15 is closed through January 2018. Crews are building a carpool ramp.
— The ramp connecting southbound U.S. Highway 95 to northbound Interstate 15 is closed through January 2018. Crews are building a carpool ramp.
— Main Street is restricted between Bonneville Avenue and Las Vegas Boulevard through May 2018. Crews are working on a storm drain.
— Sections of Bonneville Avenue, Charleston Boulevard, Grand Central Parkway and Martin Luther King Boulevard will have closed or disrupted lanes surrounding the Spaghetti Bowl as crews work on Project Neon through July 2018.
Southwest
— Fort Apache Road is restricted between Sunset and Post roads through Oct. 31. Crews are doing sewer work.
— Sunset Road is restricted between Fort Apache Road and Ivesdale Street through Oct. 31. Crews are doing sewer work.
— Jones Boulevard will be intermittently restricted between Warm Springs and Robindale roads through Oct. 31. Crews are doing field survey work.
Northwest
— Grand Teton Drive is restricted between El Capitan Way and Buffalo Drive from 7 a.m. to 4 p.m. weekdays through early January. Crews are making road improvements.
Henderson
— Appaloosa Road is restricted between Wagonwheel Drive and Rawhide Drive through late October. Crews are installing a storm drain.
— Wigwam Parkway will be intermittently closed in both directions at Gibson Road through the end of December. Crews are installing a new traffic signal and making sidewalk improvements.
— Center Street is restricted between Burkholder Boulevard and Lake Mead Parkway through June 2018. Crews are making various road improvements.
North Las Vegas
— The left lanes along both directions of Interstate 15 will close between Speedway Boulevard and an area roughly 500 feet north of the exit from 7 p.m. Monday to 5 a.m. Tuesday. Crews are paving the road.
— The 215 Beltway onramp to southbound Interstate 15 will close from 7 p.m. Tuesday to 5 a.m. Wednesday. Crews are paving the road.
— The Lamb Boulevard exit from southbound Interstate 15 will close from 7 p.m. Wednesday to 5 a.m. Thursday. Crews are paving the road.
— Nellis Boulevard is restricted between Cheyenne Avenue and Las Vegas Boulevard from 6 a.m. to 3:30 p.m. weekdays through July 2018. Crews are installing sewer pipes.
Gasoline prices
The average gasoline price Friday in the Las Vegas Valley was $2.66 per gallon. It was $2.72 in Nevada. The national average of $2.46 is down 1 cent from a week ago, down 12 cents from a month ago and up 24 cents from a year ago.