No fanfare as New Frontier closes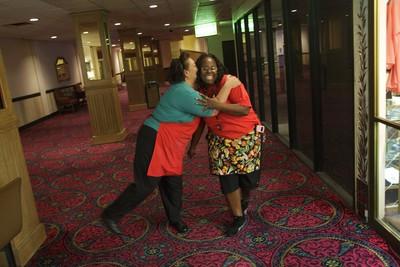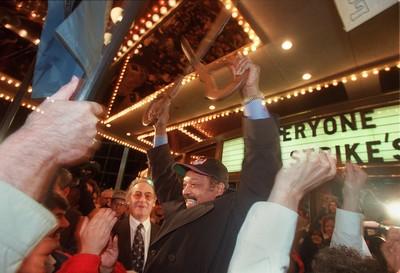 Phil Ruffin is getting out of the casino business with a lot less fanfare than when he entered.
When he bought the New Frontier hotel-casino 9 1/2 years ago, the Kansas businessman was hailed as the savior of the Strip casino that had endured six years of a bitter labor strike.
With activist Rev. Jesse Jackson at his side, Ruffin held a triumphant media event and party on Feb. 1, 1998, to mark the property's grand reopening.
There will be no such fanfare Sunday night to mark the New Frontier's closing at 12:01 a.m. Monday.
"It will be a low-key affair," said Ruffin, who recently sold the property for $1.2 billion. He paid $167 million for the hotel-casino in 1997.
General manager Najam Khan said that other than a Rat Pack tribute band on the casino floor, no big party will mark the closing of the hotel-casino, which first opened in October 1942 as the Hotel Last Frontier.
Ruffin spent part of his final days at the oldest continually operating hotel-casino on the Strip sitting in the back row of the property's sports book, watching televised horse races and talking with friends and employees.
The closing is so low-key that Ruffin was unsure even of its exact date.
He first said it was Saturday night but then referred to his general manager, Khan, when someone near him said it might be Sunday.
"You'll have to ask him. He's the one that has to deal with it," Ruffin said.
Customers and memorabilia seekers, however, have been a lot more involved, grabbing almost anything they could with the Frontier name or the signature "F" on it, according to Jimmie Johnson, a security guard at the hotel for 21 1/2 years. Even the hotel room number plates have been pried off the doors.
Khan and his team will have until Aug. 7 to clean out whatever else is left at the property before handing over the keys to New York-based Elad Group, which bought the 34.5-acre property for approximately $34 million per acre in May.
Ruffin still holds seven acres on the backside of the New Frontier. That land is being developed with Donald Trump for a nongaming project, Trump International Hotel & Tower.
Elad, which is controlled by Israeli billionaire Yitzhak Tshuva, plans to spend $5 billion to construct a mixed-used development modeled after New York's Plaza Hotel.
Elad bought the Plaza in 2005 for $675 million, converting some of the units into some of Manhattan's highest-priced condominiums.
A spokesman for the new owners declined to comment this week on the closing or to announce a date for the New Frontier's implosion.
The final days of the New Frontier have been mixed for the property's longtime employees too.
Ruffin, who had said he would not pay severance to his employees when he first announced the Elad deal, said Monday that he would provide severance packages to the property's union and nonunion employees. The packages range from $8,000 for workers with 20 years of experience or more to $300 for those with 12 months or less.
Megan Wurm, a security guard at Gilley's Dancehall, said she's glad that she'll receive the money, although she wishes it were more.
Other employees declined to talk about the severance pay issue, worried that future employers might read their comments.
But Ruffin is also being remembered by many employees as the person who ended a bitter labor strike and kept the property operating until now.
"He's kept it open longer than it should have been open," said Rocco Prolog, a bartender at the New Frontier for 26 years. "He's my favorite owner compared to the other two owners I had. It's unbelievable what he's done with the place falling apart."
Ruffin periodically expressed a desire to redevelop property, announcing in 2000 plans for a San Francisco-themed resort. He later said he was seeking an equity partner to help develop the property into a Swiss-themed resort.
"He's made no secret of the fact that he's wanted to redevelop that site for a while going back to 1998," said David G. Schwartz, director of the Gaming Research Center at the University of Nevada, Las Vegas. "But certainly, he's gotten his money's worth from it."
But, Schwartz said, "this is indicative of the new trend, which is to tear down and build anew rather than revitalize."
The closing of the 984-room property marks the latest in a long line of Strip properties that have met the wrecking ball.
The Desert Inn, which sat across the street from the New Frontier, was imploded in 2001 and replaced by the $2.7 billion Wynn Las Vegas. Mandy Genth, a nail technician from Edmonton, Alberta, said construction on Steve Wynn's $2.1 billion Encore, an expansion of Wynn Las Vegas, can be heard late at night while she sits at the New Frontier pool with friends.
The neighboring Stardust was imploded in November by Boyd Gaming Corp. to make way for its $4.8 billion Echelon.
Michael Green, history professor at the College of Southern Nevada, said tearing down the property was inevitable no matter who redeveloped the New Frontier.
"The Frontier, as it's constituted, was not really positioned to compete with the Wynn or Echelon," said Green, who recently wrote the transcript for a three-part history on the property for KNPR. "On the Strip, old fashion doesn't seem to sell."
Genth, who called the New Frontier a "hidden gem," became concerned about her favorite property's future when Boyd imploded the Stardust.
Joe Vick, a D-1 Grand Prix driver from Atlanta, stayed at the Luxor in late June and paid $120 a night for a small room.
At the Frontier, he paid $47 a night for a room that included a couch, three sinks and a bath tub big enough for two.
"This is the end of a bygone era," Vick said. "It's really too bad. I would much rather stay in a place with more history and tradition than a Wynn or Palms."
Schwartz said the value that Strip middle-class travelers found at the New Frontier will be part of its legacy.
"It has a history as a place that has always been a consistent mid- and budget-level property on the Strip," he said. "Like any casino, there will be people sorry to see it go. But, five or six years from now, there's people who will wonder how we could do without the Plaza."
NEW FRONTIER HISTORYOctober 1942: The second hotel-casino on the now famous Strip opens as the 105-room Western-themed Hotel Last Frontier. April 1955: A $2 million renovation converts the property to the space-themed Out of this World, complete with a Cloud 9 lounge and Venus Showroom. 1956: Elvis Presley debuts his Las Vegas show at the property. It flops. 1967: The New Frontier's owners add 650 rooms, the now familiar 200-foot sign, convention space, tennis courts and a pool with mob-backed financing including funds from Jimmy Hoffa and the Teamsters. 1967: The New Frontier is sold to Howard Hughes for $14 million, who changes the name to Frontier. 1981: Siegfried & Roy begin a seven-year run, "Beyond Belief," the duo's first full-length showcase. It runs for 3,500 shows for 3 million people. 1988: Summa Corp. sells the Frontier to Margaret Elardi and family. Summa was the holding company for Hughes' relatives, who inherited the property after the businessman's death in 1976.September 1991: The Elardis and the Culinary Union reach an impasse on employee benefits, and workers begin a strike that lasts 2,325 days.October 1997: Kansas businessman Phil Ruffin agrees to buy the property for $167 million.Feb. 1, 1998: Ruffin, with the Rev. Jesse Jackson at his side, takes over operations of the Frontier, changing the name back to New Frontier.May 2007: After various plans to renovate the property himself fall through, Ruffin sells to Elad Group for $1.2 billion. REVIEW-JOURNAL