NORM: Bellagio chief loves 'Ocean's Eleven' end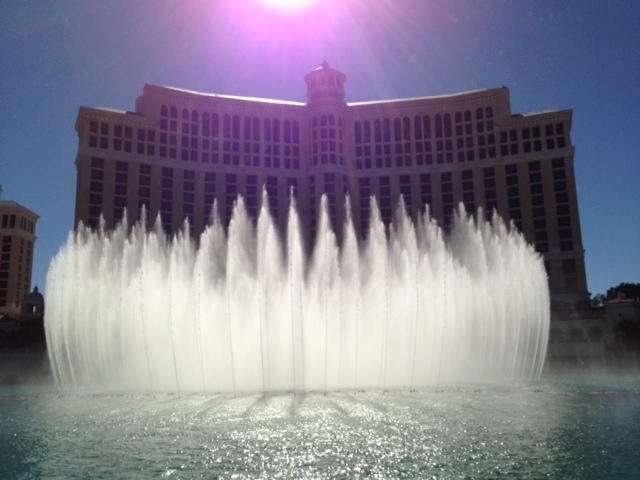 Bellagio President Randy Morton credits "Ocean's Eleven" with making the hotel's dancing fountains the nation's top tourist attraction.
TripAdvisor announced last week that the fountains won the Travelers' Choice award for top landmark in the United States.
Morton has watched "Ocean's Eleven" 50 times. "When they peel away from the fountain at the end, it's one of the best movie scenes of all time."
George Clooney's heist masters did for Bellagio what Julia Roberts and Richard Gere in "Pretty Woman" did for the Beverly Hills Wilshire hotel, said Morton, who ran the latter hotel when the film was shot there in 1990. Afterward, he said, "Everything was built around 'Pretty Woman.' We had strawberries and cream, and champagne as the go-to amenities and the 'Pretty Woman' suite."
"Ocean's Eleven" provided a "completely different connection because of the fountains. Bellagio is one of the most famous, iconic hotels in the world. To greet every single guest on arrival and departure is the Bellagio fountain show. It's remarkable," Morton said.
"Ocean's Eleven" director Steven Soderbergh wanted Morton in a cameo and had him pretending to play a piano during a scene in front of the Petrossian caviar bar featuring Brad Pitt and Matt Damon.
The shoot would have required Morton to remain at the piano for six hours. "I donated the scene to someone else. Every time I see that, I think that could have been me."
A celebration is planned for Bellagio's 15th anniversary Oct. 15 to honor longtime guests and the hotel's 8,200 employees.
MEDIA NOTES
Kristyn Caddell, whose alleged romance with NBC's "To Catch a Predator" host Chris Hansen made headlines two years ago, is out at KSNV-TV, Channel 3 after four months.
Bob Stoldal, vice president of news and programming for KSNV's parent company, Intermountain West Communications, confirmed Caddell's departure on Friday but said company policy did not allow any further comment.
Caddell has been a reporter on the morning show, "Wake Up with the Wagners." She was working for WPTV in Palm Beach, Fla., two years ago when she was romantically linked to Hansen. The alleged relationship was fodder for the late-night talk shows.
Caddell left Florida in late 2011 for a job in Seattle before being given a chance to resurrect her career in Las Vegas. She frequently called in sick, according to a station source, and then it was "no call, no show." Caddell could not be reached for comment. …
Former KLAS-TV, Channel 8 morning anchor Shauna Khorrami emailed me a statement in response to a March 20 item here about her being let go. She wanted to clear up the circumstances behind her missing a much-promoted post-Super Bowl telecast with co-anchor Cale Ramaker.
Khorrami said my report stating that she called in sick hours before the newscast was inaccurate and unfairly portrayed her work ethic. Khorrami and her husband had decided on in vitro fertilization after learning it would be difficult to get pregnant.
"This process includes a series of many injections and drugs as well as procedures," she added. "We purposefully tried to time it as best we could to work around a special show KLAS had planned for post-Super Bowl Sunday, but unfortunately it's impossible to pick exact dates."
An egg retrieval procedure was delayed until the Saturday morning before the Super Bowl. She faced another complication when her body adversely reacted to drugs, requiring an ovarian procedure, which typically has a one-day recovery. She ended up on bed rest for five days. Khorrami said she developed breathing problems and was rushed to a hospital by her husband, a physician, the night before the Super Bowl.
"At that point it was obvious I would not be able to perform my on-air duties the following night," and she told KLAS.
Khorrami, during a meeting, told me that when station officials informed her she was being let go, after eight months, they said the missed newscast was not an issue.
SIGHTINGS
Washington Redskins quarterback Robert Griffin III, with nine friends at his bachelor party at Surrender nightclub (Encore). … At Terry Bradshaw's show on Friday (Mirage): colleagues Jimmy Johnson, Howie Long, Troy Aikman, and Terry Fator and his wife, Taylor Makakoa. … At the premiere of "Michael Jackson One" (Mandalay Bay) on Saturday: Guy Laliberté, Katherine Jackson, Jackie Jackson, Marlon Jackson, Tito Jackson, Neil Patrick Harris, Spike Lee, David Arquette, Allison Janney, Dulé Hill, Berry Gordy, Alfre Woodard, Pamela Anderson, David LaChapelle, Roberto Cavalli, Dot Jones, Rex Lee, Ian Ziering, Lupe Fiasco, Jon Secada, Tom Higgenson, Richard MacDonald, Adrian Peterson, Griffin, Julie Henderson and Jennette McCurdy, and Las Vegans Carrot Top, Jabbawockeez, Clint Holmes, Human Nature and producer Jeff Beacher.
THE PUNCH LINE
"Paula Deen's book isn't even out yet and it's already No. 1 on Amazon. And at the bottom of the sales page it says, 'Customers who like this book may also like Alabama in the 1950s.' " — Conan O'Brien
Norm Clarke's column appears Sunday, Wednesday and Friday. He can be reached at 702-383-0244 or email him at norm@reviewjournal.com. Find more online at www.normclarke.com. Follow Norm on Twitter @Norm_Clarke.