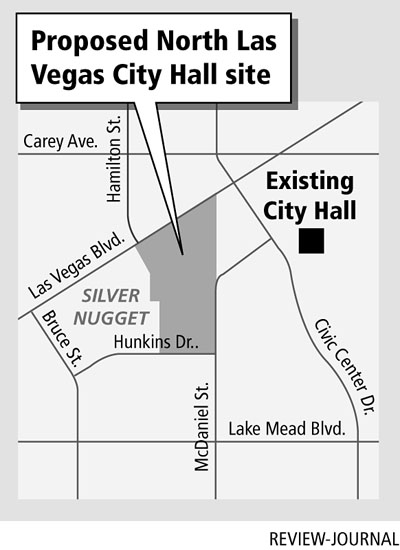 North Las Vegas on Wednesday took a $15.8 million step closer to a new City Hall.
The City Council approved the purchase of 12 acres of northern Las Vegas Boulevard land from the nearby Silver Nugget on which the city plans to construct the new facility.
City officials say the existing 80,000-square-foot building at Civic Center Drive and Lake Mead Boulevard is already at capacity, and the city needs to build a new City Hall to house a staff expected to more than double to 840 workers within the next two decades. The city already rents 35,000 square feet of additional space.
The city in August decided that instead of building a new City Hall on its existing site on Civic Center or on land at the nearby Silver Nugget, it would combine both sites, providing a pedestrian link between them along McDaniel Street.
The plan gives the city about 20 acres to work with. The new City Hall facility will be 170,000 square feet.
The project is budgeted at $156 million.
As part of it, a new police command center will be constructed at the existing City Hall site, with the new City Hall building itself to go up on the Silver Nugget land.