'Now she's saying she'll never fly again. … Ever'
September 7, 2010 - 11:00 pm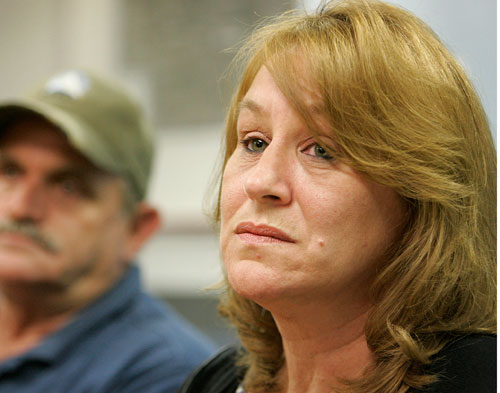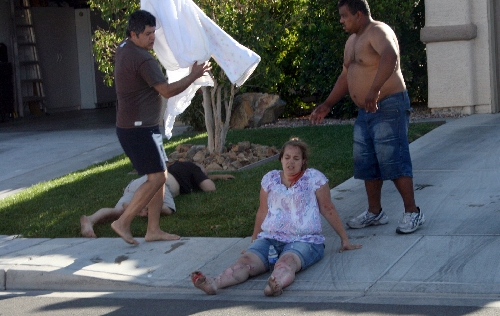 Tamika Savoy found herself trapped in a plane that crashed into a residential street Monday morning, flames lapping around her. The 29-year-old thought she was going to die.
"She just said that her seat belt was stuck," Tracy Faucheaux said of her daughter in a thick Cajun accent at University Medical Center on Tuesday. "She just thought everybody else in the plane was dead. And the flames — she thought she was going to burn alive."
Savoy's legs were severely burned, she suffered broken ribs and a head wound, but she is expected to recover. Her husband, Randall Savoy, 30, remains in serious condition with leg burns, a lacerated spleen and more than one cracked vertebrae, according to his father.
The pilot, Douglas Touchet, 50, was pronounced dead after being rushed to a hospital. His wife, Susan, 43, is in critical condition with a large burn and a number of internal injuries and fractures, according to Dr. John Fildes, director of UMC's trauma unit.
The two Louisiana couples were leaving Las Vegas after a three-day vacation, according to their families.
Buddy Faucheaux, Tracy Faucheaux's husband, said he was on the phone with his daughter only minutes before the crash Monday. He asked her when they would be home, and she said she'd be back in the afternoon.
Touchet's Piper Cherokee took off from Henderson Executive Airport and turned northwest at an altitude of 200 feet but couldn't climb higher, according to a National Transportation Safety Board investigator. The plane crashed at 8:15 a.m. in the intersection of Morning Mauve Avenue and Clover Field Court, in a residential neighborhood near Silverado Ranch Boulevard and Bermuda Road in unincorporated Clark County.
An official with the Clark County Department of Aviation on Tuesday said the plane did not follow the airport's recommended flight patterns, which follow paths that avoid flying over residential areas. Deputy Director Rosemary Vassiliadis said in a statement that she couldn't speculate on why Touchet didn't follow the recommended route.
In 2008 two planes in separate incidents crashed into homes near the North Las Vegas Airport. In all, four people died. Those crashes sparked outrage in the community and a slew of county aviation department safety recommendations.
The Henderson airport averages fewer than half the number of annual flights as the North Las Vegas Airport, and had been relatively trouble-free before Monday's crash. Vassiliadis said that between 2000 and 2009 the airport saw roughly 780,000 takeoffs and landings. Only four flights related to that airport involved fatalities since 1982, and none of those were related to conditions at the airport, she said.
Since 1996 the Department of Aviation has spent $30 million on improvements at the airport, which include longer runways and a modernized air-traffic control tower, she said.
The cause of Monday's crash is under investigation by the National Transportation Safety Board, a process that commonly takes months to complete.
NTSB Investigator Joshua Cawthra said Monday the seven-seat plane failed to gain much altitude before hitting a tree and a light pole. His preliminary report, which won't identify a cause of the crash, is expected within a few days.
The Faucheauxes said they didn't know why the plane crashed, and said they've been told the plane's oil and gas were checked before takeoff. Tracy Faucheaux said Touchet was an experienced pilot and had recently flown to and from Fiji .
Touchet, an accountant, often flew the Piper Cherokee from Louisiana to Dallas and Houston for business, said Randall Savoy's father, Roy Savoy. The two couples were friends, and the women worked as nurses at the same hospital, he said.
Tracy Faucheaux expressed gratitude for the Henderson residents who helped douse the burning plane and cared for her daughter and son-in-law. "The people were very, very awesome," she said.
She said she's concerned about the mental state of all the crash survivors, and plans to sleep in her daughter's hospital room overnight while her husband will stay with Randall Savoy.
She said she knows things have already changed for Tamika. Before the crash, her daughter told her she would fly only in private planes.
"And now she's saying she'll never fly again. … Ever. Ever."
Contact reporter Lawrence Mower at lmower@reviewjournal.com or 702-383-0440. Contact reporter Antonio Planas at aplanas@reviewjournal.com or 702-383-4638.
Plane crashes in neighborhood