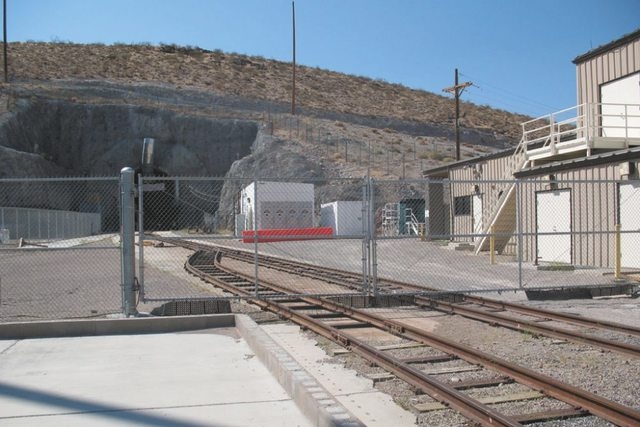 WASHINGTON — Responding to a court order but saying it is light in the wallet, the Nuclear Regulatory Commission set a limited course forward Monday to resume work on the Yucca Mountain project.
The agency took steps to comply with an August ruling that it must continue an evaluation of the controversial Nevada nuclear waste site. But it said its plan was narrowed by limited funding.
Agency leaders directed NRC staff to finish and release safety evaluations that were shelved two years ago. They also asked the Department of Energy to perform a supplemental environmental study of the site 100 miles northwest of Las Vegas.
But the commission said there was no money available to reconstitute an online document library, resume legal discovery or to schedule formal hearings on whether Yucca Mountain should be licensed to accept high level nuclear waste.
"Today we plot a course that, in our view, will advance the licensing process in a manner that is constructive and consistent with the court's decision and the resources available," the commission said in a 23-page order.
"We take an incremental approach, since the agency cannot engage in all of the licensing activities that we would undertake if fully funded," it said.
The agency's action responds to an August ruling by the U.S. Court of Appeals for the District of Columbia that the NRC acted illegally when it suspended its work on the project in 2011. A three-judge panel in a 2-1 ruling said work must continue at least until money runs out.
With the Obama administration withdrawing support for the Yucca Mountain project, and with Congress taking no new steps to fund it, NRC leaders have identified only $11 million in leftover funds available for further work.
Likewise the Department of Energy has reported about $15.4 million in carryover funding on Yucca issues, plus another $18.1 million in contracts that could be repurposed for the project.
The NRC's path would leave Yucca Mountain well short of any final determination on its suitability for nuclear waste storage.
"The order DOES NOT signal that a licensing decision is imminent," public affairs officer David McIntyre emphasized in an NRC blog post.
Leading Yucca Mountain critic Sen. Harry Reid, D-Nev., said continued work on the project was a waste of money at any cost.
"It's unfortunate that the NRC was forced by the Court of Appeals to waste more taxpayer money to resume this limited work on Yucca licensing," Reid said. "Congress has defunded the project and President Obama terminated it long ago."
By focusing on tasks that can be completed within its budget, "the commission order appears to reflect a measured response to the DC Circuit's decision," said Anne Cottingham, associate general counsel of the Nuclear Energy Institute.
Within the tight budget, the NRC was lobbied by repository supporters to make a priority of completing a five-volume safety evaluation report, or SER.
The report is expected to contain NRC staff conclusions about whether the Yucca site could safely hold up to 77,000 tons of highly radioactive spent nuclear fuel and other forms of high level nuclear waste for 10,000 years or more.
Some repository advocates believe a Yucca-positive report might provide political momentum to revive the project. Even if not, it is believed the science insights gained from studying Yucca Mountain could be helpful as the government seeks other places to dispose of nuclear waste piling up at power plants and federal installations.
"The next step is to publicly release the SER, and I am glad to see the commission agrees on the need to move forward with this critical report," said Rep. John Shimkus, R-Ill., a House energy subcommittee chairman who has held hearings on Yucca Mountain. "As we have said many times before, the public deserves to know whether the repository is safe after pouring over $15 billion into the project."
Contact Stephens Washington Bureau Chief Steve Tetreault at stetreault@stephensmedia.com or 202-783-1760. Follow @STetreaultDC on Twitter.