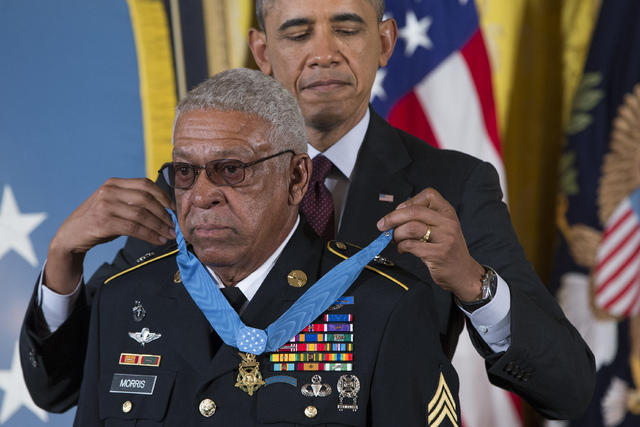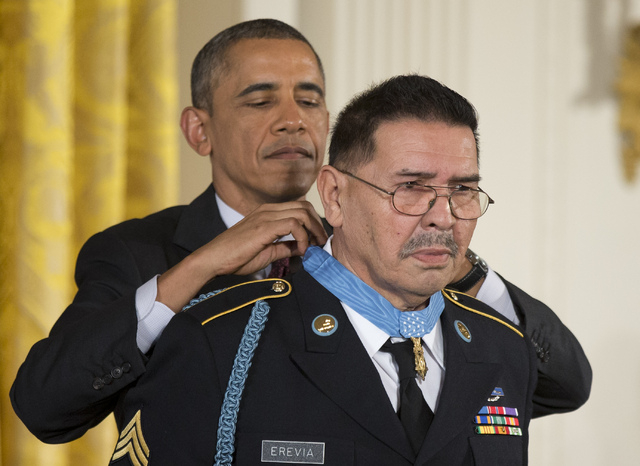 WASHINGTON — They were heroes who didn't get their due.
On Tuesday, 24 mostly ethnic or minority U.S. soldiers who performed bravely under fire in three of the nation's wars finally received the Medal of Honor that the government concluded should have been awarded a long time ago.
The Hispanic, Jewish and black servicemen were identified after a congressionally mandated review to ensure that eligible recipients of the country's highest recognition for valor were not bypassed because of prejudice. Only three of the 24 were alive for President Barack Obama to drape the medals and ribbons around their necks.
"Today we have the chance to set the record straight," Obama said. "No nation is perfect, but here in America we confront our imperfections and face a sometimes painful past, including the truth that some of these soldiers fought and died for a country that did not always see them as equal."
The three surviving recipients — Vietnam vets Jose Rodela, Melvin Morris and Santiago Erevia — received a prolonged standing ovation at Obama's side, their faces set in somber acknowledgment.
Rodela of San Antonio was a 31-year-old company commander of a Special Forces strike group on Sept. 1, 1969, in Phuoc Long Province, Vietnam, when he and his company of Cambodian soldiers whom he had helped recruit came under fire from the North Vietnamese Army.
According to his Medal of Honor citation and supporting documents, the battle lasted 18 hours and 11 men in his company were killed and 33 others wounded.
Morris of Cocoa, Fla., was a staff sergeant during combat operations on Sept. 17, 1969, near Chi Lang, South Vietnam. According to the Pentagon, Morris led soldiers across enemy lines to retrieve his team sergeant, who had been killed. He single-handedly destroyed an enemy force hidden in bunkers that had pinned down his battalion.
Erevia, also of San Antonio, was cited for serving as a radio-telephone operator on May 21, 1969, during a search-and-clear mission near Tam Ky, South Vietnam. He was a specialist 4 when his battalion tried to take a hill fortified by Viet Cong and North Vietnam Army soldiers. The Pentagon says he single-handedly silenced four Viet Cong bunkers.