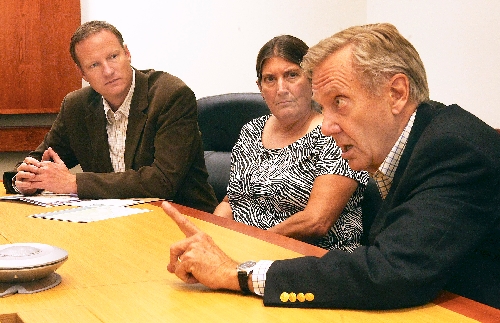 WASHINGTON — Former Interior Secretary Bruce Babbitt said Wednesday that President Barack Obama has been "too timid" in fighting for public land protections, and he blamed "Munchkins in the White House" for steering Obama in the wrong direction.
Babbitt, a fellow Democrat, said Obama has miscalculated the American people, who he said have demonstrated support "again and again and again" for setting aside sensitive lands and protecting the nation's natural resources.
Babbitt said the Republican majority in the U.S. House has chipped away at environmental laws and regulations. He said those included legislation passed in April that removed the gray wolf from the endangered species list, terminated an ocean fishery recovery program and defunded an initiative to identify "wild lands" for protection from development.
"Have they been too timid? The answer is yes," Babbitt said of the Obama administration.
"I would guess that is a political calculation among the Munchkins in the White House, and the political calculation in these issues causes controversy. And controversy is to be avoided at all costs, because it is not good politically. I think that is incorrect."
Babbitt said his speech at the National Press Club was to "remind the president that he has the power, the responsibility and the public support to stand up to those who would destroy our natural and cultural heritage."
Hours after the speech, Babbitt said he had not discussed his concerns with Obama and "heard through the grapevine from other conservation organizations" that the administration wasn't thrilled about his speech.
"They're not sending bouquets to me at this point," Babbitt said by telephone.
Kendra Barkoff, spokeswoman for Interior Secretary Ken Salazar, said, "The Obama administration is already building a strong conservation legacy, founded on sensible protections for wilderness lands, wildlife habitat and farms and ranches that are under threat."
Barkoff said Obama has signed into law protections for 2 million acres of wilderness and 1,100 miles of scenic rivers while expanding national parks and conservation areas.
Babbitt was secretary of the Interior for eight years under President Bill Clinton, from 1993 to 2001. In one of the more controversial moves of Babbitt's tenure, Clinton used his executive powers under the 1906 Antiquities Act to create the Grand Staircase-Escalante National Monument in southern Utah.
The 1996 declaration that protected 1.9 million acres was cheered by conservationists but scuttled a proposed coal mine and was opposed by local officials and members of Congress.
Babbitt said Obama needs to make a similar bold move by creating new monument areas. He suggested designating the waters of Bristol Bay in Alaska as a national monument to put it off limits to oil and gas exploration.
Later, Babbitt said he was unaware of momentum building for an ice age fossils national monument in the north Las Vegas Valley. Protectors of Tule Springs say climate change clues are buried in the area, where mammoths died tens of thousands of years ago.
Babbitt said he is keenly aware of a "strong consensus in Nevada for protection" of Gold Butte, a scenic and historic swath of public land northeast of the valley.
"My sense is the best pathway to protection would be a national conservation area with consent from the Nevada delegation," he said. "But if it turned out that they couldn't get legislation, the antiquities act could be used" to make Gold Butte a national monument.
Nancy Hall, director of Friends of Gold Butte, said the area "has been on the radar for years for formal designation" and needs to be part of the National Landscape Conservation System under the Bureau of Land Management.
"Certainly, the spectacular resources on the Arizona Strip did not stop at the state line. Gold Butte is rich in cultural and natural resources and recreation opportunities including world-class photography, designated ATV trails, hiking and camping."
Hall said the BLM is the appropriate agency to manage Gold Butte, but she said an ice age fossils monument would be served best under the National Park Service "because of their high scientific value and the need for visitor center, museum and education that the Park Service is best at."
Babbitt delivered his speech on the anniversary of President Theodore Roosevelt signing the Antiquities Act into law in 1906.
Contact Stephens Washington Bureau Chief Steve Tetreault at stetreault@stephensmedia.com or
202-783-1760. Contact reporter Keith Rogers at krogers@ reviewjournal.com or 702-383-0308.