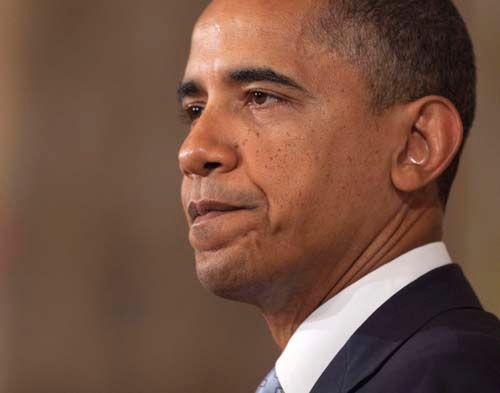 WASHINGTON — President Barack Obama on Monday plans to make struggling Las Vegas the latest backdrop to promote his jobs agenda that is stalled in Congress.
White House spokesman Jay Carney said Friday that Obama on his visit to Nevada will talk about the American Jobs Act, the $447 billion combination of fresh spending and tax cuts, offset by tax hikes on the rich, that he has advanced to boost the economy.
While announcing the Las Vegas trip, a stop for Obama on his way to California, the White House did not publicize details of specific events in the valley.
The secrecy was giving rise to speculation that Obama might be preparing something different than the stump speeches he has been delivering while taking his jobs plan to various cities over the past month.
Democrats hinted it might relate to comments by leading Republican presidential contender Mitt Romney, who drew criticism from Democrats this week after saying that the foreclosure crisis should be allowed to "run its course and hit the bottom."
Secret Service agents and White House representatives visited a neighborhood in east Las Vegas on Friday afternoon in preparation for a planned presidential stop, but the White House asked that details not be publicized for security reasons.
It was unclear which local officials would be greeting the visitor from the White House. Sen. Harry Reid, D-Nev., canceled plans to join Obama to stay in Washington where his wife, Landra, was scheduled for a chemotherapy treatment after being diagnosed with breast cancer, a spokesman said.
Rep. Shelley Berkley, D-Nev., also will be a no-show, aides said. After spending the past week on recess in Nevada, she planned to return to Washington so as not to miss House votes, they said.
According to Democratic sources, one event on the schedule is a midday fundraiser at the Bellagio to raise money for Obama's re-election campaign.
Carney said at his daily news briefing that Obama in Las Vegas "will continue to talk about the economy and the need to create jobs here."
"We aren't going to let up on this discussion because it is our No. 1 priority and the president's No. 1 priority," Carney said. "So you can assume that next week on the trip he is taking that he'll continue to talk broadly about the economy and the need to pass measures and the American Jobs Act."
A Republican spokesman said Obama's Las Vegas foray, which will be paid for at least in part by taxpayers, "is less about jobs for unemployed Nevadans and more about saving his own."
"It's rather ironic that President Obama would choose Las Vegas to sell a plan to throw away taxpayer money on a rehash of the same economic policies that have failed to put Americans back to work," spokesman Ryan Mahoney said. "Instead of making a concerted effort to meet with Nevadans suffering from the worst unemployment and foreclosure rate in the nation, Obama seems primarily concerned with the state's residents as an ATM for his campaign coffers."
At the White House, Carney deflected a question on whether Obama will talk about housing in the city, which has been ground zero for foreclosures.
But other Democrats on Friday mocked Romney for his statement in Las Vegas earlier this week.
Asked in an meeting with the editorial board of the Las Vegas Review-Journal what he would do to address the mortgage crisis in Nevada and elsewhere, Romney said, "Don't try and stop the foreclosure process; let it run its course and hit the bottom.
"Allow investors to buy homes, put renters in them, fix the homes up and let it turn around and come back up," Romney said. "The Obama administration has slow-walked the foreclosure processes that have long existed, and as a result, we still have a foreclosure overhang."
The Democratic National Committee created a website and video out of Romney's remarks.
"To Mitt Romney, houses aren't places where people raise their families and build lives," Brad Woodhouse, DNC communications director, said in a call with reporters. "They're investments to make a profit."
On the call, Assemblyman Kelvin Atkinson said Romney visited a troubled neighborhood in North Las Vegas earlier this year, and "this week we found out what his response to the problem really is."
"The people I represent will tell you they already have hit rock bottom, and the foreclosure process is devastating," Atkinson said.
Few cities appear to be in more pressing need of a boost, as Las Vegas leads the nation in home foreclosures and Nevada carries the nation's worst unemployment rate.
Obama is making the stop in Southern Nevada on a trip that will carry him on to Los Angeles later in the day. From there he travels to San Francisco and Denver, White House officials said.
In Los Angeles on Tuesday, he will tape an appearance on "The Tonight Show" with Jay Leno. Obama has been on and off the road for the past month on a campaign-style tour to promote his jobs initiatives and to pressure Republicans who have been blocking them.
After the American Jobs Act was shelved in the Senate last week, Democrats are attempting to pass it in segments. Reid on Friday announced the next segment would be $50 billion in funding and a $10 billion infrastructure bank to finance roads, bridges, aviation and transit projects.
The first piece — $35 billion for states to avert layoffs to teachers and public safety officers — was defeated late Thursday.
Republicans argue the jobs plan is modeled after the 2009 stimulus law, which they contend failed to fix the economy.
They also have opposed tax increases Democrats have proposed to pay for the new programs, including surtaxes of less than 1 percent on people making more than $1 million.
Contact Stephens Washington Bureau Chief Steve Tetreault at stetreault@stephensmedia.com or
202-783-1760.