Officials: Teacher charged with kidnapping left California school after accusations
December 9, 2013 - 8:05 pm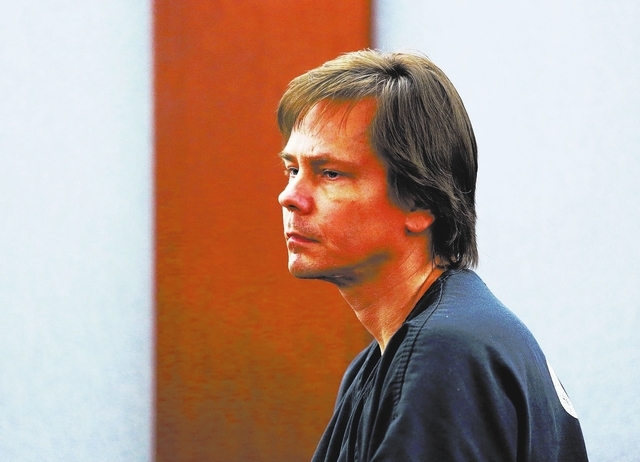 A 45-year-old kindergarten teacher charged with kidnapping a 16-year-old girl in Las Vegas left the Los Angeles school district after he was accused of inappropriately touching six victims, all fourth- and fifth-graders, prosecutors said Monday.
A lawsuit alleging unlawful sexual acts with a minor naming Sprowson as a defendant was recommended for settlement by the Los Angeles Unified School District in 2009, according to district documents. A preliminary hearing for Melvyn Sprowson was again delayed Monday after the new allegations were presented to Las Vegas Justice of the Peace William Kephart. Kephart increased Sprowson's bail to $650,000 following the revelation.
Defense lawyer John Momot noted that California prosecutors did not charge Sprowson based on those accusations.
Sprowson, a teacher at Wengert Elementary School, near Sahara Avenue and Nellis Boulevard, was charged with first-degree kidnapping after the girl, who was reported missing to Henderson police on Aug. 29, was found living in his home. Prosecutors said in court documents that Sprowson gave the girl a sexually transmitted disease.
Clark County School District officials have terminated Sprowson for being absent from work without prior notice of six days, according to spokeswoman Kirsten Searer. Although personnel privacy laws prevent the district from revealing specifics about how Sprowson was vetted, Searer said all teachers undergo an FBI background check which would uncover arrests, charges and convictions.
However, Sprowson faced accusations and nothing more in California, according to Momot.
According to the Los Angeles Times, Sprowson was a fourth-grade teacher at Magnolia Avenue Elementary from 2004 to 2007. He has licenses to teach in both California and Nevada.
The School District also confirms teachers' previous employment and requires their immediate supervisor to fill out a confidential reference form detailing not only performance but also criminal concerns. The teacher must also list three references.
Searer said the district is reviewing its policies and procedures for vetting teachers to "ensure student safety." Last summer, the district hired 2,000 teachers, bringing its total number of teachers to about 18,000. Another large-scale hiring effort will take place starting this spring, she said.
"This is a very disturbing case," said Searer.
Sprowson's preliminary hearing was moved to Dec. 30 when Kephart will decide whether prosecutors have enough evidence to take the case to trial.
According to Sprowson's arrest report, he and the girl had been dating, said "I love you" and slept in the same bed.
He and the 16-year-old had been living together for two months when Clark County School District police officers knocked on his door and she answered.
She told officers she was unhappy living at home and searched for a roommate on Craigslist, where Sprowson had placed an ad, according to the report.
The two began exchanging text messages and developed a relationship. Sprowson picked the girl up from her parents' house without their consent and took her to his home, the report said.
The girl had previously told police she was "fed up with living with her mom," which is why she went to live with Sprowson, according to court records.
The girl said she stopped going to school because she was afraid she'd be returned home. Sprowson and the girl also discussed her getting emancipated, the report said.
Sprowson initially told police he had never met the girl in person and that the two only communicated through messages. Sprowson also told police he had no knowledge of the girl's whereabouts, but admitted to wiring her $150 in the past.
Sprowson faces three other charges, including contributing to the delinquency of a minor, child abuse and obstructing an officer.
This is the second time the preliminary hearing was delayed in the case. The hearing was delayed last month after the alleged kidnapping victim was committed to Monte Vista hospital, which specializes in psychiatric care.
Review-Journal writer Trevon Milliard contributed to this report. Contact reporter Francis McCabe at fmccabe@reviewjournal.com or 702-380-1039.