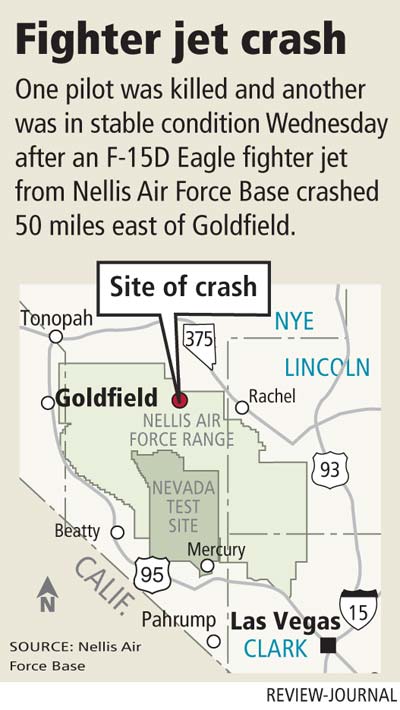 One pilot from the 65th Aggressor Squadron at Nellis Air Force Base was killed Wednesday and another was in stable condition after their F-15D fighter jet crashed on the sprawling Nellis range, sending a cloud of black smoke high over the desert, base officials and an eyewitness said.
The crash of the $30 million, two-seater jet occurred at 11:40 a.m. about 50 miles east of Goldfield. The pilots were participating in Red Flag, a multi-national air combat exercise, base spokesman Charles Ramey said.
The names of the pilots were withheld pending notification of the dead pilot's next of kin. Their mission was to simulate would-be enemies in the exercise that involves U.S. and allied warplanes.
Ramey said the Red Flag exercise was expected to continue today without the 65th Aggressor Squadron. Base officials will hold a news conference at 4 p.m. today.
Ramey did not know whether Air Force F-15s would be grounded as they were last year after an F-15C Eagle flown by a Missouri Air National Guard pilot broke apart at 18,000 feet and crashed Nov. 2. The pilot ejected safely.
Thirteen of the 25 F-15 fighter jets at Nellis Air Force Base remained grounded in January after the November crash, awaiting inspections for structural flaws before being cleared to fly again.
Base officials gave few details about Wednesday's crash. Photographs obtained by the Review-Journal from eyewitness Alan Gudaitis showed smoke billowing from the wreckage and a rescue helicopter responding to the scene.
In an e-mail, Gudaitis said he was camped at Coyote Pass, five miles east of Rachel, to observe the Red Flag exercise Wednesday morning.
"I noticed a black mushroom-shaped cloud rising over the mountains northwest of me," he wrote.
After taking several photos, Gudaitis drove toward the crash area. Near Cedar Gate Road, which leads to the Nevada Test Site, he saw more black smoke rising several miles into the air.
"Within a short time, rescue trucks were speeding to the downed aircraft, and soon a rescue helicopter arrived to bring the downed pilots to the hospital," Gudaitis wrote.
"It was apparent from the radio transmissions that they were able to eject from their disabled jet. … Tonight as I sit alone in the desert I'll say a silent prayer for that fallen warrior," Gudaitis wrote.
In a news release, base officials said the surviving pilot was under observation and in stable condition after being taken to O'Callaghan Federal Hospital at Nellis at 1:30 p.m.
Wednesday's event was the first fatal crash on the Nellis range since Dec. 4, 2002, when two A-10 Thunderbolt II attack planes collided in midair during weapons school training, killing one pilot. The second pilot ejected safely.
The last fatal crash during a Red Flag exercise was seven years ago, on March 23, 2001, when a German Tornado fighter-bomber crashed during a mock war exercise, killing both crew members.
The 65th Aggressor Squadron was reactivated at Nellis on Jan. 12, 2006, with the first of two dozen F-15s painted in a tan camouflage scheme to depict enemy aircraft.
Steeped in tradition dating to 1940 when it was known as the 65th Pursuit Squadron, the 65th Aggressor Squadron also served at Nellis from 1983 through 1989. During a brief stint at Nellis from 1969 to 1970, it was known as the 65th Fighter Weapons Squadron.
During World War II, the squadron's P-40 and P-47 warplanes flew missions over North Africa, Sicily and Italy.
Contact reporter Keith Rogers at krogers@reviewjournal.com or 702-383-0308.
Slideshow of air crash