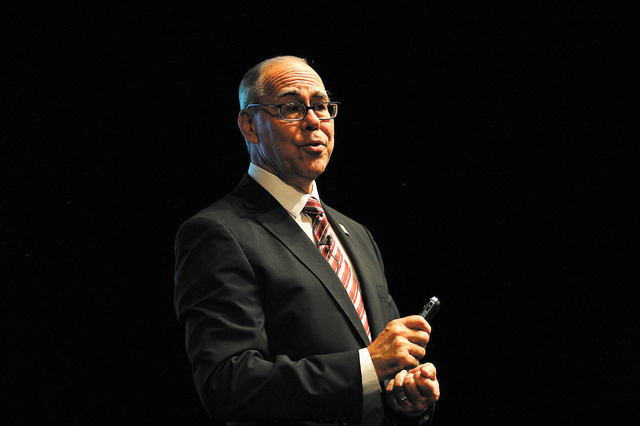 Departing UNLV President Neal Smatresk will earn $505,000 in base salary as the new leader of the University of North Texas.
His annual base salary at the University of Nevada, Las Vegas was $246,426, with a total compensation package of $447,424.
Smatresk's resignation as UNLV president is effective Sunday. He starts his new post on Monday, and his contract extends to Jan. 31, 2017, according to a copy of the document obtained by the Review-Journal.
He also will be provided with an operating budget for business purposes to cover cell and wireless devices, a computer, Internet services and memberships in national and state academic organizations.
Under his new contract with the Texas university in Denton, a community northwest of Dallas, he will be eligible for travel reimbursement, club memberships and a moving allowance. Specific amounts for those items were not included in his contract.
Future salary increases and other compensation for Smatresk will be determined by the system's Board of Regents on the recommendation of the chancellor. The regents also have the option of approving, on the chancellor's recommendation, an annual bonus or one-time salary increase based on Smatresk's performance.
The bonus or increase may not exceed 25 percent of $505,000.
In June, the Nevada Board of Regents approved a four-year contract for Smatresk, with his total compensation package including an annual salary supplement of $169,997, an $8,000 car allowance, an $18,000 housing allowance and a $5,000 host account.
On Friday, the Board of Regents named Don Snyder the acting president at UNLV. His annual salary will be $300,000 a year, up from his current salary of $190,000.
Snyder is a retired Boyd Gaming Corp. president and is leading UNLV's stadium project in partnership with the casino-hotel industry.
He also served as the dean of UNLV's William F. Harrah College of Hotel Administration.
Former Nevada higher education chancellor and television station owner Jim Rogers and his wife, Beverly Rogers, had lobbied for Carol Harter, executive director of UNLV's Black Mountain Institute and former UNLV president, to be the acting leader.
Their disappointment with Snyder's selection came across Friday when Beverly Rogers said, "I feel sick to my stomach about the recommendation."
Jim Rogers also expressed his unhappiness with the choice on social media.
When contacted for comment late Tuesday afternoon, Rogers said that everything he has to say about the issue will be said on his station, KSNV-TV, Channel 3.
He said he will not reconsider a recently made $10 million commitment to UNLV's Black Mountain Institute.
"This has nothing to do with that," he said of the appointment of an acting president.
"You just don't do that. The pledges are made for the benefit of the students. We have a $10 million obligation, and we will continue to pay it."
Reporter Yesenia Amaro can be reached at (702) 383-0440, or yamaro@reviewjournal.com.