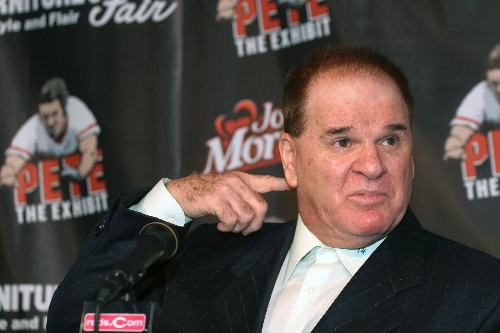 Pete Rose may be banned from baseball, but he lived to see his name in neon lights on a Las Vegas marquee.
Baseball's all-time hits leader got the red-carpet treatment from the Palms for hitting the big 7-0 on Thursday.
He was greeted with "Happy 70th Pete Rose 4,256" on the marquee outside the Palms and a cake from N9NE Steakhouse topped with a collage of photos.
Rose's party of about two dozen included girlfriend Kiana Kim, who appeared in Playboy's "Sexy 100 of 2009."
N9NE Steakhouse executive chef Barry Dakake said, "It's time to forgive" and allow the former Cincinnati Reds star in the Hall of Fame.
"There are a lot worse things that happen in baseball than betting," he said.
REMEMBERING 'SULLY'
Hundreds of Las Vegans jammed Christ the King Catholic Church on Thursday to pay tribute to legendary casino host Bill "Sully" Sullivan, who died March 31 at age 78.
One of the eulogists at the memorial service, Las Vegas restaurateur Marcel Taylor, said Chicago friends knew Sullivan as "The Midnight Mayor of Rush Street."
But he found his true calling about 30 years ago when he took his huge personality to Las Vegas and brought hundreds of high rollers with him. But you didn't have to be Frank Sinatra, Michael Jordan or Mike Ditka to be his friend.
Jeff Thomas, the other eulogist, said walking through Chicago with Sullivan was like "a forced march" because so many stopped one of the Windy City's favorite sons.
And no evening was over until the big Irishman sang.
"Anytime he saw a piano, he'd sing," recalled longtime Las Vegas restaurateur Bob Harry.
Las Vegas headliner Frankie Scinta can attest to that. Scinta met Sullivan about six months ago at Salvatore's Italian restaurant at the Suncoast.
"We were talking at a table and somebody said, 'Hey, Bill, sing a song.' He said, 'You play. I'll sing,' " recalled Scinta.
They teamed up on "You're Nobody 'til Somebody Loves You," Sullivan's favorite. Scinta opened Sullivan's memorial with it. Sullivan was no fan of the Irish anthem "Danny Boy," Scinta said.
A floral wreath formed in the shape of the University of Notre Dame logo stood above an urn bearing Sullivan's ashes.
He played for one of Notre Dame's best basketball teams, which went 22-3 during the 1953-54 season and knocked off No. 1 Indiana.
After the memorial, Taylor recalled seeing Sinatra pull Sullivan out of an audience in the 1980s to sing "Chicago" with him.
He was Harry Caray's wingman in Chicago and was so popular in Las Vegas that Bally's named Sully's lounge after him.
"Sully made people's day," said Father William Kenny, pastor at Christ the King.
He had the crowd nodding in unison when he added, "Maybe a third Sully's bar is somewhere up there."
SIGHTINGS
Newlyweds Kelsey Grammer and Kayte Walsh continued their Las Vegas honeymoon on Wednesday at "Viva Elvis" (Aria) at CityCenter. … Actor Jude Law and his three children, having lunch at Serendipity 3 (Caesars Palace) on Thursday. The kids left with Serendipity's specialties Frrrozen Hot Chocolate and dark chocolate candy bars. … Mary Hart, celebrating her 29 years as a co-host of "Entertainment Tonight" with CBS execs Les Moonves and John Nogawski and her husband, Burt Sugarman, at La Cave (Wynn) on Wednesday.
THE PUNCH LINE
"Barry Bonds was charged with obstruction of justice, as well as obstructing anyone that sat behind him in a movie theater." — Jimmy Kimmel
Norm Clarke can be reached at (702) 383-0244 or norm@reviewjournal.com. Find additional sightings and more online at www.normclarke.com. Follow Norm on Twitter @Norm_Clarke.