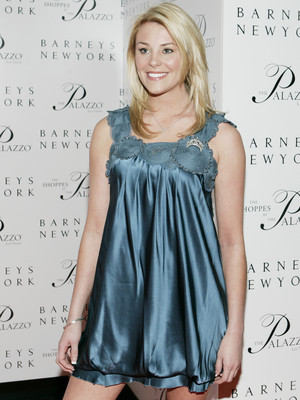 When Oscar-winning actress Gwyneth Paltrow was hospitalized this week, star chef Mario Batali was on the telephone with her, passing along get-well wishes.
She's fine, Batali told me Thursday during a table visit at the VIP opening of his latest restaurant, Carnevino, at the Palazzo.
Paltrow spent a night in New York's Mount Sinai Hospital on Monday, and her condition was a mystery until Batali spilled the beans.
"Big hype, not a big problem," said Batali, who described Paltrow's problem as "a little gastrointestinal situation."
Paltrow and Batali have two weeks of shooting left in Europe for a PBS show called "On the Road Again in Spain." They'll resume shooting in March in Majorca, Valencia and Madrid, he said.
Batali grew up in Seattle and attended high school in Spain. His four years in Spain "were the best thing that ever happened in my life." At 16, he ran with the bulls in Pamplona, where he returned to shoot restaurant segments.
As one of the founding fathers of the Food Network, his deal with PBS has raised some eyebrows. It comes at a time when the network is losing one of its mainstay shows, "Emeril Live!" starring Emeril Lagasse.
Batali, who reportedly wasn't happy when the Food Network turned down his show with Paltrow, and Lagasse were huddling during a late-night dinner at Carnevino.
Carnevino, a steakhouse concept, is Batali's third Las Vegas restaurant, all on the same block. He and his winemaker business partner Joe Bastianich opened B & B and Enoteca San Marco in The Venetian.
TO THE RESCUE
Happens every year, it seems.
This time it was reigning Miss America Lauren Nelson whose luggage didn't arrive.
She found herself scrambling to find an outfit to wear for the red carpet at Barneys New York at the Palazzo grand opening.
She ran over to Fashion Show mall and picked out a blue dress and silver sandals at BCBG.
By midday Friday, Nelson's luggage still hadn't made it, putting in doubt her Friday photo shoot with the Review-Journal at the Palazzo.
So our Susan Stapleton, editor of the R-J's fashion section, image, dashed over to Saks Fifth Avenue at Fashion Show mall and borrowed five outfits and three pairs of shoes for Nelson.
Nelson picked out a gold Nanette Lepore dress and Jimmy Choo shoes for her image cover shot, which appears next Friday.
THE SCENE AND HEARD
Diana Ross' performance tonight at the Palazzo's grand opening gala comes almost 38 years to the day of the Supremes' final engagement together. They performed at the Frontier Hotel on Jan. 14, 1970, and recorded "Farewell," their last album. It was Ross' last night with Mary Wilson and Cindy Birdsong. Ross' replacement, Jean Terrell, was brought onstage and introduced.
SIGHTINGS
Mayor Oscar Goodman, picking up the dinner check for 19 Nellis airmen Thursday at Fellini's on Charleston after chatting with them. Entertainer Bobby Rydell stopped in earlier in the week. … Chelsea Clinton, going table to table at Hash House A Go Go at lunch Friday. She was with a group of gal pals. She has been campaigning here for her mother, Democratic presidential candidate Hillary Clinton, all week. She was with actresses America Ferrera of "Ugly Betty" and Amber Tamblyn at Fix restaurant (Bellagio) on Thursday and at Sidebar (Triple George) on Wednesday. A vegetarian, Chelsea dined on mushrooms, spinach and steamed green beans at Fix. … Also in town stumping for Clinton: Hollywood director Ron Howard, joining the phone bank workers. … In town for the caucuses, news hawk Matt Drudge, who flew in from Miami seated next to local restaurateur Elizabeth Blau. … At a private reception Thursday at 40/40 Club inside the Palazzo: Oscar-winning actress Hilary Swank, singer/actress Mandy Moore, actress Christina Ricci, former NFL star Jason Sehorn and wife/actress Angie Harmon, actor James Denton, actor Jesse Metcalfe, actress Nicolette Sheridan, actor Jerry O'Connell and wife/actress Rebecca Romijn, and actor Jason Lewis.
THE PUNCH LINE
"Eddie Murphy's marriage is over. It lasted only two weeks. Two weeks! Here's what I heard: They started to drift apart during the ceremony." — David Letterman
Norm Clarke can be reached at (702) 383-0244 or norm@reviewjournal.com. Find additional sightings and more online at www.normclarke.com.