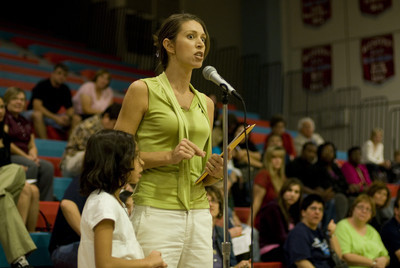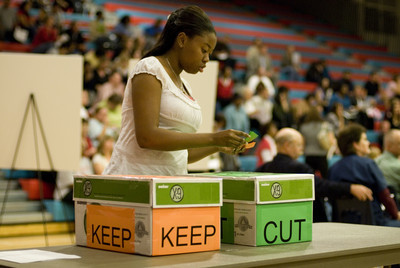 The 600 people packed into Western High School's gym Tuesday night weren't there for a pep rally.
They came to discuss the impact of $120 million in potential reductions on next year's Clark County School District budget.
It was "not a fun meeting," said Superintendent Walt Rulffes.
Parents, educators and students sometimes became emotional and defiant as they spoke. Lori Mora, a mother of two school-age children, said Nevada was treating its students like "second-class citizens" by refusing to adequately fund public education.
"We live in the most powerful country in the world and we can't find enough money to pay for our children's education?" asked Mora at a town hall meeting at Western, near Bonanza Road and Decatur Boulevard.
Susan Avila came dressed in a white "MIT Mom" T-shirt. Her daughter, Ivana Lucera, graduated from Valley High School in 2006 and now attends the Massachusetts Institute of Technology.
Avila fears her 9-year-old daughter Juliet won't have the same opportunities if the district reduces funding for the bus transportation that her daughter needs to attend a magnet school.
"By eliminating those buses, we're closing doors," Avila said.
Rulffes hoped the meeting "would be a call to arms."
"We can't treat education as though it's expendable," he said.
Gov. Jim Gibbons has said that the state needs to cut another $300 million in spending in the fiscal year that ends June 30 and reduce spending by another $1.5 billion for the two-year budget that starts July 1.
That leaves the district looking for a way to fill a possible $120 million gap in its 2008-09 budget.
Possible cuts have already been identified by district staff. They include reducing the district's annual savings in half, ending a retirement incentive program and eliminating as many as 261 administrative positions.
The Clark County School Board needs to approve a tentative 2008-09 budget in December. It may also need to make additional cuts to its current budget. The state has told the district it might have to reduce $27 million to $75 million more for the fiscal year that ends in June.
The purpose of the Tuesday's public meeting was to get guidance on what to cut and to keep. Participants were urged to fill out index cards with their responses. A second meeting will be at 6 tonight at Chaparral High School, 3850 Annie Oakley Drive.
The district has also been collecting feedback from school staff and surveys have been mailed out to parents. The 712 parents who responded to one survey identified sports, extracurricular programs, special education facilitators and custodians as top priorities.
Respondents would cut funding for administrative staffing at schools, early retirement incentives, regional offices and teacher preparation periods.
Parent Kevinn Donovan approved of cutting administrative staff but didn't think the cuts went far enough.
He said administrative salaries should be reduced as well. He said the business climate is not any better in the private sector.
Donovan works in construction management. He has been told not to expect any raises this year. "We're lucky to have jobs," Donovan said.
Karen Signorelli-Russo, a mother, said the district was taking the wrong approach. Instead of looking to cut funding, she said, the district should try to raise revenues. She then suggested charging a $50 school registration fee and was surprised by the crowd's response.
"I was expecting boos but I hardly got any."
Contact reporter James Haug at jhaug@ reviewjournal.com or 702-799-2922.
Slideshow RELATED STORYSchool district unions split over proposals to avoid layoffs COST-CUTTING PROPOSALS IN PUBLIC SCHOOLSTo meet expected shortfalls in state education funding, the Clark County School District is considering measures that include: • A $32 million reduction in administrative staffing, cutting 261 positions. • A $8.7 million reduction in humanities teachers, cutting 115 positions. • A $5 million reduction in teacher mentors, cutting 27 positions • An $11 million elimination of block scheduling. • $15 million in savings by expanding class sizes in grades 1-3, eliminating 230 teachers. • $4 million in savings by expanding class sizes in grades 4-5, eliminating 63 teachers. • $12 million in savings by expanding class sizes in grades 6-12, eliminating 183 teachers. • $18 million in savings by cutting 219 computer specialists. • $11 million in savings by cutting 200 permanent substitute teachers. • $9 million in savings by cutting 105 librarians. • $12 million in savings by cutting 164 special education facilitators. • $102 million in savings by eliminating all preparation time for teachers • $2 million in savings by cutting early-retirement incentives. Source: Clark County School District