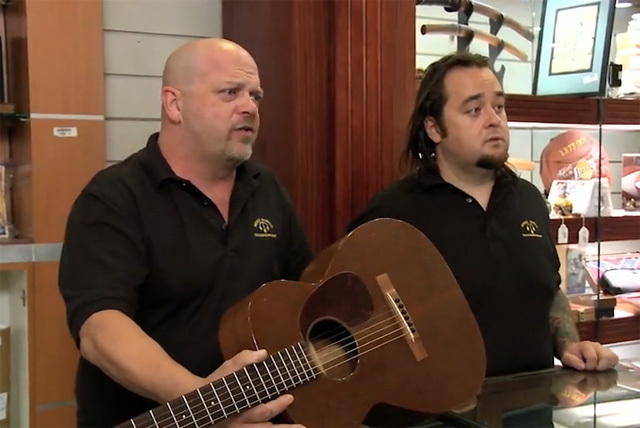 Bob Dylan's interactive "Like a Rolling Stone" video is out and what do you know, there's the "Pawn Stars" among a cavalcade of lip-syncing celebrities.
Joining Rick Harrison in the video is Austin "Chumlee" Russell and Derek Stonebarger of Atomic Liquors, Las Vegas' oldest bar.
So, to borrow the words of Dylan from his classic 1965 hit: How did it feel?
Harrison laughed. "I guess I'm officially famous now. For the love of God, it's Bob Dylan!"
After all, Harrison said, "when was his last video?" Some historians believe it was in the 1967 documentary "Don't Look Back," which features a boyish Dylan holding cue cards for "Subterranean Homesick Blues," his first top 40 hit (1965).
Dylan's just-released video allows viewers to flip between 16 channels of simulated TV programming and old news reels. But the characters doing the lip-syncing are actors and celebrities.
"There were a lot of re-takes. Chum did better than I did," said Harrison, who was informed of the "Pawn Stars" inclusion about a month ago, "out of the blue."
And, of course, if Chumlee is involved, there has to be an interesting back story.
"About three years ago, we sent Chum to Caesars Palace with the film crew to get Dylan's autograph on the cover of his 1970 'Self Portrait' album," Harrison said.
Russell was supposed to ask Dylan to just sign his name, not anyone else's. "But he ended signing it to Chum," Harrison said.
The invitation to participate in Dylan's video, Harrison said, "was some sort of reciprocating."
Stonebarger appears as a customer at Gold &Silver Pawn, home of "Pawn Stars," the History Channel's 5-year-old hit reality show.
But the only time he is identified, it is as "Michael" and "owner." Harrison assumes it was a case of the film editor not knowing Stonebarger's name and making up a name on deadline.
Stonebarger is involved in the other big news out of "Pawn Stars" camp, Harrison said.
Stonebarger will be producing "Pawn Stars Live," a parody, at the Golden Nugget starting next month, with a cast of 15 to 20 characters.
"We're just sort of wrapping up right now. It looks like it's going to be a go," he said. All of the characters will be actors except for "a seven-foot puppet playing the old man," Harrison said.
GORDON BROADWAY BOUND
Las Vegas producer, director and acting coach Gerald Gordon is on a roll: He has signed a contract to direct a new Broadway show with music titled "I Feel Sin Comin' On" and his recent film, "Shazam and the Lost Path," a satire of Tarzan films, received one of the top awards at the Nevada Film Festival.
The Broadway show is based on the autobiography of Hollywood columnist Michael St. John. His book was titled "Hollywood Through the Back Door." Gordon, a Las Vegas resident since 1998 after years in the Los Angeles theater community, made news in 2003 when his acting student Adrien Brody won a best actor Oscar for his role in "The Pianist."
THE SCENE AND HEARD
Buddy Valastro of TLC's "Cake Boss" reality show will be autographing copies of his latest book, "Family Celebrations with the Cake Boss" from 1-2 p.m. Sunday at Buddy V's Ristorante in the Grand Canal Shoppes at The Venetian/Palazzo.
SIGHTING
Brody Jenner of the "Keeping Up With the Kardashians" reality TV show, with a group of friends at Hyde Bellagio on Saturday. The group included Jason Jones, a correspondent on "The Daily Show with Jon Stewart."
THE PUNCH LINE
"Everyone is talking about Toronto's crack-smoking mayor (Rob Ford). His reality show has been canceled after one episode. That is the difference between the U.S. and Canada. In America, when somebody goes off the rails, we renew their reality show." — Conan O'Brien
Norm Clarke's column appears Sunday, Monday, Wednesday and Friday. Reach him at 702-383-0244 or norm@reviewjournal.com. Find more at normclarke.com. Follow @Norm_Clarke on Twitter. "Norm Clarke's Vegas" airs Thursdays on the "Morning Blend" on KTNV-TV, Channel 13.