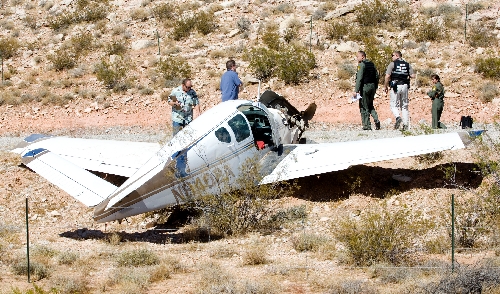 A plane forced to make an emergency landing in the desert earlier this month after losing engine power had plenty of fuel on board, according to a National Transportation Safety Board preliminary report.
A specific cause for the accident was not given, and few details were released. The report stated that the plane's right wing tank was empty, but its left wing tank was almost full.
It's not clear whether the fuel distribution was a factor in the accident.
A full report will be released by the NTSB, but may take several months to complete.
Las Vegas police said the plane crashed in Blue Diamond near Castalia Street just after 11:30 a.m. on Oct. 8 as the pilot was attempting to make an emergency landing on state Route 160.
County officials said both people on board, pilot John W. Jamison, 81, and Catherine Irene Jamison, 69, of Las Vegas were taken by ambulance to University Medical Center in serious condition.
A UMC spokeswoman said Tuesday that John Jamison was in good condition and Catherine Jamison had been released.
Aviation officials said the plane, a Beechcraft Bonanza manufactured in 1948 and registered to Jamison, was approaching North Las Vegas airport from Palm Springs, Calif., when the accident occurred.
A flight plan had not been filed. The plane sustained "substantial damage" to the firewall and fuselage, according to the NTSB report, and was recovered for further examination.