Nevada school funding plan finally unveiled
Updated May 13, 2019 - 5:38 pm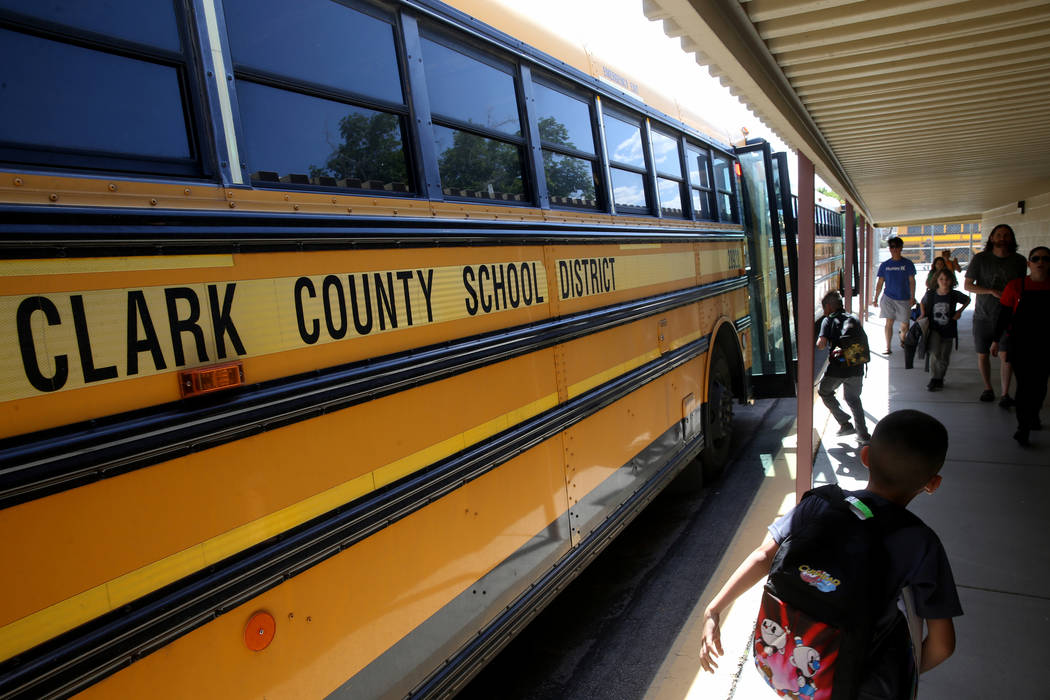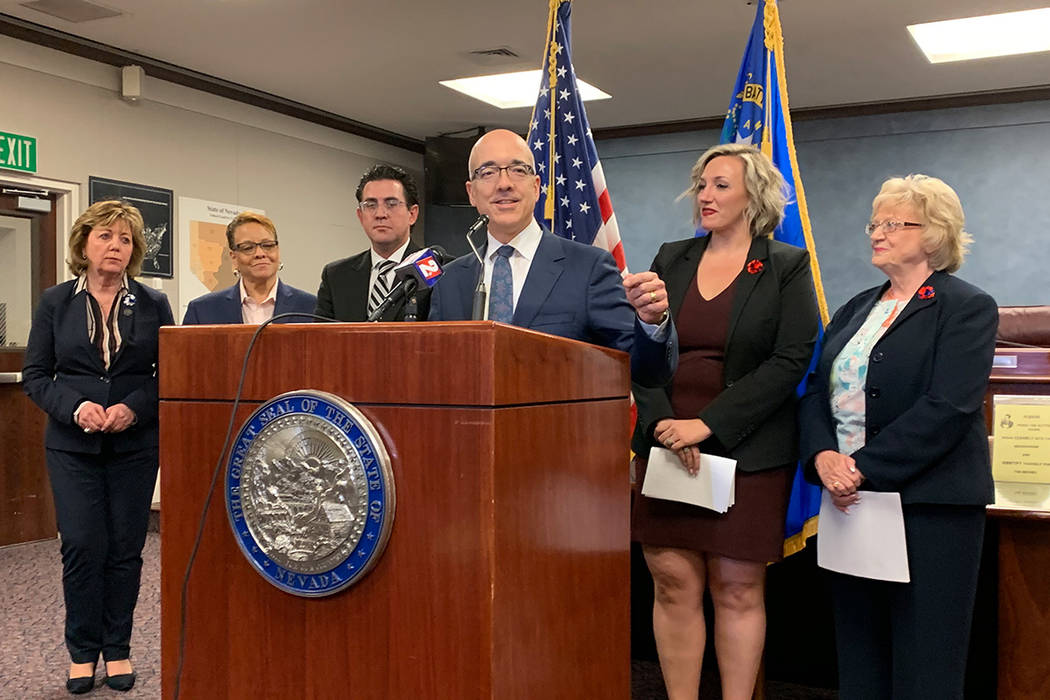 CARSON CITY — Senate Democrats on Monday unveiled a long-awaited proposal to revamp the state's decades-old funding formula for K-12 schools, a phased-in plan aimed at changing how existing money is distributed to the state's 17 districts without cutting funding to any of them.
The effort — championed primarily by Education Committee Chairman state Sen. Mo Denis, D-Las Vegas, and Sen. Joyce Woodhouse, D-Henderson — is aimed at replacing the 52-year-old Nevada Plan. That system has long been panned as inadequate for a state whose population has grown more than sixfold since it went into effect and as antiquated because it determines funding increases solely based on what districts spent the year before.
"Nevada is a vast state, and a one-size-fits-all solution will not adequately serve the needs of our students and educators," Denis said as Democrats held a briefing on the plan Monday.
The new proposal — Senate Bill 543, called the Pupil-Centered Funding Plan — would establish a "base funding amount" for all of Nevada's nearly 450,000 K-12 students, said analyst Jeremy Aguero. His company, Applied Analysis, worked on the plan with lawmakers.
The bill would collect dozens of funding streams for education into one account, making it easier to dole out to various school districts and track. Also, it would create a special formula that gives extra money to kids in special education or gifted and talented programs, those at or near the poverty level, or those who are learning English, no matter which school they attend.
Another aspect of the plan would wall off that extra funding earmarked for particular student groups; any money left over at the end of the year in a district's budget couldn't be used to cover collective bargaining agreements with labor unions.
Aguero said that if the bill is implemented as written, old and new funding plans would overlap in the first two years starting in July to ensure that the new method "is working exactly as planned." The phase-in would give the state a two-year test run with the new formula before it takes effect in July 2021.
Rural lawmakers concerned
The 120-page proposal is still a draft, and it doesn't include specific dollar amounts or ways to tell how it would affect the way money is currently spent.
Rural lawmakers have expressed concern that changes to the formula would see school districts in their parts of the state lose funding, particularly in Elko and Douglas counties. Denis said bill-drafters built in protections to avoid that, although eventually funding levels will be adjusted under the new formula.
"Going into this, we wanted to make sure that no student, no teacher, no school district was adversely impacted by the creation and implementation of a new modern funding formula," Denis said. "In other words, we were mindful of the impact shifting money between groups of students or school districts could have. So we made sure that in the coming years, they will continue to receive the same amounts of revenue they currently are to give them time to adjust to the new plan."
Still, initial reaction from Republican lawmakers, most of whom represent rural areas of the state, was negative. Given an overview last week, they were still poring over the details Monday, as were rural school districts.
"If the goal is to get more money for Clark County, I welcome that discussion," said Senate Minority Leader James Settelmeyer, R-Minden. "If the discussion was to get more money for education, I welcome that discussion; let's talk. This just moves money around."
He added: "Republicans aren't afraid. We raised taxes over $1 billion one time for education."
Another Republican, state Sen. Scott Hammond, R-Las Vegas, questioned the timing of introducing such an extensive overhaul so late in the 120-day legislative session, which is set to conclude in three weeks.
"It's a very, very thick bill with lots of policy implications on the state of Nevada," said Hammond, a teacher, who said he generally supports revamping the formula. "It may not be enough time to process the whole thing."
Teachers union opposed
As lawmakers briefed reporters on the proposal, the state teachers union issued a statement opposing it, saying it only shifted funds "from one area of Nevada to another" and would have a "devastating impact on the rural areas of Nevada."
The Nevada State Education Association "is very disappointed with this proposal," said President Ruben Murillo. He said his organization and others had been "shut of the process" of crafting the plan.
Denis called that criticism unfair.
"We need to have a system in Nevada that helps all of our kids, and the current system doesn't do that," he said. "This isn't something we did in the last four months. So for anybody to say that they haven't had their concerns heard, that's unfair. If they haven't, they will still have that opportunity."
Woodhouse, in Monday's briefing, said hearings on the bill are expected to begin next week, giving lawmakers and others a chance to get up to speed on the details.
Clark County will get more
Revising the formula will divert more money to the Clark County School District, the largest in Nevada and the fifth-largest in the nation. In a statement, Superintendent Jesus Jara said the district "supports this plan in concept." He noted that the bill does not address all education funding needs but "lays the groundwork for us to work together as a state to transform education and distribute any new funding for education in a more equitable, more transparent manner."
Gov. Steve Sisolak, appearing at an event in Las Vegas Monday morning, said his office had not yet seen the bill.
Jenn Blackhurst, president of Hope for Nevada, an advocate for better school funding, said her group appreciated the transparency of the new plan and backed its move to create the rainy day fund for education. But she said the group still was concerned about the overall level of funding, noting the base funding number was "not tied to anything that's meaningful."
Contact Capital Bureau Chief Colton Lochhead at clochhead@reviewjournal.com or 775-461-3820. Follow @ColtonLochhead on Twitter. Contact Bill Dentzer at bdentzer@reviewjournal.com or 775-461-0661. Follow @DentzerNews on Twitter.