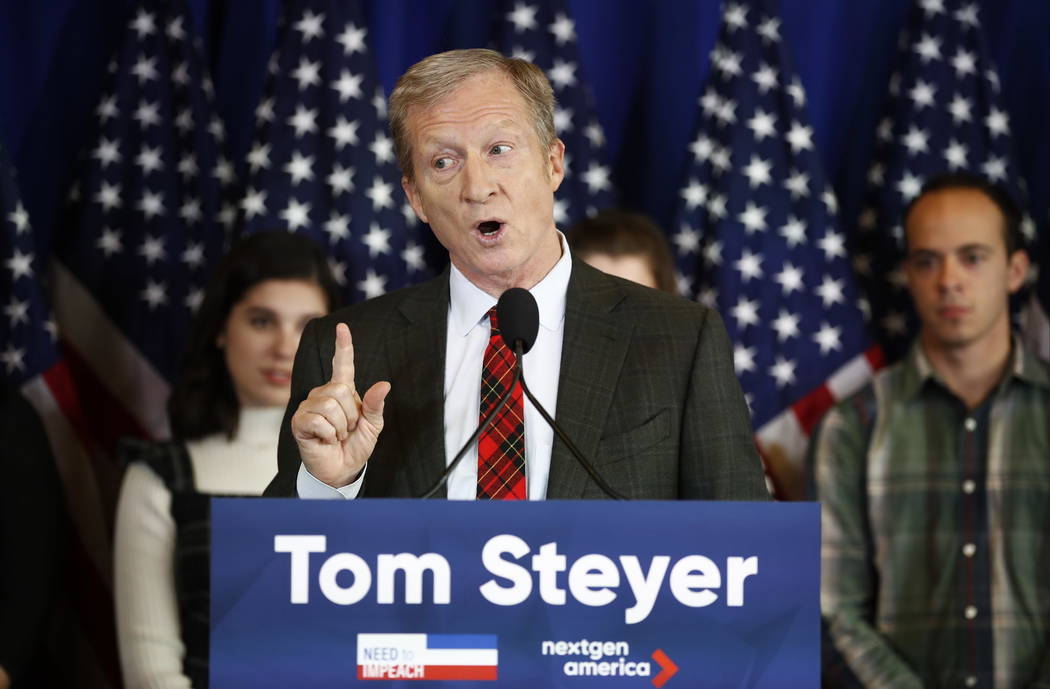 California billionaire Tom Steyer, best known for bankrolling a campaign to impeach Donald Trump, will be in Nevada Thursday to take on a new fight — protecting undocumented immigrants.
Steyer will be joined by U.S. Rep. Dina Titus and immigrant activists in a rally at UNLV. Congress faces a funding deadline on Thursday and a potential government shutdown as Democrats and Republicans butt heads over immigration reform.
Steyer will call on Nevada GOP Senator Dean Heller to protect recipients of Deferred Action for Childhood Arrivals, an Obama-era program that protected from deportation children who were brought into the country illegally.
Trump ended the program but gave Congress until March 4 to come up with a solution for 700,000 DACA recipients. About 13,000 of them live in Nevada.
The event begins at noon in UNLV's Student Union, room 218, 4505 S Maryland Parkway.
Another candidate in AD 35
The race to succeed Democratic Assemblyman Justin Watkins in District 35 is getting crowded.
Republican Tiffany Jones, who ran for the seat in 2016, announced this week she's jumping in again to advance a business-friendly agenda.
"We have made tremendous strides in the last few years when it comes to job creation and that is great news, but there is still more work to be done," Jones, owner of Las Vegas bakery Perdiot Sweets, said in a statement. "I want to build upon the current momentum and am running for office, because I believe I offer unique insights as a small business owner that will be beneficial to the policy-making process."
Jones is the second Republican to enter the 2018 race. David Schoen, a paralegal and Army veteran, announced his candidacy several months ago. Jones, who moved to Nevada in 2005, lost the Republican primary two years ago by 3 percentage points — a little more than 60 votes.
Two Democrats are running for the seat: Paul Numsuwan, a former Marine who was born in Thailand, and Michelle Gorelow, an executive at the nonprofit Foundation for Positively Kids.
Watkins, an attorney, served one term in the Assembly but announced in October he will not seek re-election.
Energy choice fight
After sitting on the sidelines in 2016, NV Energy — the state's largest electric company — is fighting a measure that would open the state's energy market to competitors.
The Energy Choice Initiative goes to voters a second time in November. Nearly 74 percent of voters approved it in 2016, but it requires two votes because it's a constitutional amendment.
If passed, the initiative would allow residents to choose their power provider by 2023.
A group called "Coalition to Defeat Question 3" will oppose the measure with NV Energy. The group includes former NV Energy and Harrah's chair Phil Satre, Clark County Commissioner Marilyn Kirkpatrick and former Secretary of State Frankie Sue Del Papa.
Opponents say deregulation of Nevada's energy market creates uncertainty. Supporters, which include the Las Vegas Sands Corporation and tech company Switch, say the measure will provide customers with a choice and lower energy costs.
Endorsements
— The Nevada Assembly Democratic Caucus said it will back Gorelow in her bid to succeed Watkins in Assembly District 35.
"As an accomplished community leader in Nevada, Michelle Gorelow brings an abundance of knowledge and experience that will greatly benefit the constituents of Assembly District 35," said Nevada Assembly Speaker Jason Frierson. "I know that Michelle will be a champion for our children, our schools, and our state, and the Caucus is excited to endorse her for Assembly District 35."
Gorelow is the vice president of business development and community outreach for Foundation for Positively Kids, which delivers healthcare services for Southern Nevada children with an emphasis on helping those who are developmentally disabled or face medical challenges. She previously worked in an executive role at the March of Dimes.
— Democratic lieutenant governor candidate Kate Marshall has thrown her support behind Senate Majority Leader Aaron Ford, a Democrat running for attoney general.
Events
— Gubernatorial candidate and Nevada Attorney General Adam Laxalt will open a Las Vegas-based campaign office on Saturday. The event, which runs from 11:45 a.m. to 1 p.m., will include pizza and drinks. Laxalt's office new will be located at 7395 S. Pecos Road.
Laxalt is one of six candidates running to succeed termed-out Gov. Brian Sandoval. He faces opposition from Democrats Steve Sisolak, Chris Giunchigliani and Kyle Chamberlain and fellow Republicans Dan Schwartz and Jared Fisher.
— Veterans in Politics is hosting a Valentine's Day Ball at the Plaza Hotel and Casino from 5 p.m. to 11 p.m. Saturday.
Contact Ramona Giwargis at rgiwargis@reviewjournal.com or 702-380-4538. Follow @RamonaGiwargis on Twitter.