Campaign 2018: Susie Lee touts $500K haul in first quarter
Updated April 11, 2018 - 8:17 pm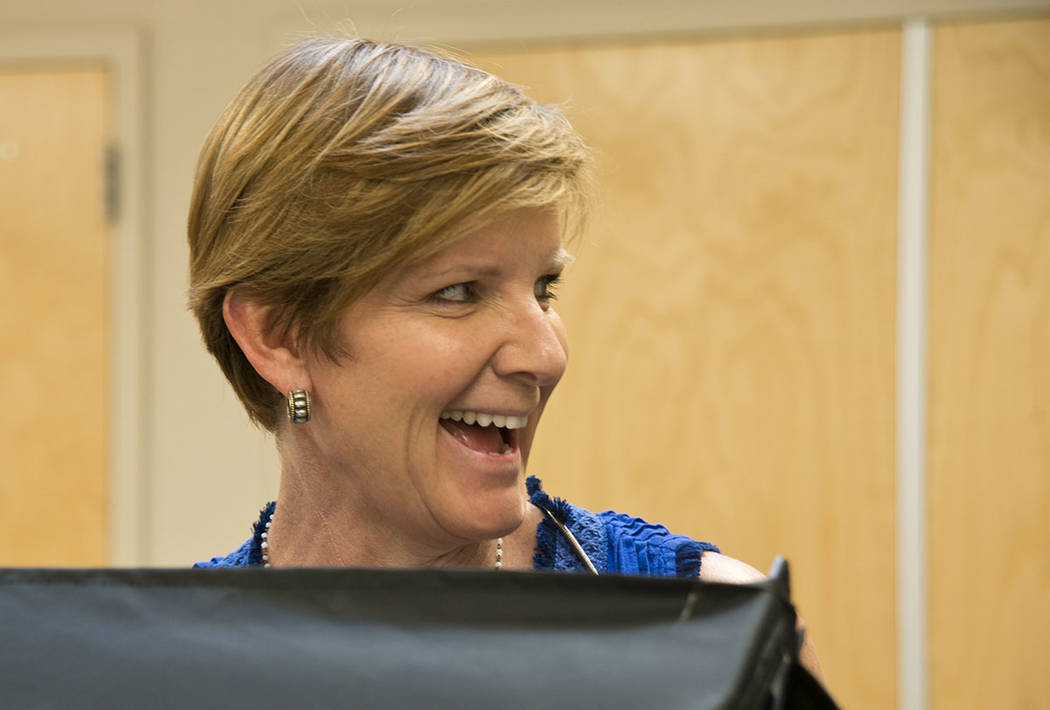 The campaign for Democrat Susie Lee announced on Wednesday that the local philanthropist and nonprofit organizer had amassed another hefty fundraising haul.
Lee, who is running in Nevada's 3rd Congressional District, raised $550,000 in the first quarter and has more than $1 million on hand, her campaign said.
"I am honored by the broad support my campaign is receiving," Lee said in a statement. "Our campaign has a large and growing grassroots coalition that will win in November, and I'm looking forward to continuing to share our message of common sense, results-oriented leadership with Nevada voters."
Lee's campaign finance disclosure had not been filed with the Federal Election Commission on Wednesday. The filing deadline is April 15.
Lee, who has endorsements from top Democrats such as former Vice President Joe Biden and former U.S. Sens. Harry Reid and Richard Bryan, is considered the front-runner in the crowded field of seven Democrats vying to replace Democrat Jacky Rosen, who won the seat in 2016. Rosen is vacating the seat to challenge U.S. Sen. Dean Heller, R-Nev.
In the other primary, businessman Danny Tarkanian, state Sen. Scott Hammond and former KLAS-TV, Channel 8, consumer reporter Michelle Mortensen are among the eight Republicans in the field for the June 12 primary.
New tax ads
The National Republican Senatorial Committee this week unveiled two ads blasting Democrats for pushing to repeal the GOP tax plan.
The 15-second Facebook ad and 6-second YouTube bumper say, "Tax cuts mean more money in your pocket." They end with the question: "Why do Democrats want to take that away?"
NRSC spokesman Michael McAdams took aim at Rosen, though the ads don't call her out by name. "Not only did Jacky Rosen vote against the GOP tax cuts responsible for bigger paychecks, new job opportunities and higher wages, but Nevadans now must worry about Rosen repealing their new economic benefits," McAdams said.
The new ads are part of a five-figure buy.
Double endorsement
It's not every day that two competing candidates get endorsed by the same group, but that's exactly what happened this week.
On Tuesday, the Twitter account for the campaign of Democratic gubernatorial candidate Steve Sisolak tweeted thanks for an endorsement from the The American Federation of State, County and Municipal Employees Local 4041.
Sixteen minutes later, the campaign Twitter account for fellow Clark County Commissioner Chris Giunchigliani, also running for governor, announced that she had been endorsed by the public employee trade union.
Harry Schiffman, president of the local chapter, said a major part in the double endorsement was that both Sisolak and Giunchigliani have said they would support collective bargaining for state employees.
"We feel like we're lucky enough to have two strong and fantastic candidates to work for and support working families in Nevada," Schiffman told the Review-Journal.
News and notes
■ Evelyn Faux told the Las Vegas Review-Journal she is no longer campaigning in the Clark County School Board District G race. Her withdrawal ends the primary in that race, sending incumbent Trustee Linda Cavazos and challenger Ryan Scalia to the November general election ballot.
■The Human Rights Campaign endorsed lieutenant governor hopeful Kate Marshall. The nation's largest LGBTQ advocacy group said Marshall, a former state treasurer — spent her career "working to make Nevada safer and protect the rights of every Nevadan." "Kate Marshall's commitment to equality and years of service to the people of Nevada make her the clear choice for voters," said HRC Nevada State Manager Briana Escamilla.
■AFSCME Local 4041 endorsed Zach Conine, a Democrat running for Nevada state treasurer. "The members of Local 4041 deserve a Treasurer who will ensure our state has a strong financial standing and that as our economy continues to grow, we don't leave Nevada workers behind," Schiffman said.
■ Irene Cepeda, a candidate for the School Board District D seat, is hosting a campaign event from 5:30-7:30 p.m. Thursday at the Latin Chamber of Commerce, 300 N. 13th St. For information, call 702-281-0133.
Contact Colton Lochhead at clochhead@reviewjournal.com or 702-383-4638. Follow @ColtonLochhead on Twitter. Contact Ramona Giwargis at rgiwargis@reviewjournal.com or 702-380-4538. Follow @RamonaGiwargis on Twitter. Review-Journal staff writer Amelia Pak-Harvey contributed to this report,