BLM delays Gold Butte planning pending possible boundary changes
January 8, 2018 - 3:47 pm
Updated January 8, 2018 - 5:22 pm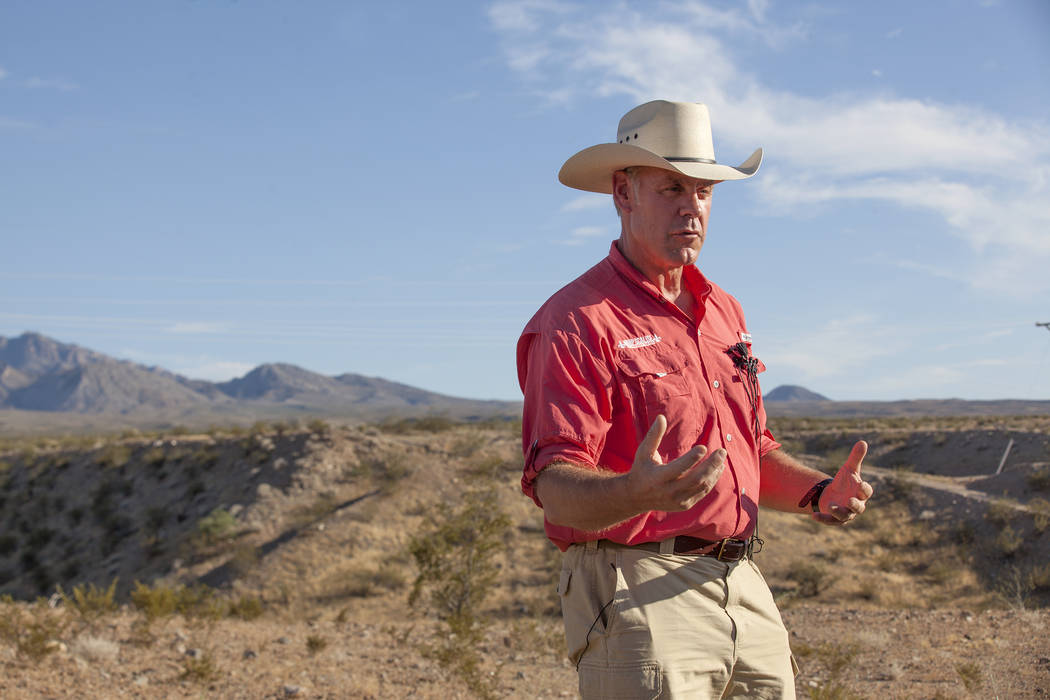 The Gold Butte National Monument will be off the table when federal land managers host an upcoming series of public meetings on their revised management plan for Southern Nevada.
Bureau of Land Management officials in Las Vegas initially said they would be discussing the national monument — and soliciting public input about it — during meetings starting Tuesday. But the agency's state office has put that planning process on hold until the Trump administration decides on possible changes to the Obama-era land designation.
Interior Secretary Ryan Zinke recommended an unspecified boundary reduction for Gold Butte last year during a controversial review of 27 land- and sea-based national monuments created or expanded by presidential decree over the past 20 years.
So far, President Donald Trump has acted on only two of Zinke's recommendations: Early last month, he ordered dramatic reductions in the size of Bears Ears and Grand Staircase-Escalante national monuments in Utah.
Until a final decision is made on changes to Gold Butte, the BLM's state office has directed its staff in Las Vegas to hold off on any "decisions or input regarding the management" of the almost 300,000-acre monument in northeastern Clark County.
John Asselin, spokesman for the BLM's Las Vegas field office, said the six public meetings scheduled this week and next will take place as planned, but Gold Butte will no longer be a featured topic. Instead, Asselin said, all of the focus will be on the agency's continuing effort to revise its overall resource management plan for Southern Nevada, a sweeping document now getting its first major update since 1998.
So what happens if the public still wants to say something about Gold Butte at one of the meetings or during the comment period set to last through Feb. 2?
"Input is input. Any input we receive we're going to collect," Asselin said. "It's reasonable to assume that comments about Gold Butte will not be tossed in the garbage. That would be counterproductive for us and for everybody."
On Dec. 28, 2016, with less than a month left in his presidency, Obama used his authority under the Antiquities Act to designate Gold Butte National Monument on federal land made famous by the 2014 standoff between the BLM and the armed supporters of Bunkerville rancher Cliven Bundy.
Asselin said it's too soon to know what impact, if any, the pause in planning for Gold Butte might have on the timeline for updating the broader management plan for all of Southern Nevada. He also couldn't say whether the BLM might schedule additional public meetings in the future specific to Gold Butte, once that part of the planning effort resumes.
"When we know, we'll let the people know," Asselin said.
Contact Henry Brean at hbrean@reviewjournal.com or 702-383-0350. Follow @RefriedBrean on Twitter.
Meeting schedule
Though there won't be any talk about Gold Butte National Monument, the Bureau of Land Management will still hold six public meetings on its ongoing revision of the Southern Nevada District Resource Management Plan.
The meetings will take place from 5 to 8 p.m.:
— Tuesday, at the old Overton gym in Overton.
— Wednesday in the City Council Chambers in Mesquite.
— Thursday at Santa Fe Station, 4949 N. Rancho Drive, in Las Vegas.
— Jan. 16 at the Pahrump Nugget Hotel and Casino in Pahrump.
— Jan. 17 at the Heritage Park Senior Facility, 300 S. Racetrack Road in Henderson.
— Jan. 18 at the community center in Searchlight.
Comments can be made at the meetings or sent by email to sndo_rmp_revision@blm.gov; by fax to 702-515-5023; or by mail to: BLM Southern Nevada District Office, Southern Nevada District RMP Revision, 4701 N. Torrey Pines Drive, Las Vegas, NV 89130.
Updated information on the revised draft Resource Management Plan is available online at https://go.usa.gov/xnBqm.
The deadline for public input is Feb. 2.