Clark County Republican Party picks David Sajdak to lead group
November 20, 2018 - 6:15 pm
Updated November 20, 2018 - 9:48 pm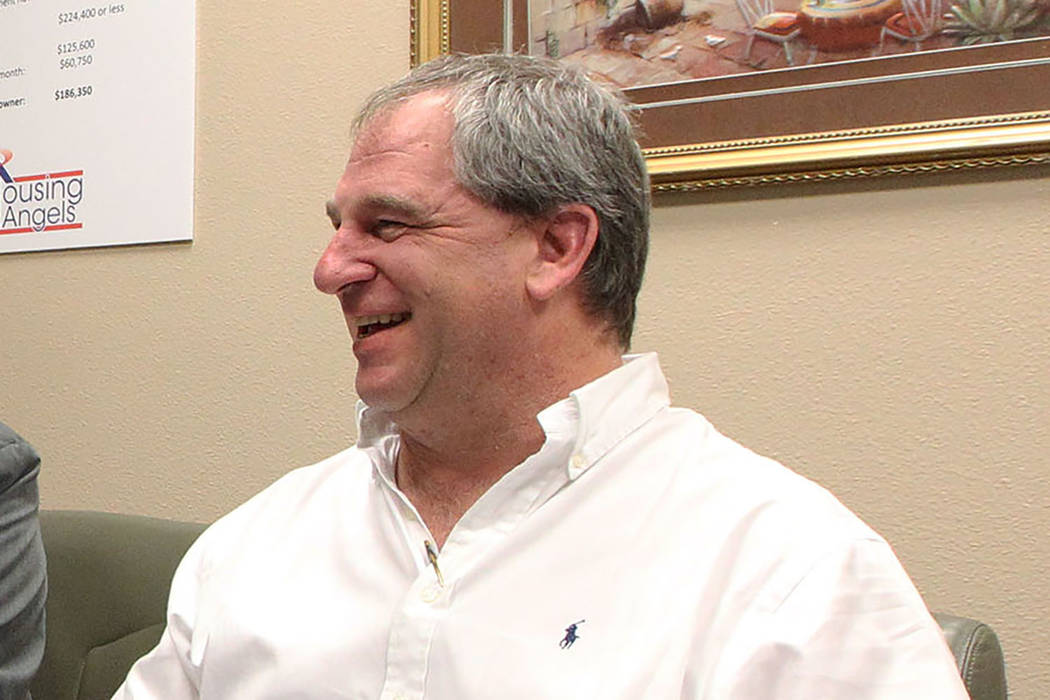 Despite being dogged by a charge of soliciting a prostitute more than a decade ago, Clark County Republican Party acting Chair David Sajdak won a contentious chairman race by a landslide Tuesday night.
"I'm humbled by your support," Sajdak said. "You know I'm a hard worker. Thank you for all your help, and we'll get to work. Hopefully we can put all this behind us. It was pretty nasty. We are going to rebuild the party … we cannot leave people out anymore."
Sajdak was locked in a power struggle with Treasurer Pat Casale to lead a fractured Clark County Republican Party after a crushing election. Eddie Hamilton, a lesser-known candidate, also ran for chairman.
Sajdak stepped into the leadership role about two weeks ago after the sudden resignation of Carl Bunce. Sajdak will serve at chair until July, finishing out Bunce's term, before running for re-election. The tight race between Sajdak and Casale widened a rift between two factions that have long divided the group.
Amid the battle brewing between Sajdak and Casale, new details emerged Tuesday about a citation Sajdak received after he was accused of soliciting a prostitute more than a decade ago, a charge he denied.
Metropolitan Police Department documents obtained by the Review-Journal show Sajdak was cited after police said he offered a woman $1,100 for sex on West Flamingo Road about 1:30 a.m. Oct. 9, 2006.
The woman was an undercover Metro detective. Sajdak failed to appear for a court hearing the following month, prompting a judge to issue a bench warrant for his arrest. Sajdak said he was under the impression that the Clark County district attorney's office had declined to file charges. Sajdak paid $300 cash bail, and the case was dismissed in 2007.
GOP insiders on Tuesday called on Sajdak to withdraw his name from consideration for the chairmanship, but Sajdak said that he was "wrongly charged" and that the case was political payback. He called the charges "salacious" during his speech Tuesday.
Sajdak said the woman he was accused of paying for sex actually followed him in her car, badgering him for sex.
"This person solicited me, and I told her 'no' 27 times, and she followed me around," Sajdak said. "She kept following me down side streets and rolled down the windows. She wouldn't leave me alone. I was actually nervous."
The discourse within the Clark County GOP comes as Republicans lost nearly every race in the midterms. The GOP has been on a losing streak in Clark County for more than a decade. A Republican hasn't won election to the County Commission since 2004. The party's candidates typically accrue paltry fundraising sums compared their Democrat opponents.
Casale said that if he were chosen, he would overhaul the county GOP by revamping its messaging to reach young voters, minorities and independents who could have swung close races.
"We got murdered," said Casale, who works as a health insurance broker. "Republicans lost big. And they want to blame the (voter registration) gap. But I've got to tell you something: Republicans voted for Democrats this time around. Our messaging has to improve dramatically."
Longtime Republicans were divided on the chairman race Tuesday.
"Right or wrong, we need to be squeaky clean. I think (Sajdak) should have been upfront about it," said Will Bradley, a member of the Las Vegas Review-Journal reader panel. "I think he's the better person to lead us. I would trust him to be the face of the most powerful county party in our state."
Laughlin Constable Jordan Ross, who was recently fired as county whip and now serves as the party recorder, said the county party has always faced divisions.
"It's a mixture of ideological rifts and personalities," Ross said. "There is division right now, but it's much better than it was in previous years."
Contact Ramona Giwargis at rgiwargis@reviewjournal.com or 702-380-4538. Follow @RamonaGiwargis on Twitter.
Follow @RJpolitics on Twitter for the latest political news in Nevada.