County honors Las Vegas girl who shielded brother from gunfire
Updated June 5, 2018 - 10:40 pm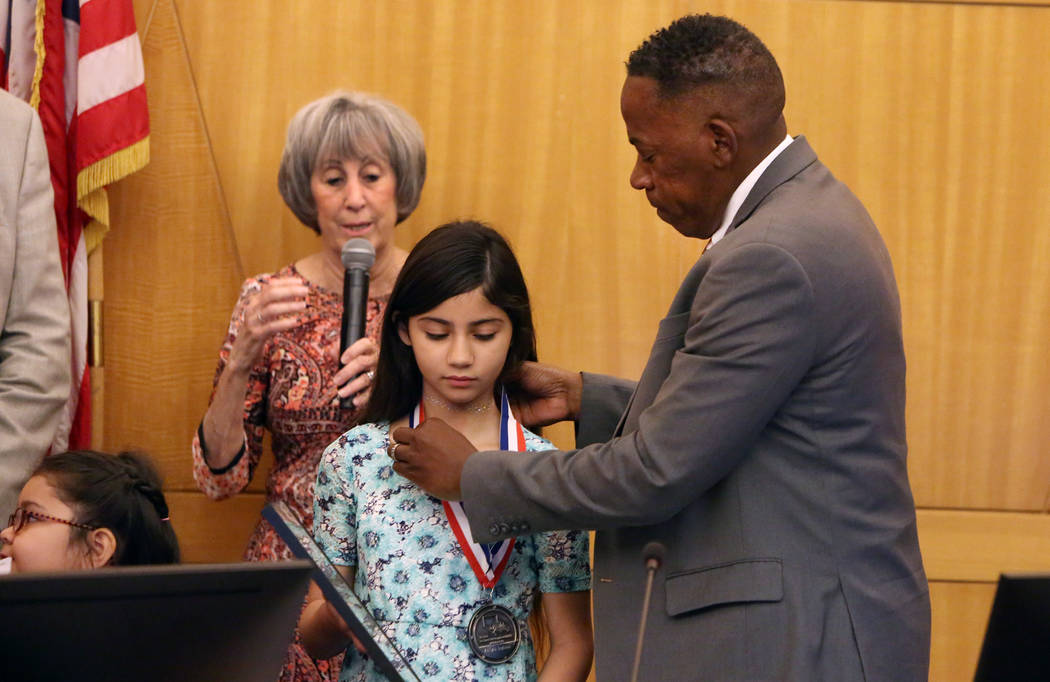 Samantha Tygrit was in a Walmart parking lot, handing cookies to her three children and nephew after a shopping trip, when she heard gunfire.
The 26-year-old mother yelled for everyone to get out of her white Chevrolet Tahoe and on the ground. Moments later, a bullet passed through her shoulder.
Undeterred, Tygrit jumped out of the SUV and threw her 4-year-old daughter to the ground. Then she turned back toward to unbuckle the two youngest children — her 18-month-old son and 15-month-old nephew — from their car seats.
"I've never been so scared in my life," she said. "To feel like you can't protect all your kids at once, that was the worst feeling in my life."
It was then that the young mother saw her 10-year-old daughter, Aaliyah Inghram, shielding the youngest children. The same bullet that wounded Tygret had buried itself into Aaliyah's buttocks.
If the child hadn't have been there, the bullet likely would have struck her 18-month-old brother.
"She didn't have to do what she did, but she did and it saved her brother," Tygrit said.
Clark County commissioners on Tuesday honored Aaliyah for her bravery. They awarded her a medal and declared June 5, 2018, as "Aaliyah Inghram Day."
"Heroism comes in all shapes, sizes and forms," Commissioner Lawrence Weekly said.
"You're a superhero," Commissioner Larry Brown added.
The shooting happened at the Walmart near the intersection of Stewart Avenue and Nellis Boulevard at about 4:40 p.m. on May 8.
Tygrit and her daughter received treatment at Sunrise Hospital and Medical Center and were released the day of the shooting. Aaliyah is scheduled to have surgery this month to remove the bullet from her lower back, and all the children will receive trauma counseling.
"We'll figure it out," Tygrit said. "They're really strong, and we have a lot of support."
Aaliyah said she wanted to make sure her brother and cousin were protected. She also has some advice for any other children that find themselves in dangerous situations.
"Stay calm and do what's right for you," she said.
Contact Michael Scott Davidson at sdavidson@reviewjournal.com or 702-477-3861. Follow @davidsonlvrj on Twitter.