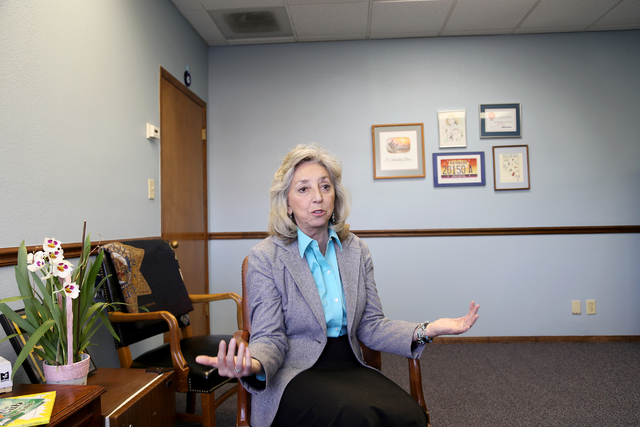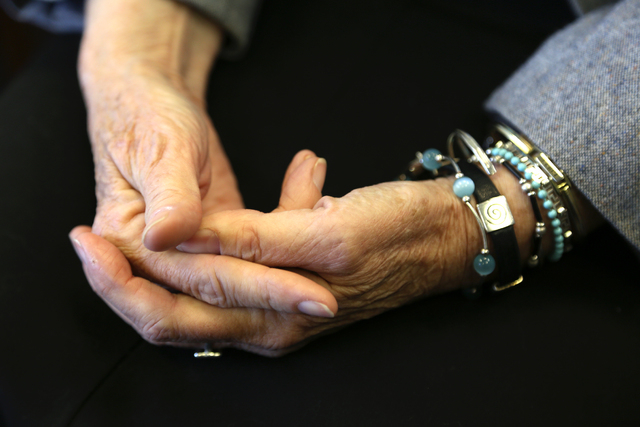 Vegas Voices is a weekly question-and-answer series featuring notable Las Vegans.
U.S. Rep. Dina Titus, D-Nev., who represents the 1st Congressional District — which she says "goes from the airport to downtown" — has lived in Las Vegas since 1979.
Titus, who grew up in Tifton, Georgia, moved here to teach American and Nevada government classes at UNLV before getting involved in politics, first as a state senator, in the late '80s.
She has been married for more than 35 years to Thomas Wright, a Latin America historian who retired from teaching at UNLV in 2011.
Here, Titus shares her favorite spots to eat and play in Las Vegas.
Review-Journal: What's your favorite show?
Titus: You know, that's very hard, because I've seen a lot of the Cirque shows, and I just saw their One Drop performance. That was kind of a combination of everything that was good. It was a Cirque show, it was a great cause, and it was in a fabulous venue.
So, I would say right now, the One Drop. But I recently also saw "ShowStoppers" for my mother's birthday, and we got to go up on the stage, and the whole troupe sang 'Happy Birthday' to her. So it's hard to beat that, too.
RJ: When family comes into town, what's one place that you have to visit?
Titus: I like for them to ride the … observation wheel (the High Roller), because from there, they can see my whole district. Just from one spot, you can see the entire district. And also, the atrium or the gardens at Bellagio.
RJ: What's your favorite restaurant?
Titus: I don't have one favorite restaurant; I like to eat ethnic food. My husband is a Latin American historian, so we have all of the Hispanic east side for Latin food, we've got all of Chinatown for Asian food, we've got Ethiopian food.
So anywhere we can find … any sort of ethnic food. And I like to go places that are owned locally, not that are big chains.
Also, we've got a lot of new sort of funky little places downtown. One place we often go is Triple George.
Las Vegas used to be just known for shrimp cocktail and prime rib, and now it's very much a foodie town.
RJ: When you're doing something that's not typical Las Vegas, what does that look like?
Titus: I like to take people to the Springs Preserve, that's always something that is surprising, and Red Rock. I'm very partial to Red Rock.
RJ: What's your most memorable experience while living in Las Vegas?
Titus: It's hard to pick just one; I've been here a long time. One time, my mother was here visiting, and Daddy was off gambling, and she just kind of sat there waiting and waiting. And this young lady in her bridal dress had gotten married on the Strip. She came in and sat next to Mamma, and her husband wandered off; I don't know where he went. She ended up kind of leaning on Mamma's shoulder and going to sleep."
RJ: Why Las Vegas?
Titus: I think it's the most exciting place in the world. It doesn't matter where I go, when I tell people I represent Las Vegas, they've either been there, they know about it, or they want to go. Every weekend, when I fly back and forth from Washington, the plane's full of people who are very excited coming to Las Vegas, and going the other direction, they're all just kind of pooped out, because they've had quite a time while they were here.
Contact Kimberly De La Cruz at kdelacruz@reviewjournal.com or 702-383-0381. Find her on Twitter:@KimberlyinLV.