Democrats unveil 2 impeachment articles against Trump
Updated December 10, 2019 - 5:27 pm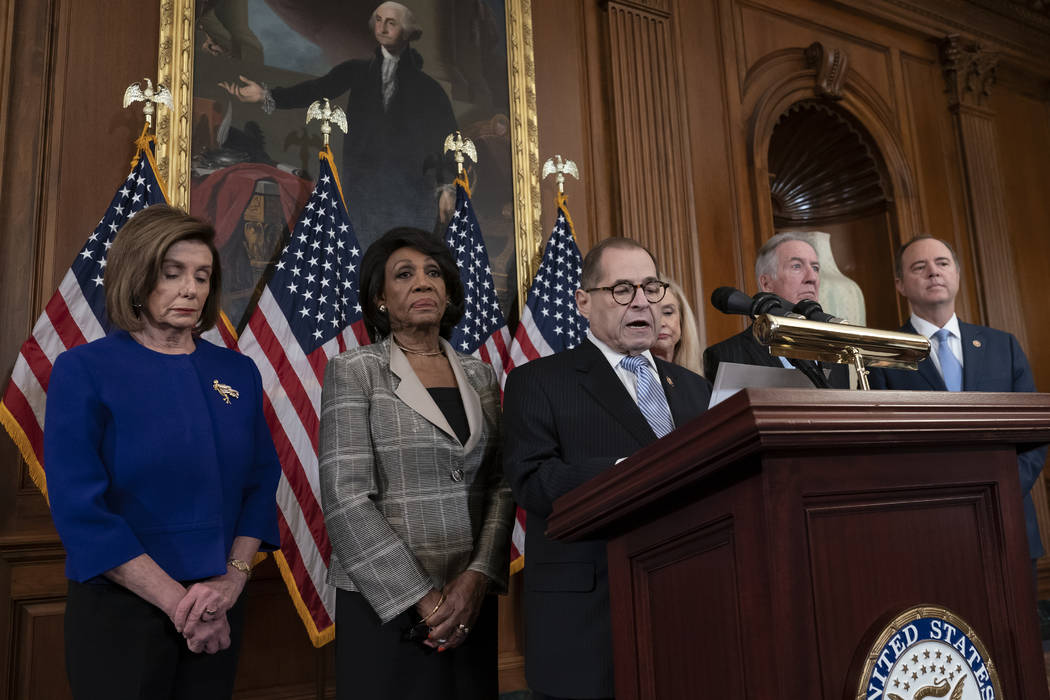 WASHINGTON — House Democrats unveiled two articles of impeachment against President Donald Trump on Tuesday for allegedly pressuring Ukraine to conduct political investigations and blocking a congressional inquiry into his actions.
The White House immediately called the impeachment articles a "sham," and Republicans said it was a political vendetta over a bitter 2016 presidential election loss.
Judiciary Chairman Jerry Nadler, D-N.Y., said in announcing two articles of impeachment that Trump endangers the Constitution, democracy and national security.
"The integrity of our next election is at risk from a president who has already sought foreign interference in the 2016 and 2020 elections, and who consistently puts himself above country," Nadler said.
"That is why we must act now," he said.
Trump swiftly responded in a capital-letters tweet with the words he uses repeatedly to decry the investigations against him: "WITCH HUNT!" The White House said the charges were "baseless," and his reelection campaign called them "rank partisanship."
To Impeach a President who has proven through results, including producing perhaps the strongest economy in our country's history, to have one of the most successful presidencies ever, and most importantly, who has done NOTHING wrong, is sheer Political Madness! #2020Election

— Donald J. Trump (@realDonaldTrump) December 10, 2019
The Judiciary Committee is expected to vote this week on the impeachment articles charging abuse of power and obstruction of Congress.
Those charges stem from a July 25 call between Trump and Ukrainian President Volodymyr Zelenskiy. During the call Trump asked Zelenskiy to announce an investigation into former Vice President Joe Biden, and whether Ukraine meddled in the 2016 presidential election, a claim debunked by U.S. intelligence agencies.
The request by Trump was made while the administration withheld nearly $400 million in military aid for Ukraine to fight Russian-backed separatists.
Nevadans react
"President Trump abused his office for personal, political gain by soliciting Ukrainian interference in the 2020 election," said Rep. Dina Titus, D-Nev., who heard testimony in the case as a member of a House investigating committee.
"When he got caught, he engaged in a major cover-up by directing his subordinates to ignore subpoenas and withhold key documents for Congress," Titus said.
"I plan to vote for both (articles)," Titus added.
Democratic Rep. Steven Horsford of Nevada also plans to support the articles of impeachment, citing testimony and evidence presented to the congressional committees.
"I came to Congress to fight to improve health care for Nevadans and make the everyday lives of my constituents better," Horsford said. "I did not come to Congress to impeach a president, but the evidence presented makes it clear that he abused the powers of the office, obstructed Congress and put our national security at risk."
Horsford added: "No one is above the law and must be held accountable for their actions under the Constitution."
Rep. Susie Lee, D-Nev., elected in a congressional district that Trump narrowly carried in 2016, backed the impeachment inquiry but was uncommitted on the articles drafted Tuesday. Lee was working with colleagues on the final push for the Democrats' health care bill and "has not had the chance to review the articles with the seriousness they deserve," said Jesus Espinoza, her spokesman.
"She plans to thoroughly read and review the articles before making a final decision," he said.
Nevada's lone Republican in Congress, Rep. Mark Amodei, said: "I'm in the process of reviewing the articles, and I'm going to take my time since it's a fairly important document."
"Since we don't expect this to come to the floor for a vote before Friday, I will provide my thoughts as soon as I've had a chance to thoroughly review," Amodei said in a statement.
'Baseless articles'
White House spokeswoman Stephanie Grisham said "the announcement of two baseless articles of impeachment does not hurt the president, it hurts the American people."
Grisham also accused Democrats are trying to "overthrow" the administration. Trump's 2020 campaign manager Brad Parscale said Democrats are "putting on this political theater because they don't have a viable candidate for 2020 and they know it." The president's son, Eric, embraced his father's penchant for name calling, assailing Pelosi and "her swamp creatures."
The drafting of impeachment articles comes after two months since House Speaker Nancy Pelosi, D-Calif., announced that Democrats would conduct an inquiry after the White House released a transcript of the president's call with Zelenskiy.
The Judiciary and Intelligence committees held contentious public hearings that turned into partisan brawls and sets up a likely party-line vote this week by members on Judiciary, the panel with jurisdiction over impeachment.
A vote by the full House is expected next week before the congressional holiday recess.
If the House votes to impeach, which it is likely to do with a Democratic majority, a trial would be held in the Republican-controlled Senate with Supreme Court Chief Justice John Roberts presiding. It would take a two-thirds majority in the Senate, or 67 votes, to remove Trump from office. Anything less would lead to acquittal, a likely outcome according to statements from GOP lawmakers in the upper chamber.
Both Nevada Democratic Sens. Catherine Cortez Masto and Jacky Rosen supported the House impeachment inquiry.
Trump is pushing for a quick Senate timetable on an impeachment trial, where he is confident of a favorable outcome. The president has criticized Democrats at campaign rallies for trying to remove him — a tactic to galvanize his supporters with the election less than a year away.
"The president will address these false charges in the Senate and expects to be fully exonerated, because he did nothing wrong," Grisham said.
Narrow, focused articles
Pelosi was reluctant to pursue impeachment proceedings immediately after Democrats won control of the House and as special counsel Robert Mueller was completing an investigation into Russian meddling in the 2016 election. The special counsel found no evidence that Trump colluded with Russian operatives, but outlined a dozen instances where Trump actively sought to obstruct the special counsel investigation.
Despite a Judiciary Committee investigation into the obstruction, no articles of impeachment relating to the Mueller report have been drafted, however.
The articles outlined by Nadler and Intelligence Chairman Adam Schiff, D-Calif., are the result of the July 25 call.
"I think they are trying to keep it narrow and focused, and Trump kind of handed them that," said Carl Tobias, a Richmond University School of Law professor and former founding faculty of the UNLV William S. Boyd School of Law.
Republican strategy in the House has focused less on a defense of Trump and his actions, and more of an attack on Democrats for proceeding with a divisive impeachment in a hyper-partisan atmosphere.
Rep. Doug Collins, R-Ga., the ranking Republican on the House Judiciary Committee, has led the attack on Democrats' motives and failure to prove the charges brought against the president.
The campaign by the Democrats to impeach the president actually began two and a half years ago, after the election, said House Minority Leader Kevin McCarthy, R-Calif.
"I just hope no Congress, regardless of who is in the majority, will ever take us down this path again," McCarthy said.
Democrats declared that they were duty bound.
Schiff said the argument of "why don't you just wait?" amounts to: "Why don't you just let him cheat in one more election? Why not let him cheat just one more time?
"The president's misconduct goes to the heart of whether or not we can conduct a free and fair election in 2020," Schiff said.
Contact Gary Martin at gmartin@reviewjournal.com or 202-662-7390. Follow @garymartindc on Twitter. The Associated Press contributed to this story.