DREAMers encouraged, worried by White House statement about DACA
January 24, 2017 - 10:02 pm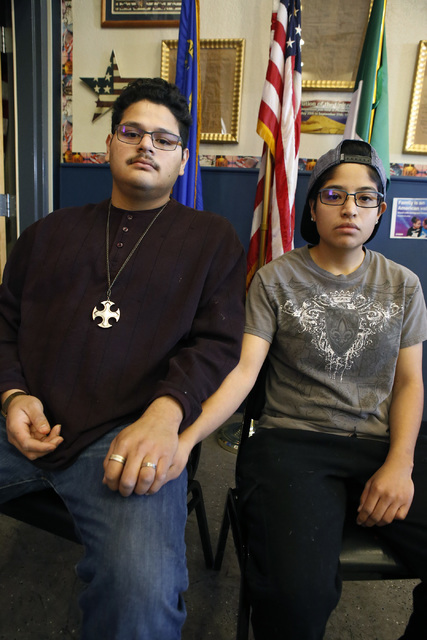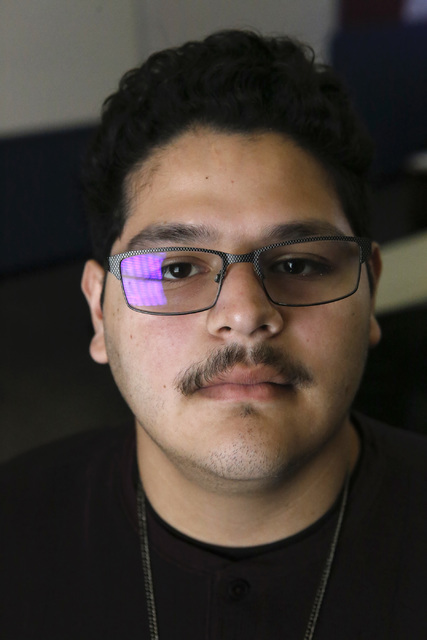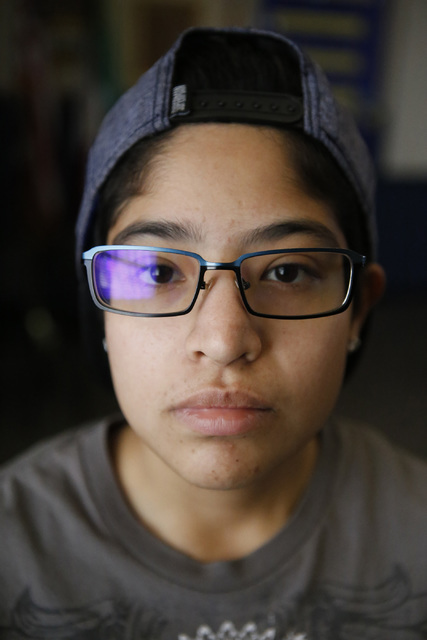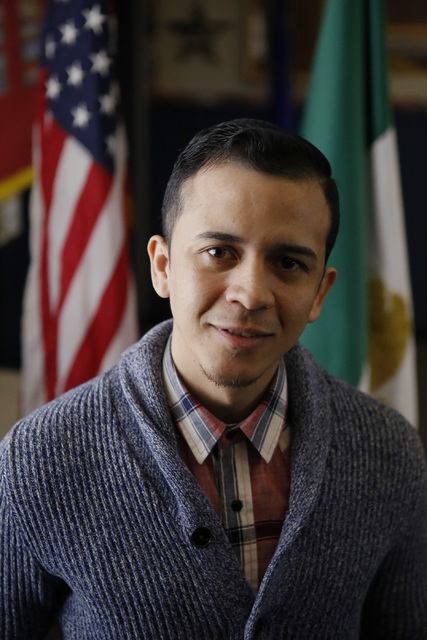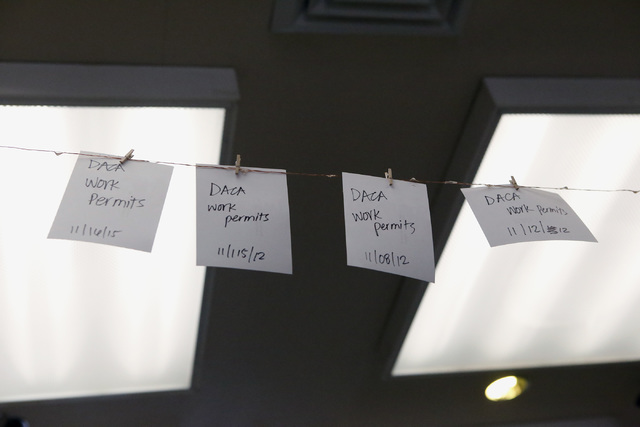 Aaron Luna works as a caseworker to help immigrants take steps needed to build a future in the U.S.
The 24-year-old DREAMer is familiar with the stories of those he helps because he is one of them. Luna came to the U.S. with his parents from La Piedad, Michoacan, Mexico, some 1,600 miles south of Las Vegas. He started out volunteering at the nonprofit Hermandad Mexicana Transnacional in 2012 and got a job there a couple of years later.
He's also waiting for answers from President Donald Trump.
Trump's administration has signaled he doesn't want to end Barack Obama's Deferred Action for Childhood Arrivals program, which has allowed DREAMers, the children of immigrants brought into the U.S. illegally as minors, to remain in the country.
A White House spokesman said this week Trump is focused instead on immigrants in the U.S. illegally who have a criminal record or "pose a threat to the American people." It's a departure from a campaign promise in which Trump said he would immediately end DACA.
Still, after a campaign filled with strong rhetoric, Nevada's immigrants, lawmakers and advocates need more details before they know what to expect from Trump.
"I was actually a little relieved that they aren't taking into account to do an action right now," Luna said Tuesday. "But still, it's that uncertainty that's scaring all the people because they don't know what's going to happen. Maybe in two months, three months, he's going to make a decision. That uncertainty, the anxiety, is keeping us in suspense. What should I do? Should I be worried, should I not be worried? Should I start taking precautions, like I'm going to lose my work permit, or not? "
DELEGATION RESPONDS
Democratic members of Nevada's congressional delegation are particularly skeptical. Trump's statements on immigration as a presidential candidate aren't forgotten.
"We cannot take anything for granted when it comes to policies affecting our immigrant communities and families," U.S. Sen. Catherine Cortez Masto, D-Nev., said. "Throughout his campaign, President Trump promised an anti-immigrant agenda that includes mass deportations and tearing families apart, and until we see a proposal or measures that prove otherwise, we are going to remain vigilant in fighting to protect DACA and immigrant families."
U.S. Rep. Ruben Kihuen, D-Nev, immigrated with his family from Mexico to the United States as a child.
"President Trump called Mexican immigrants 'rapists' and 'criminals,' then promised to build a 'huge' wall," Kihuen said. "Now, he expects us to trust that he won't deport millions of young DREAMers? I'm not buying it."
Meaningful immigration reform, such as securing the border, must be addressed, said Neal Patel, a spokesman for U.S. Sen. Dean Heller, R-Nev.
U.S. Rep. Dina Titus, D-Nev., isn't convinced that Trump's position has changed.
"Just because the Trump administration suggests it wants to ease the narrative on DACA doesn't mean I believe it's changing its position," Titus said. "I will keep my eyes open for 3 a.m. tweets and spur-of-the-moment press conferences to find out the truth."
OTHERS WEIGH IN
Immigration advocates continue to be wary.
"We're still operating on high alert because you never know," said Laura Martin, associate director of the Progressive Leadership Alliance of Nevada.
"People are nervous and they're already scared because the campaign rhetoric was very violent against immigrants," she said, adding nothing about Trump's first few days in office allays those fears.
The Culinary Union, which represents thousands of resort and casino workers in Nevada, said keeping families together will remain a priority.
"As the largest union and immigrant organization in Nevada, the Culinary Union will continue fighting for comprehensive worker-centered immigration reform," said secretary-treasurer Geoconda Arguello-Kline in a statement. "The Culinary Union remains committed to ensuring that immigrant children and their parents are not separated."
There's no way of knowing, she said, whether his administration will turn its attention to DACA and other immigration reform efforts this week, this month, or this year, and "there's still Congress that could send him a bill."
Juan Escalante, a DACA recipient and digital campaigns manager for national immigration reform group America's Voice, said more details from Trump are needed.
"I will not speculate because the Trump Administration refuses to speak in details about DACA," he said. "Instead, I will continue to defend the DACA program until we have concrete details."
EDUCATORS REACT
The Clark County School Board will discuss a resolution on Thursday to protect the privacy of students, regardless of their immigration status. Trustee Carolyn Edwards, who said she proposed the resolution to reassure immigrant students, said the latest word from Washington doesn't change her proposal.
"I think that's good news," she said. "But I also think that the anxiety level of people is so high, and this is a way for us to reassure students and families."
The Rogers Foundation, a local educational nonprofit, called on K-12 and higher-education leaders to establish their campuses as sanctuaries for undocumented students back in December.
"Whatever the president said yesterday, it doesn't erase the things he said throughout the campaign," said foundation president Rory Reid.
The foundation runs programs that serve minority students — including Core Academy, which is offered through the Clark County School District.
"I'm still concerned that our immigration policy will not be friendly to innocent children that are here," Reid said.
Trump's move away from taking immediate action was welcomed by Nevada State College President Bart Patterson, among the more than 600 college leaders nationwide to sign a Pomona College letter in support of DACA.
"It is very positive that the new administration and Congress are withholding any immediate action on DACA to take time to look at a comprehensive plan for these young people who were brought here as little children, have grown up here and are now going to school, working, and helping build our economy," Patterson said in a statement.
Jordan Escoto, co-founder of the newly formed UNLV Campus Conservatives — which has opposed the push to make the university a sanctuary campus — said the latest statement is not their "preferred outcome."
"We think Trump needs to stick to his promise to get rid of any unconstitutional executive order, which DACA is," he said. "Congress needs to be the only one who is making immigration policy."
WAITING FOR ANSWERS
Meanwhile, Luna and others like Luis-Angel Morales-Abarca, 21, and his sister Katheryne Morales-Abarca, 24, will closely watch the developments from the Trump administration.
"Most of us just want to make our family proud because it's another step towards citizenship and having a better life," said Luis-Angel Morales-Abarca, who was working with Luna on Tuesday to obtain a DACA renewal.
Luna's family yearns to one day become U.S. citizens. His father was once a bus driver in Mexico. His mother cleans houses and cars.
"We would like to be able to stay here legally and have the opportunity to become U.S. citizens," Luna said. "We understand that there's going to be some process for it. Most of the people will need to go under that process. But still, we would like to have that opportunity."
Contact Ben Botkin at bbotkin@reviewjournal.com or 775-461-0661. Follow @BenBotkin1 on Twitter. Amelia Pak-Harvey, Natalie Bruzda, Lucy Hood, Brooke Wanser and Debra Saunders contributed to this report.
RELATED
Trump spokesman signals that ending DACA no longer a priority
Trump plans to go forward with border wall, considers refugee restrictions