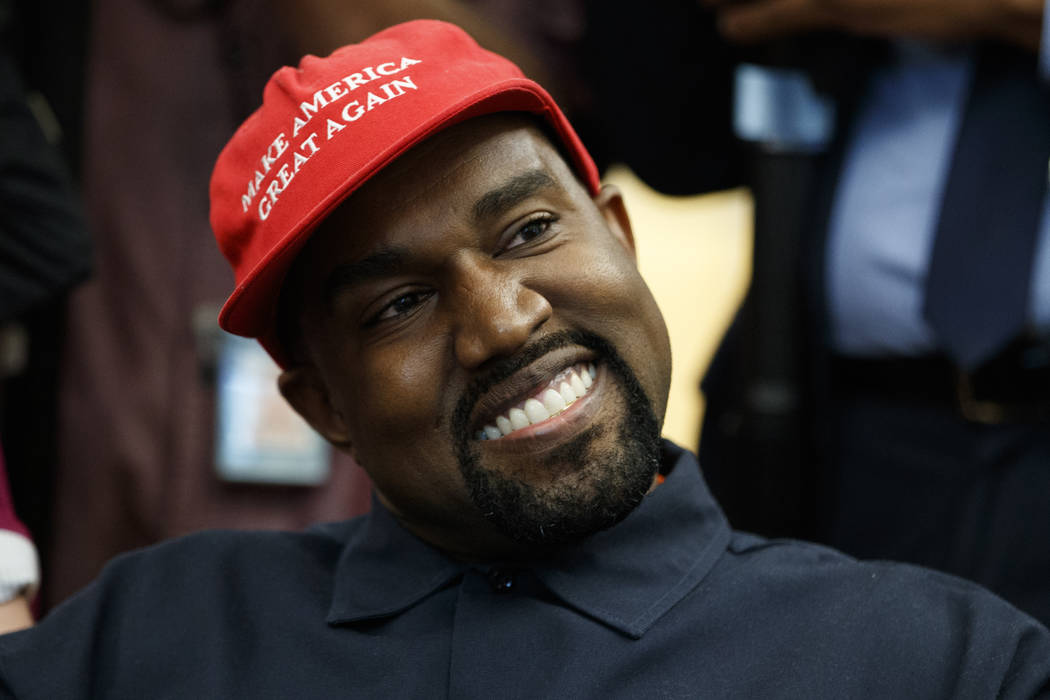 It was supposed to be a discussion between President Donald Trump, rapper Kanye West and NFL Hall of Famer Jim Brown on urban policy, job creation and criminal justice issues.
Instead it devolved into a rambling monologue about the rapper's life, race and politics and a push for Trump to commute the sentence of a convicted murderer and gang leader.
Thursday's Oval Office meeting ended with a hug after West, who had dropped a few profanities, maneuvered around the Resolute Desk, put an arm around Trump and said, "I love this guy right here."
Asked if West could be a future presidential candidate, Trump replied, "Could very well be."
Wearing a red Make America Great Again hat, West added, "Only after 2024."
In June, Trump famously met with West's wife, reality TV star Kim Kardashian, who sought a presidential commutation for Alice Marie Johnson, a 63-year-old sentenced to life in prison for multiple cocaine trafficking offenses who had spent 22 years behind bars.
Trump quickly commuted Johnson's sentence to time served. Trump was moved, Press Secretary Sarah Sanders explained, because the African American great-grandmother had "accepted responsibility for her past behavior and has been a model prisoner over the past two decades."
On Thursday, West brought up the name, Larry Hoover, "a prisoner that we're focused on who has six life sentences."
Unfamiliar with the name, Trump asked what Hoover did to land the long sentence.
"Allegedly it's for conspiracy from a state prison," replied Hoover's attorney, Justin Moore, who also was in the room. "You know, it's alleged, but we do believe, even if he did commit those crimes, the sentence was overly broad and too strict."
In fact, Hoover is a convicted murderer, who was prosecuted in 1997 for running the violent Chicago Gangster Disciples gang from prison.
"So, there's theories that there's infinite amounts of universe, and there's alternate universe," West told Trump. "In an alternate universe, I am him (Hoover) and I have to go and get him free because he was doing positive inside of Chicago."
West told reporters that he would advise the president that he should not advocate "stop-and-frisk" policing in crime-ravaged Chicago.
"We're going to discuss it," West said to Trump. "I didn't mean to put you on blast like that, bro."
"I am open-minded," Trump replied.
On Monday, Trump told the International Association of Chiefs of Police that stop-and-frisk works and "was meant for problems like Chicago."
During a phone call to "Fox & Friends" Thursday morning, Trump noted that his poll numbers among African-Americans bumped up after West issued a series of pro-Trump tweets, including one with a MAGA hat, in April.
At the White House, West gushed that the MAGA hat made him feel like Superman and he bashed liberals for trying "to control a black person through the concept of racism."
"It seems easy to laugh it off and make fun of the whole thing," said Democratic strategist Maria Cardona. But it is sad, she added, that Trump thinks all he has to do is have West praise him in the Oval Office and that will "make him more loved by the African American community."
On more than one occasion, Trump tried to switch the focus from West to Brown, 82, a legendary athlete who added a calm presence to the talk.
Brown later addressed reporters outside the White House. Asked about his support for Trump's criticism of NFL players who took a knee rather than pledge allegiance to the American flag, Brown replied, "I'm an American. That flag is my flag."
Bob Woodson, an African American anti-poverty activist, told the Review-Journal he finds it healthy that a Republican president was courting West and Brown. Woodson offered, "The only people that political parties go after are swing voters. Black America needs to become swing voters and not Democrats."
Contact Debra J. Saunders at dsaunders@reviewjournal.com or at 202-662-7391. Follow @DebraJSaunders on Twitter.