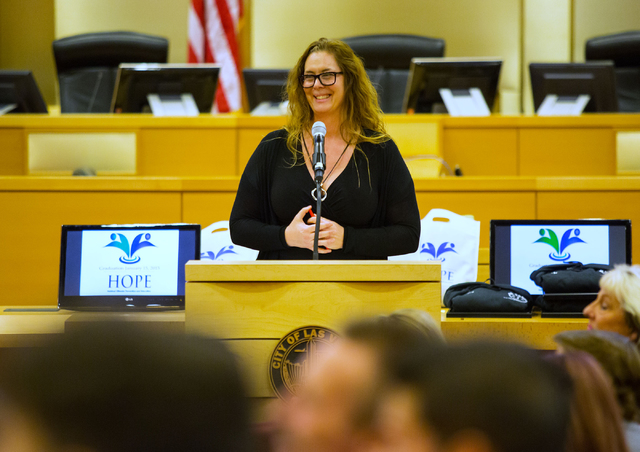 One incumbent Las Vegas municipal judge was re-elected on Tuesday, while another was headed for a June runoff.
Incumbent Judge Heidi Almase fell short of the 50 percent threshold to recapture her seat on the Las Vegas Municipal Court, Department 3. As of Wednesday morning, Almase received 9,201 votes, or 42.41 percent.
She will face Cara Campbell, a chief deputy district attorney for Clark County, who collected 7,902 votes, or 36.42 percent of the ballots cast, in a general election on June 13.
In Nevada nonpartisan races, candidates who win more than 50 percent of the vote in the primary are declared elected and do not need to go on to the general election.
Almase was elected to the bench in 2011 and launched the Mental Health Court in 2015.
Campbell, a first-time candidate at any level, outraised the incumbent by a margin of nearly four-to-one, bringing in $92,000 compared to Almase's $24,000.
The possibility of a runoff excited Campbell, who said the results matched the polling her campaign commissioned.
"I'm very much excited for the support that we've had from the community up to this point," Campbell said. "It's indicative that our grassroots efforts and the public hearing my platform and my message."
"I'm excited about what's to come and hope to continue to grow more momentum as the weeks progress."
In Department 5, incumbent judge Cedric Kerns won re-election, with 12,811 votes, or 58.98 percent, over challenger Crystal Eller, who received 8,910 votes, or 41.02 percent.
Kerns, 51, was elected to the Las Vegas Municipal Court in 1997 and is the chief judge.
Eller, 50, is a Las Vegas attorney who previously served as a traffic commissioner.
The financial race between the campaigns was competitive, with Kerns raising $140,000 to Eller's $92,000 as of April 1.
Kerns watched the results come in at home with his family and said he was exhausted, yet he felt good about the results late Tuesday.
Contact Colton Lochhead at clochhead@reviewjournal.com or 702-383-4638. Follow @ColtonLochhead on Twitter.