Las Vegas tourism workers may lose protected immigration status
November 12, 2017 - 11:02 pm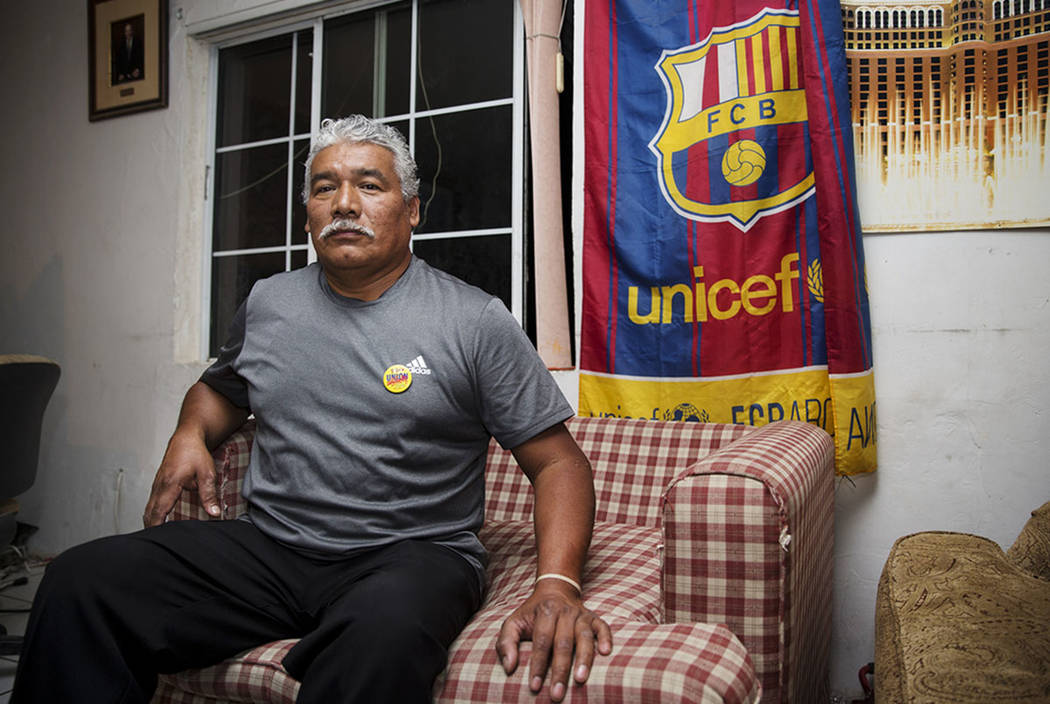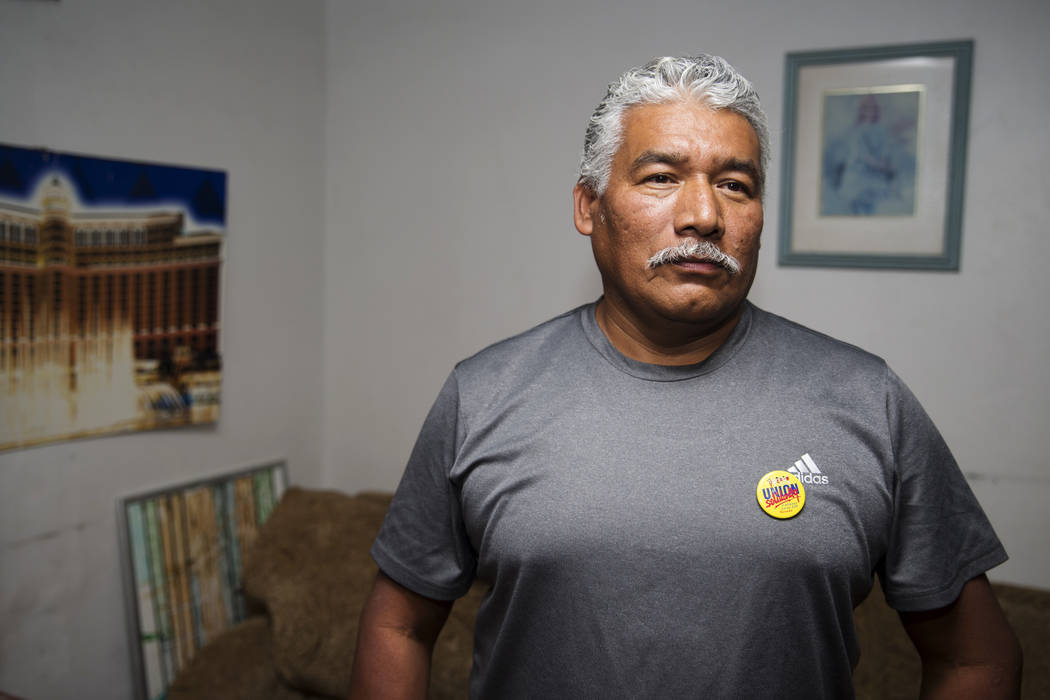 Victor Mora turns 53 in March, the day after the White House is due to decide whether to renew temporary protected status for Salvadorans, an immigration classification that enables them to legally live and work in the United States.
All he wants for his birthday is a work permit.
It is uncertain whether he will be eligible for one, as the Trump administration is reviewing countries in the program, which protects undocumented immigrants from nations where their lives could be in danger if they were forced to return. It announced earlier this week that it would not renew temporary protected status, or TPS, for Nicaraguans and deferred a decision on Hondurans residing in the United States.
By March 9, the administration must decide whether to renew TPS for nearly 200,000 Salvadorans, including Mora.
Potential impact in Las Vegas
A decision against renewal could deal a blow to the Las Vegas gaming and tourism industries, which employ a large percentage of local TPS holders, including many Salvadorans, immigration advocates say.
"We have members, they've been working for 20 years in there," said Geocanda Arguello-Kline, secretary-treasurer for Culinary Local 226, which represents 57,000 Nevada workers.
Mora is one of those workers. With work authorization papers obtained through his TPS status, Mora makes a living as a utility porter at the Bellagio, cleaning floors and stripping wax.
"It's helped me raise my kids," said Mora, who said he fled El Salvador at 25 at the tail-end of the country's civil war. A poster of the Bellagio, lit after dark with its famous cascading fountains, hangs on Mora's living room wall out of appreciation for the business that puts food on his table.
TPS is granted to people who resided in the United States at the time their country was deemed unsafe for reentry due to temporary conditions like armed conflict, an environmental disaster or an epidemic. TPS gives the applicant work authorization and protection from deportation, but it is not a route to citizenship.
An estimated 5,700 TPS holders in Nevada come from El Salvador, according to the Center for American Progress, a liberal think tank. Another 600 come from Honduras and Haiti, which is also listed under the program but is under review.
Nearly one-third of Salvadorans residing in Nevada work in the accommodation and food service industry, the think tank estimates.
Critics say temporary protected status was meant to be just that: temporary. Secretary of State Rex Tillerson sent a letter to Department of Homeland Security Acting Secretary Elaine Duke shortly before her decision to end TPS for Nicaraguans, stating that conditions had improved enough in Central America and Haiti to rescind protection.
Another criticism: those granted protective status weren't in their home countries at the time of an event, anyway.
"I think that one of the criticisms that I hear a lot is that people who benefit from TPS somestimes are not directly impacted by certain country conditions," said Gabrielle Jones, an immigration attorney for the Legal Aid Center of Southern Nevada.
Livelihood threatened
Still, deporting many TPS holders would mean uprooting lives they've built in the United States over decades. Mora, who moved here in 1992, owns land in Arizona and a house in North Las Vegas. He has three children, ages 17, 19 and 20, all born in the United States, and he's been a single dad for the last 12 years.
Without status, Mora's days of legal work would end.
"Under the shadows, how am I going to be able to work?" Mora said.
But advocates say it's unlikely people like Mora will pack up and willingly leave.
"One of the reasons why we bought land and homes here is because we want to stay here," Mora said.
He wore a gray Adidas T-shirt on a recent Tuesday evening after work, an FC Barcelona soccer flag hanging behind his living room couch. Though he speaks little English — he quit school after second grade to work for his family in El Salvador — he considers himself American.
After all, he has spent more time here than in his birth country.
"I think most people will stay here undocumented," Jones said. "There's nothing for them to go back to."
Contact Jessie Bekker at jbekker@reviewjournal.com or 702-380-4563. Follow @jessiebekks on Twitter.
The 10 TPS countries (Holders, Expiration Date)
Haiti: 46,000; Jan. 22, 2018
El Salvador: 195,000; March 9, 2018
Syria: 8,300; March 31, 2018
Nepal: 8,950; June 24, 2018
Honduras: 57,000; July 5, 2018
Yemen: 1,000; Sept. 3, 2018
Somalia: 250; Sept. 17, 2018
Sudan: 1,040; Nov. 2, 2018
Nicaragua: 2,550; Jan. 5, 2019
South Sudan: 70+; May 2, 2019
Source: Pew Research Center