Another Tarkanian may run for Las Vegas City Council
October 4, 2018 - 3:58 pm
Updated October 4, 2018 - 5:15 pm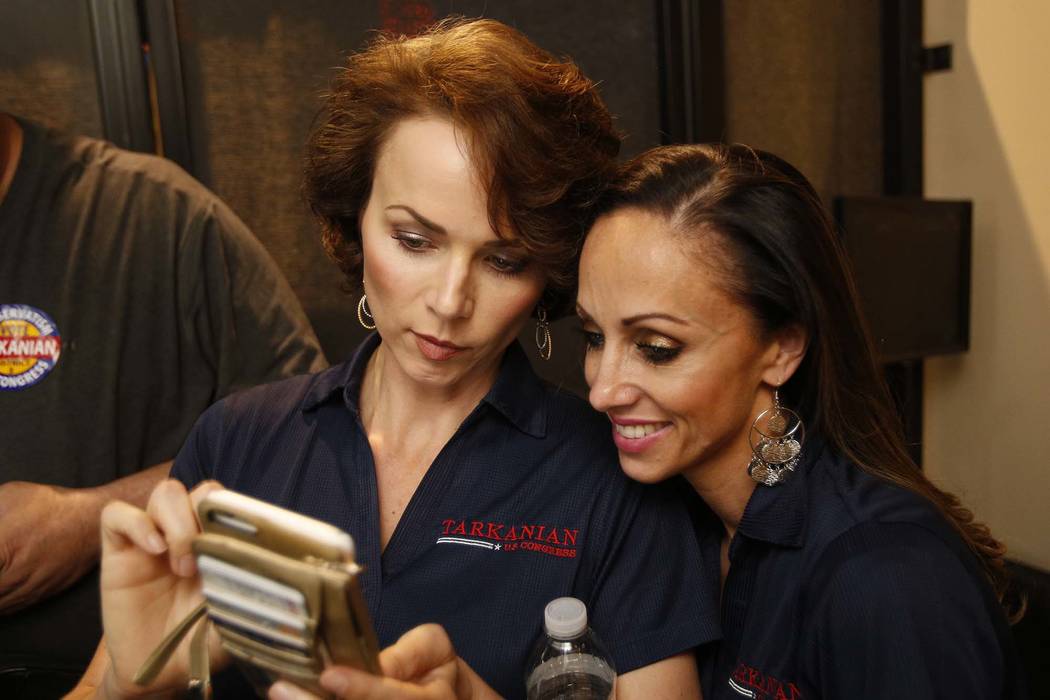 When Las Vegas Councilwoman Lois Tarkanian leaves City Hall next year, another Tarkanian could fill her seat.
Amy Tarkanian, 41, the wife of 3rd Congressional District candidate Danny Tarkanian, is weighing a run for City Council in Ward 1 to succeed her mother-in-law, Lois, who is term limited.
"My kids are older now," Amy Tarkanian said in an interview Thursday. "I'm in a much better spot to think about it. And I've been approached on a serious level to consider running by grassroots people and some big money people — not just Republicans."
Despite her role as a supportive spouse amid her husband's multiple runs for office, Amy Tarkanian has emerged as a strong personality on her own. She's regularly featured as a political commentator on cable news networks, hosts political events, chaired the state Republican Party and speaks her mind at community meetings.
"There's been a lot of people who have asked her to run for office over the years," Danny Tarkanian said. "This is one she is comfortable doing and I'd be very supportive of her."
If Tarkanian wins his bid for Congress against Democrat Susie Lee this fall, it's unclear if Amy Tarkanian would follow him to Washington, D.C.
"There are very few, if any, West Coast congressmen who bring their wives and families with them to D.C., although I would want that," Danny Tarkanian said. "Some families go with the spouse and some families stay here. We haven't decided that yet, and we won't even talk about that until after the election."
While she's a loyal Republican, Amy Tarkanian said what appeals to her most about the Las Vegas City Council seat is that it's nonpartisan. "I'd like to sit there and listen to things as rationally and fairly as possible and hear both sides," she said.
If she runs, Amy Tarkanian said she would continue Lois' council work — such as a push to regulate short-term rentals —and would welcome her mother-in-law's advice.
"My fear is that someone will come in after her and totally mess things up," Amy Tarkanian said. "If I were to run, she would be in my ear. I would be asking her for advice. I probably wouldn't vote 100 percent like her, but I'd make sure she is a heavy part of it."
At least three others are eyeing the Ward 1 City Council seat next year, including Lois Tarkanian's assistant, Robin Munier, former Las Vegas employee Brian Knudsen and coffee shop owner Sherman Avery Ray.
The filing period for candidates running for city offices is in early February, and the primary is in April.
Contact Ramona Giwargis at rgiwargis@reviewjournal.com or 702-380-4538. Follow @RamonaGiwargis on Twitter.