Marz looks to hold off newcomer Cox to keep spot on Henderson council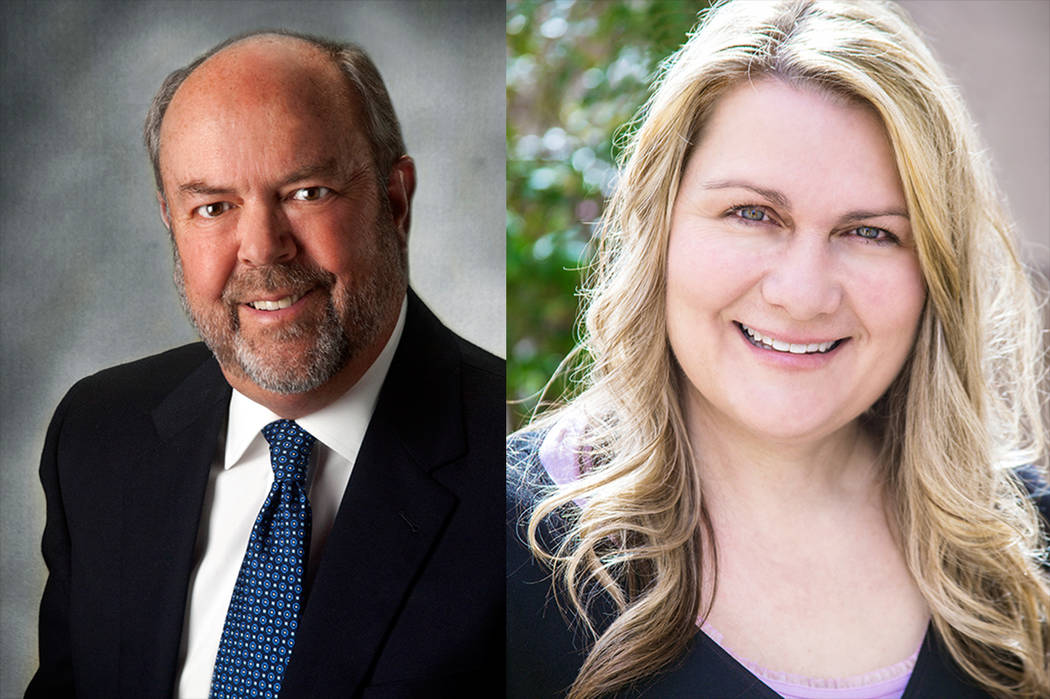 Henderson residents can change the status quo or continue with the city's political core as City Councilman John Marz seeks to defend his seat against businesswoman Carrie Cox next month.
Marz, 70, won 43 percent of the vote in the April 4 primary — easily better than the 28 percent Cox, 51, received, but not enough to avoid a June 13 runoff.
Although his mailers state "Promises Made, Promises Kept," Marz was appointed 3-1 by the council in 2011 with a vow that he would not run for election.
He has since successfully won an elected term and is looking to earn a second four years on the council. Cox hopes to appeal to residents as a "non-career politician."
Early voting is underway and runs through June 9.
John Marz
Back in 2011, before being appointed, you promised not to run. Why do are you running for reelection? Look, I've already run once and was elected. The citizens of the city already elected me once and they felt that this wasn't an issue. People change their mind because circumstances change. This is a non-issue to me.
I want to give back to my community. That's why I want to serve again. It's very gratifying to see the city grow in a good way.
What are your top accomplishments? We went through the worst financial crisis in our country's history other than the Great Depression, and the city came out of it strong. We have the strongest bond rating in the valley and a balanced budget. We worked with our bargaining units to get us through these times. We worked as a city to make sure our citizens received the services they needed even when we had to cut our budget by $130 million.
I'm also proud of the work was have started to do in neighborhood preservation and having Henderson labeled one of the safest cities in the United States. We put an emphasize on fire and police.
What issues do you see in the city that you'd like to tackle? My top priority is protecting Henderson's unique quality of life. To do so, we must focus on three specific areas — neighborhood revitalization, enhanced public safety and sound financial decision-making.
What are your goals if reelected? West Henderson is going to be an incredible opportunity for the city, but we need to make sure that it's developing in a proper way. We must continue looking at the West Henderson Plan and adjusting it accordingly. We want people to be able to work and live in Henderson. I want to bring well-paying jobs to the city.
Why should people vote for you? I think when it comes down to it, it's my experience from the last 10 years. Until you have served in various positions in city , like I have, it's hard to understand what the issues of the city are. It's easy for people to say I'm going to change this and that. I think part of the reason I've been a good councilman is because I come from a business background. I look at things differently.
Carrie Cox
Why are you running for Henderson City Council? It's simple — because I care. I love this community that I've called home for more than 20 years, and I want it to be the best community it can be. I want to make a difference.
How has your experience helped prepare you for this position? I have a lot of leadership skills. I'm a small business owner, I graduated high school at 16, I'm the wife of a vet, the mother of two Eagle Scouts, not-for-profit assistant director and I have experience as a paralegal and settlement specialist.
What issues do you see in the city that you'd like to tackle? My top issues are public safety, land use, economic development, transparency and keeping taxes low. I'd like to cut some of the waste from our budget and look into adding a police station out closer to Inspirada. Regarding land use and economic development, we need a well-balanced plan in the future, so we don't see issues with over-building and high-density housing, like we've seen on Stephanie and the 215.
I will have an open-door policy because I believe Henderson residents have a right to know what kind of decisions are made.
I also want to work with CCSD on zoning for school sites to fix our overcrowded schools.
What are your goals if elected? I want to work to revitalize Water Street District by supporting business incentives and streamlining licenses and the permit process to bring businesses here. I also want to focus on repairing roads and addressing those that need it the most. I want to make sure there's transparency on the city council and put more police on the streets.
Why should people vote for you? I will put Henderson residents first. I will stand and deliver. I am have honesty and integrity. I will increase transparency and I will not participate in the nepotism, cronyism and backdoor policy that has been seen with incumbent.
HENDERSON CITY COUNCIL WARD 3
JOHN MARZ
Age: 70
Occupation: Councilman, Henderson City Council Ward 3; founder and president, Marz and Company
Education: Bachelor's degree in communications and minor in marketing, Brigham Young University
Past political experience: Appointed to Henderson City Council in 2012; re-elected in 2013; served on the Henderson Planning Commission (2009 to 2012); currently represents the city on the Hospital Community Advisory Committee, the Las Vegas Convention and Visitors Authority Board of Directors, the Las Vegas Global Economic Alliance Board of Directors, the Southern Nevada Health District Board of Health and the National League of Cities First Tier Suburbs Council.
Three priorities: Neighborhood revitalization; enhanced public safety; sound financial decision-making.
CARRIE COX
Age: 51
Occupation: Businesswoman; owner, Fred's Sports Grill; owner, Care Bears Learning and Childcare
Education: High school diploma, Timpview High School in Utah; licensed cosmetologist and cosmetology instructor, Mary Kawakami Career College of Beauty in Utah; current student majoring in elementary education, Brigham Young University in Idaho (online)
Past political experience: PTA board president, Kesterson Elementary School (May 2013 – May 2015); secretary, Kesterson Elementary School (May 2012 – May 2013); HOA president, Emerald Valley Board of Directors (Jan. 2005 – Jan. 2006); HOA director, Emerald Valley Board of Directors (Sept. 2004 – Jan. 2005).
Three priorities: Public safety; economic growth and land use; education and building more schools.
ENDORSEMENTS
John Marz: The Henderson Chamber of Commerce, Armed Forces Chamber of Commerce, Latin Chamber of Commerce Nevada Inc., Citizens for Responsible Government, Seniors United, Henderson Professional Firefighters, Henderson Police Officers Association and Teamsters Local 631.
Carrie Cox: Henderson Police Supervisors Association, Nevada Veterans Association, Veterans in Politics, Southwest Regional Council of Carpenters. Also received an excellent rating from Nevada Firearms Coalition PAC.
Contact Sandy Lopez at slopez@reviewjournal.com or 702-383-4686. Follow @JournalismSandy on Twitter.