Nevada Poll: Joe Heck, Catherine Cortez Masto Senate race too close to call
October 26, 2016 - 9:53 am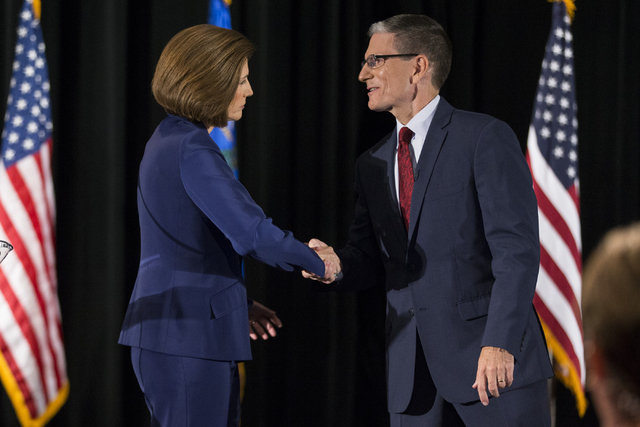 The race for Nevada's open U.S. Senate seat between Democrat Catherine Cortez Masto and Republican Joe Heck is still deadlocked, according to a poll commissioned by the Las Vegas Review-Journal.
Cortez Masto leads Heck by a 45-44 percent margin, well within the poll's margin of error. Two percent said they would vote "Other," and 9 percent of respondents said they were unsure. The poll, conducted by Bendixen & Amandi International, has a margin of error of plus or minus 3.5 percentage points.
A prior Review-Journal poll conducted in September showed Heck ahead 47-45 percent, also within that poll's margin of error.
The firm interviewed 800 likely voters after the third and final presidential debate between Democrat Hillary Clinton and Republican Donald Trump in Las Vegas on Oct. 19. The interviews were conducted between Thursday and Sunday in English and Spanish.
HECK LOSES SOME INDEPENDENTS
The new poll shows that Heck has lost significant support from independent or nonpartisan voters. In the September poll, 48 percent of independents said they would vote for Heck. That number dropped to 36 percent this time around. Cortez Masto saw a 7-percentage point increase in independent support.
"This race will be decided by independents," said Anthony Williams, special projects director at Bendixen & Amandi.
Nonpartisan or independent voters make up about 21 percent of the state's active voter pool, according to the Nevada secretary of state's office.
That leakage of nonpartisan support probably wasn't caused by anything Heck did, Williams said, but rather what's happening at the top of the ticket. He noted that Clinton holds a similar lead over Trump among independents (48-32 percent) in the latest Review-Journal poll.
Trump's latest controversies — including the leaked 2005 audio from an "Access Hollywood" bus where he bragged about groping women without consent, the dozen women who have recently accused him of sexual misconduct and his comments made during the final debate about not accepting the election results — are likely having down-ballot effects on Republican candidates, Williams said.
"I think what (Trump) has said over the course of the past three weeks is pushing independents toward the Democrats," Williams said.
And that, combined with the strong early voter turnout from Democrats thus far in Nevada, could prove too much to overcome for Heck, he said.
If Democrats can continue their strong push and convince voters that Trump is "unelectable," Williams said, it could further stunt GOP turnout and cripple the chances of down-ballot Republicans such as Heck.
Voters also viewed Cortez Masto slightly more favorably than Heck.
Forty-three percent said they had a favorable view of Cortez Masto, compared to 41 percent who said they viewed her unfavorably.
Thirty-nine percent said they saw Heck as favorable, compared to 44 percent who viewed the Republican congressman unfavorably.
Cortez Masto had strong support from Hispanic and black voters, with 69 percent and 75 percent, respectively, supporting her. Seventeen percent of Hispanic voters and 12 percent of black voters said they would vote for Heck.
NEVADA VIEWPOINTS
Bryan Snyder, a 30-year-old legal assistant in Reno, describes himself as an "avid Republican and outdoorsman," and said Tuesday that he is voting for Heck.
Snyder said he isn't necessarily opposed to Cortez Masto but feels that Heck has proven already in Washington that he will preserve Nevadans' access to the state's plethora of public lands.
"I appreciate what he's done," Snyder said.
Victoria Sutherland said she is leaning toward voting for Cortez Masto mainly because she feels like "there needs to be a shake-up" in Washington.
And Sutherland, a 62-year-old insurance agent in Las Vegas, said Heck is part of the stagnation plaguing the nation's politics.
"He's been in Congress for the past six years and nothing has changed," Sutherland said.
Sutherland said she also feels like the government is out of touch with the general public and is ignoring issues such as education and tax reform.
"They need to be more in touch with regular people. I just don't think they pay attention. If we can burst that bubble, maybe that will help," she said.
Bendixen & Amandi International, based in Miami, has done projects for clients including The Washington Post, Clinton's 2008 presidential campaign and President Barack Obama's 2008 and 2012 campaigns.
Contact Colton Lochhead at clochhead@reviewjournal.com or 702-383-4638. Follow @ColtonLochhead on Twitter.
2016 Nevada Poll by the Las Vegas Review-Journal: U.S. Senate by Las Vegas Review-Journal on Scribd
RELATED
Question 1: Nevadans strongly support measure to expand firearm background checks
Question 2: Likely voters narrowly support legalizing recreational marijuana
Question 3: Likely voters still overwhelmingly favor energy competition question
Questions 5: Likely voters favor Clark County fuel tax boost by almost 3-1 margin
RJ poll shows Clinton adding to lead over Trump in Nevada