Nevada Rep. Ruben Kihuen accused of sexual harassment
December 1, 2017 - 5:03 pm
Updated December 1, 2017 - 7:30 pm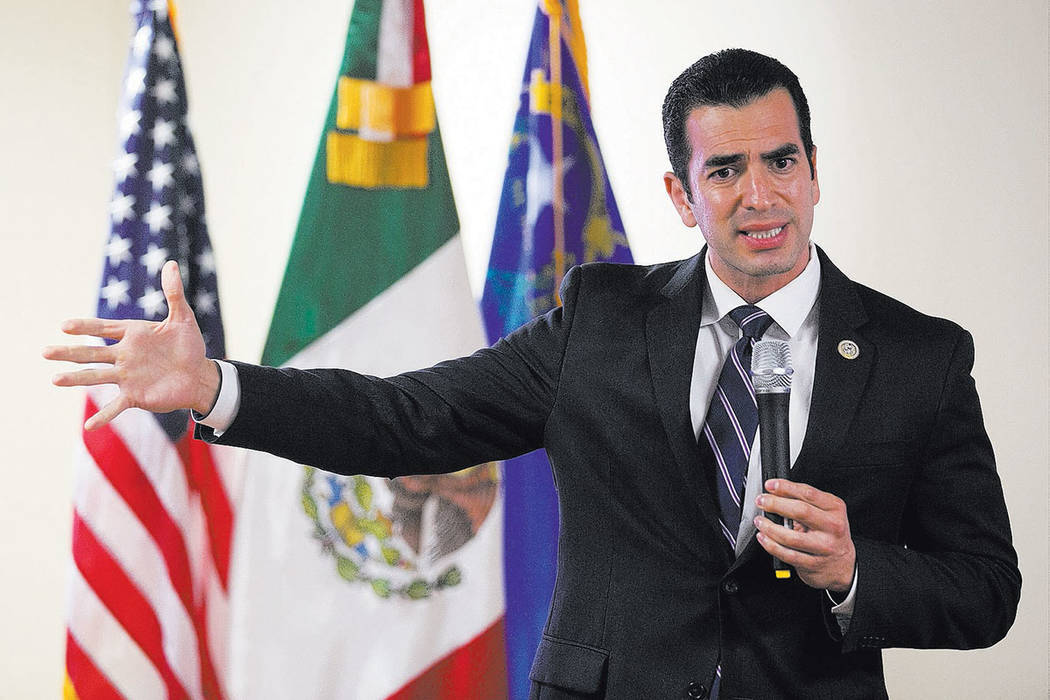 The bulk of Nevada's congressional delegation and national Democratic leaders on Friday condemned U.S. Rep. Ruben Kihuen in the wake of reports that he sexually harassed a former campaign staffer.
BuzzFeed News reported Friday that Kihuen, a 37-year-old freshman Democrat elected to the U.S. House in 2016, "repeatedly harassed and made sexual advances" toward a 25-year-old finance director during his congressional campaign.
The woman, identified in the article as Samantha, told BuzzFeed that Kihuen asked her on dates, propositioned her for sex and touched her thighs without consent on two occasions. Kihuen, who is unmarried, was 35 at the time.
Although Kihuen said he had no recollection of the events, Nevada Democratic Reps. Dina Titus and Jacky Rosen lambasted their colleague in the House.
"Many believed Ruben had great potential, but unfortunately his personal behavior has jeopardized his political career," Titus said in a statement. "This culture of sexual harassment must end. Zero tolerance means zero tolerance. Ruben needs to step up and do what's right for the people of Nevada."
House Minority Leader Nancy Pelosi also said Kihuen should go.
"In light of these upsetting allegations, Congressman Kihuen should resign," Pelosi said in a statement.
Rosen, also elected to Congress for the first time last year, called for Kihuen's resignation.
"The culture where this behavior is brushed aside has gone on for too long, and I believe Congressman Kihuen should step aside," Rosen said in a statement.
Kihuen is the latest male politician to be accused of making unwanted sexual advances.
Rep. John Conyers Jr., D-Mich., and Sen. Al Franken, D-Minn., have been accused of sexual harassment. Senate candidate Roy Moore, an Alabama Republican, has been accused of sexually assaulting teenage girls decades ago.
"As I said with Roy Moore, Al Franken and others, if you engage in this conduct you need to step aside," said Nevada Republican Sen. Dean Heller, who lives in Kihuen's 4th Congressional District. "Ruben Kihuen needs to go."
Kihuen said in a statement that he does not remember anything related to the allegations.
"The staff member in question was a valued member of my team. I sincerely apologize for anything that I may have said or done that made her feel uncomfortable," Kihuen said.
"I take this matter seriously, as it is not indicative of who I am, but I want to make it clear that I don't recall any of the circumstances she described. I was raised in a strong family that taught me to treat women with the utmost dignity and respect. I have spent my 15 years in public service fighting for women's equality, and I will continue to do so."
Sen. Catherine Cortez Masto, D-Nev., said the "toxic culture of predatory sexual behavior" must end.
"I support a full, fair and expedient investigation against Congressman Kihuen and any other member of Congress who have women or men come forward with allegations of inappropriate behavior," she said. "This process must be open (and) transparent and have an appropriate investigatory timeline that delivers justice."
U.S. Rep Mark Amodei, a Republican from Northern Nevada, is the only member of Nevada's congressional delegation who did not release a statement about Kihuen, who was condemned by Democratic Congressional Campaign Committee chairman Ben Ray Luján.
"Members and candidates must be held to the highest standard. If anyone is guilty of sexual harassment or sexual assault, they should not hold elected office," Luján said in a statement. "Congressman Kihuen should resign."
Kihuen, who previously served in both chambers of the Nevada Legislature, was rebuked also by Nevada Senate Majority Leader Aaron Ford, who on the last day of the legislative session reprimanded former state Sen. Mark Manendo for sexual harassment and inappropriate misconduct.
My statement on the sexual harassment allegations against Rep. Ruben Kihuen: pic.twitter.com/MEXk82gQov

— Sen. Aaron D. Ford (@AaronDFordNV) December 1, 2017
"I've always held the belief that it doesn't matter if you're a Democrat or Republican — if there are allegations of misconduct, we should listen to women and a full investigation should take place immediately with serious consequences," he wrote.
State Sen. Scott Hammond, a Republican candidate for Nevada's 3rd Congressional District, and Nevada Republican Party Chairman Michael McDonald also called for Kihuen to step down.
Contact Michael Scott Davidson at sdavidson@reviewjournal.com or 702-477- 3861. Follow @davidsonlvrj on Twitter.