How will Texas ruling affect abortion in Nevada?
Updated April 16, 2023 - 9:01 am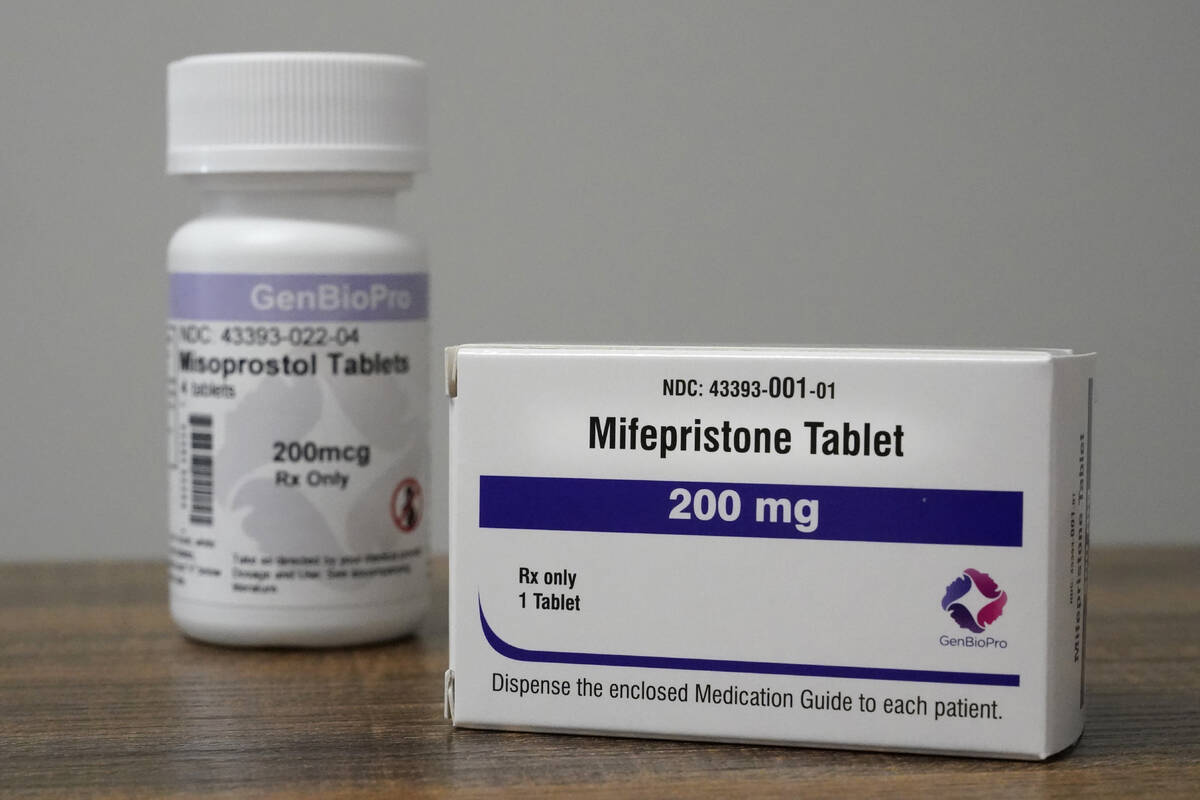 Nevadans watching national news may have started to worry about how restrictions on the abortion pill upheld by courts might affect them.
They can relax, at least for now.
A federal judge in Texas on April 7 invalidated the Food and Drug Administration's approval of mifepristone, an abortion pill that ends pregnancies of up to 10 weeks, ruling that the FDA ignored safety concerns and did not follow protocol when it approved the drug 23 years ago.
The ruling effectively would ban access to the pill, but the judge, appointed by former President Donald Trump, gave the Biden administration a week to appeal the decision before it goes into effect.
On Wednesday a federal appeals court partially blocked the federal judge's ruling but did leave restrictions in place that would prevent it from being sent through the mail to people and would limit use to seven weeks. On Friday, the U.S. Supreme Court granted the Biden administration's request for an emergency stay on the ruling.
The medication abortion pill is the most common abortion method in the U.S. and has a success rate of between 96.8 percent and 98.3 percent. In 2022, Planned Parenthood's Nevada health centers provided medication abortion care to more than 2,000 patients, according to Planned Parenthood of the Rocky Mountains.
But the recent rulings have sparked uncertainty for many states in the country. States run by Democratic governors have worried that access to the drug, which is also used to treat miscarriages and gastric ulcers, could be at risk, leading some states such as Massachusetts to stockpile mifepristone just in case.
Not changing practices
In Nevada, Planned Parenthood has not decided to change its ordering practices, said Fawn Bolak, regional director of communications and marketing of Planned Parenthood of the Rocky Mountains.
"As always, our top priority is making sure our patients can access the care they need, so we've been preparing our clinical practices and health center operations for a worst-case scenario in this case since it was filed back in November of last year," said Bolak, who was unavailable for an interview.
If Nevadans do lose access to mifepristone, Planned Parenthood's health centers are prepared to pivot to a "clinician-guided medication abortion protocol" that does not include mifepristone, Bolak said. Mifepristone and misoprostol are used consecutively in medication abortions. Misoprostol can be used by itself, but it is less effective, according to a 2010 study published in the National Library of Medicine.
Impact on Nevada?
On behalf of Nevada, Democratic Attorney General Aaron Ford joined 23 other states and Washington, D.C., as plaintiffs in a Washington case suing the FDA, winning a preliminary injunction that disallows the FDA from getting in the way of Nevada's access to mifepristone, Ford said.
"Because of our victory in the Washington case … the Texas case does not immediately affect us," Ford said in an interview with the Review-Journal. "That said, this is a good reminder of the importance of having advocates for freedom in (a) reproductive context."
With the two conflicting court cases — Washington's and Texas' — the matter probably will end up in the U.S. Supreme Court, Democratic U.S. Sen. Catherine Cortez Masto said.
The same conservative court overturned Roe v. Wade, finding there was no constitutional right to abortion and returning the matter to the states to make policy. But Democrats have expressed concerns that the Supreme Court could still rule to ban the abortion pill nationwide.
"I think we have to be vigilant and continue to fight these in the court," Cortez Masto said in an interview with the Review-Journal.
U.S. Sen. Jacky Rosen, D-Nev., told the Review-Journal that the judge's decision has unintended consequences and could lead to restricted access of other medications based on the decision of a single judge.
"If one judge can interfere with health care for possibly millions of people, and we have a (Food and) Drug Administration, if not one of the most rigorous processes in the world … one judge shouldn't be able to circumvent that," Rosen said.
Medications such as birth control and reproductive health care treatments could be at risk, Rosen said, as Supreme Court Justice Clarence Thomas argued after the overturning of Roe v. Wade that the court should reconsider other past rulings guaranteeing rights to contraception and same-sex marriage.
Republican Gov. Joe Lombardo's office said in an email officials will monitor the federal rulings as they advance through the judicial process, but did not have further comment.
Preventive action?
Amid concern over out-of-state rulings on reproductive health care, Democratic state legislators are trying to pass legislation to ensure a future Legislature could not take those rights away from Nevadans — although a nationwide restriction on abortion could supersede any state legislation.
The Senate Committee on Legislative Operations and Elections passed Senate Joint Resolution 7, which proposes to amend the Nevada Constitution by adding a new section that guarantees a right to reproductive freedom.
It would also prevent the state from penalizing or prosecuting an individual for exercising their right to reproductive health care or helping others in exercising their rights to reproductive freedom. If the Legislature passes that resolution, it must be passed again in the next legislative session and then go before voters in 2026.
The Senate Committee on Commerce and Labor also pushed forward Senate Bill 131, which would codify the executive order signed by former Gov. Steve Sisolak in June 2022, blocking any Nevada agency from providing information or resources to help out-of-state authorities in investigating individuals who seek an abortion in Nevada.
Last week, the Assembly Committee on Health and Human Servicesvoted down party lines to move Assembly Bill 383 to the floor. It would establish the right to birth control and prevent the state or local government from taking action to restrict contraception.
Recent court case rulings in Texas have created uncertainty in Nevada, bill sponsor Selena Torres said during a Health and Human Services Committee session last week.
"Among this confusion, we must provide certainty that their right to birth control is guaranteed," she said.
Contact Jessica Hill at jehill@reviewjournal.com. Follow @jess_hillyeah on Twitter.