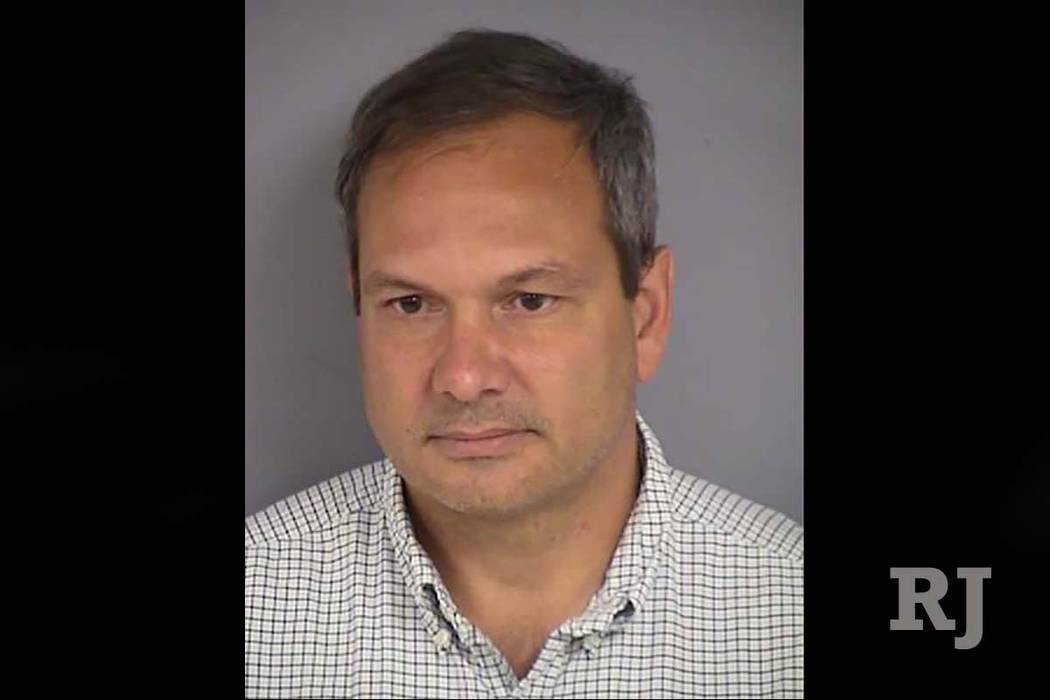 A Democratic operative was arrested Tuesday night after allegations of an altercation with the campaign manager for Republican gubernatorial candidate Adam Laxalt.
Jail records show that 50-year-old Wilfred Michael Stark was arrested on suspicion of battery Tuesday night by Las Vegas city marshals.
Stark's Twitter and LinkedIn pages identify him as working for the left-leaning Super PAC American Bridge 21st Century, which describes itself as a "progressive research and communications organization committed to holding Republicans accountable for their words and actions."
An American Bridge official said in a statement Wednesday afternoon that Stark, who bailed out of jail on Wednesday, has been fired.
"Last night one of our employees was involved in an incident with a member of Adam Laxalt's campaign in Nevada. In response to that incident, we have decided to relieve this employee of his duties with American Bridge effective immediately," the statement said.
In a police statement provided by the Laxalt campaign, Kristin Davison, Laxalt's campaign manager, said she was speaking with Laxalt after a school choice campaign event when Stark "aggressively" interrupted them by shouting questions and putting a camera in Laxalt's face.
Laxalt and his campaign staffers went into private room and closed the doors, Davison wrote, but Stark pushed through and Davison told police that Stark grabbed her arm, twisted it behind her back and "squeezed it very hard."
"Every time I tried to pull away he pulled me close and gripped my arm tighter," Davison wrote in the police report. She said her head and neck were also forced down by the way she was being held.
Laxalt campaign spokesman Parker Briden said that Stark screamed, "You can make this stop, Adam," while holding Davison's arm.
"Kristin was terrified and begged for him to stop and could not get free until Las Vegas City Marshals intervened," Briden said.
Chris Sloan, campaign manager for Laxalt's Democratic opponent Steve Sisolak, denounced the violence.
"This individual is not affiliated with the Sisolak campaign in any way," Sloan said.
The state Democratic Party also said that Stark has no involvement with the party.
Briden said that the incident showed that "politics in Nevada reached a new low."
"Assaulting the female campaign manager of an opposing campaign is disgusting and it has no place in our system," he said. "This mob behavior from the left is out of control. Encouraging violence, as many prominent Democrats like former Attorney General Eric Holder have recently done, is having real, dangerous consequences.
"Kristin is tough, and she won't let this stop her from doing her job — no matter what the other side throws her way."
Review-Journal staff writer Rio Lacanlale contributed to this report.
Contact Capital Bureau Chief Colton Lochhead at clochhead@reviewjournal.com or 775-461-3820. Follow @ColtonLochhead on Twitter.
Arrest Report by Las Vegas Review-Journal on Scribd