Cresent Hardy learned the value of hard work at a young age
While most young boys rode their bikes during the hot Mesquite summers, Cresent Hardy was working the fields of his father's ranch.
That experience instilled in Hardy the value of hard work at a young age, according to his biography. Hardy did not return calls for an interview.
Hardy, a Republican who represented Nevada's 4th Congressional District for one term, is asking voters to send him back to Washington. He's facing Democrat Steven Horsford in a rematch of the 2014 election.
Hardy, who owned a construction business, said national security, transportation, infrastructure, jobs and the economy are the greatest challenges facing Nevada in the Review-Journal voter guide.
"For too long, we have ignored the transportation and infrastructure problems here at home," Hardy wrote. "We have to invest now in building a strong infrastructure. When we do that, we see businesses thrive and succeed, and Nevada continues to grow stronger."
The 61-year-old is a fifth-generation Nevadan. He served as public works director in Mesquite, as a member of the Virgin Valley Water District, sat on the Mesquite City Council and the Nevada Assembly for two terms.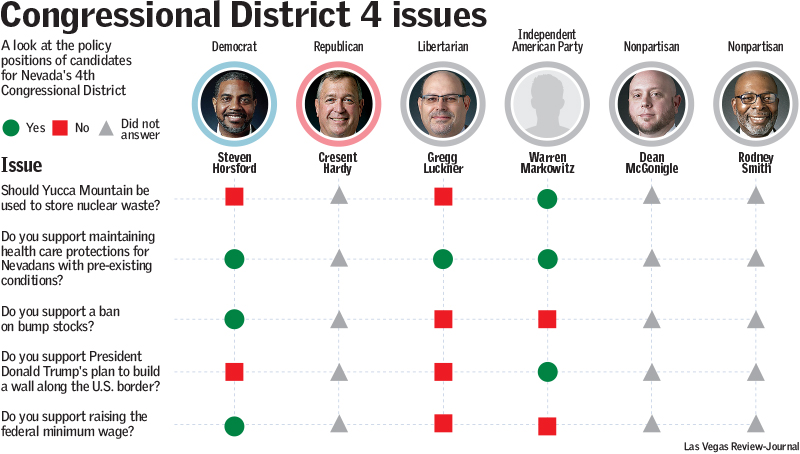 Hardy's campaign strategy has focused on reaching the rural communities and running on popular Republican talking points — lower taxes, job growth, less government and a reduction of "burdensome regulations." He says national security, the transportation and infrastructure and the economy are the biggest issues facing Nevadans.
In July, Hardy kicked off a four-day "Nevada Tough" tour of seven counties, with a focus on rural areas such as Mesquite, Pioche, Alamo and Round Mountain.
"Cresent knows that our elected officials are there to serve the people, not themselves or Washington special interests," according to a biography on his campaign website.
Volunteer service is also a big part of Hardy's life, according to his profile. He co-founded the Golf Fore Kids fundraising program, which raised hundreds of thousands of dollars for children in need in Southern Nevada.
Leading up to the 2016 presidential election, Hardy ruffled feathers of the GOP establishment when he publicly denounced President Donald Trump. He later admitted to voting for Trump and has since said he fully supports the president's policies.
But Hardy faces a tough path back to Washington.
Nevada's 4th Congressional District has changed hands every two years since Horsford won the seat's first election in 2012. The seat is open because Democrat Ruben Kihuen declined to seek re-election amid sexual misconduct claims.
The National Republican Congressional Committee recently pulled $1.2 million in spending to boost Hardy's campaign, signaling to some that the GOP group may have lost confidence in Hardy.
National political analysts have rated the district — which Hillary Clinton won by 5 percentage points in 2016 — as "leaning Democrat."
When Hardy unseated Horsford four years ago, he lost Clark County but won enough votes in rural Lincoln, White Pine, Nye, Mineral and Esmeralda counties to carry him to victory.
Hardy and his wife, Peri, have been married 35 years and have four children and five grandchildren.
Contact Ramona Giwargis at rgiwargis@reviewjournal.com or 702-380-4538. Follow @RamonaGiwargis on Twitter.