Dean Heller amasses nearly $4.2M to defend Senate seat
October 16, 2017 - 8:12 am
Updated October 16, 2017 - 5:27 pm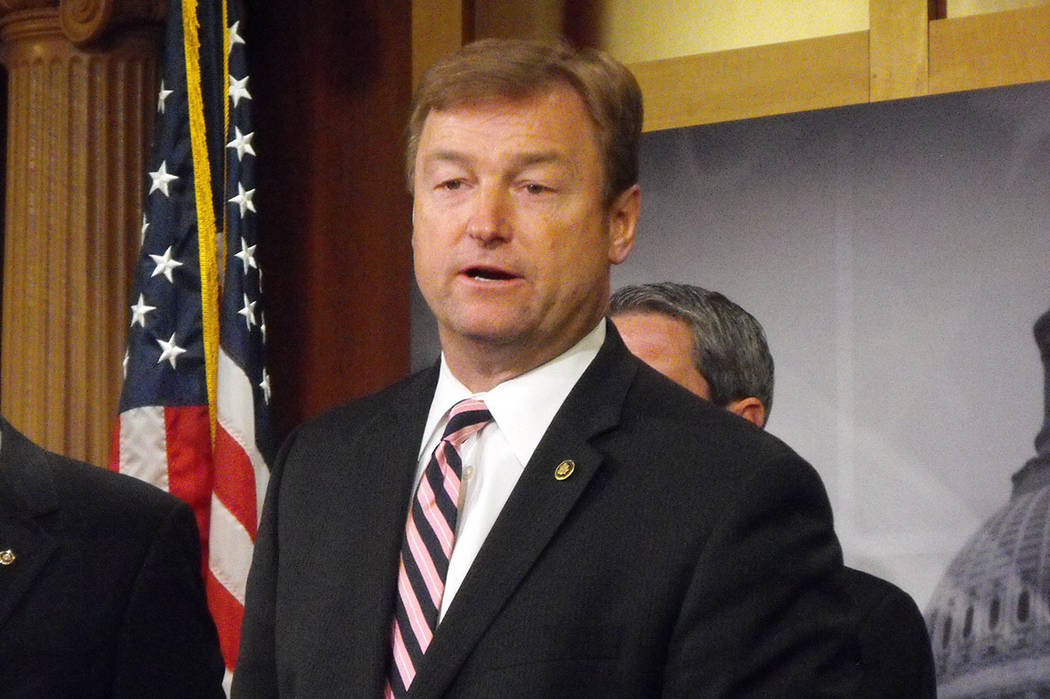 The fundraising fight in Nevada's high-profile U.S. Senate race is starting to heat up.
U.S. Rep. Jacky Rosen, D-Nev., raised $1.19 million in the most recent federal fundraising period, which ran from July 1 to Sept. 30, her campaign announced Monday. That number edges out vulnerable incumbent Republican Sen. Dean Heller, who raised just more than $1.17 million, his campaign reported in a Federal Election Commission report filed Monday. Heller's campaign also reported spending about $530,000 during the three-month period.
But Heller holds a substantial lead over Rosen in campaign cash on hand, with roughly $4.2 million to Rosen's $1.2 million.
"I thought the East Coast liberal groups could have done more than that for their handpicked candidate," Heller campaign spokesman Keith Schipper said Monday, noting the number of attack ads that have run against Heller.
Democrats view the seat as one with a strong potential to flip from red to blue in 2018, a key pickup if the party is to regain control of the U.S. Senate. Rosen hopes to build off the success of fellow Democrat Catherine Cortez Masto, who defeated former GOP Rep. Joe Heck in 2016 for Nevada's then-open Senate seat.
"We are incredibly grateful for the outpouring of grass-roots support for Jacky, and our robust fundraising will help ensure we have the momentum and resources to win this race next year," Rosen campaign manager Danny Kazin said in a statement. "Nevadans are ready to repeal and replace Senator Heller with a problem-solver like Jacky Rosen who sticks to her convictions and puts solutions for working families ahead of Washington's partisan political games."
For Heller, the path to re-election is a two-pronged effort, with Republican businessman and frequent candidate Danny Tarkanian challenging the incumbent in the GOP primary.
Tarkanian told the Review-Journal on Monday that his campaign had raised about $307,000 in six weeks and has about $270,000 cash on hand. Tarkanian said he knows that trying to out-raise Heller as a primary challenger will be difficult, but likes his chances when it comes to getting the votes.
"He's going to have a lot more money than me, but we're fine with that," Tarkanian said. "That's part of being the incumbent."
House District 4: Kihuen vs. Anthony
Freshman Democratic Rep. Ruben Kihuen reported a haul of $218,000 through the third quarter of 2017, while the Republican challenger, Las Vegas City Councilman Stavros Anthony, pulled in $141,000.
House District 3
Democratic congressional candidate Susie Lee's $315,000 fundraising haul in the quarter was significantly more than the combined efforts of the four prominent Republicans running for the open seat.
Former Republican Assemblywoman Victoria Seaman led the Republicans with approximately $114,000 raised. But $50,000 of that came as a personal loan from Seaman to her campaign.
GOP state Sen. Scott Hammond raised about $52,000, and former Clark County GOP chairman David McKeon raised $35,000.
Bowing out
Autism advocate and Republican candidate Lynda Tache announced Monday that she was withdrawing from the race for the open seat in House District 3.
"At this time, after careful thought and consideration, I've decided that my service to our community would be best spent continuing my work here with you, not in Washington," Tache said in a statement.
Tache's campaign raised more than $51,000 from July 1 to Sept. 30, according to campaign finance reports.
Contact Colton Lochhead at clochhead@reviewjournal.com or 702-383-4638. Follow @ColtonLochhead on Twitter.